Fans of the STARZ series Outlander can look forward to seeing the season 3 premiere ahead of airing, if you can get yourself to Los Angeles on Tuesday September 5th, 2017. And that's IF you can get yourself into one of the three screenings happening.
Today STARZ announced their plans for an event that'll take over part of The Grove on September 5th. There will be three screenings of season 3's first episode, "The Battle Joined", and tickets for those screenings will be handed out starting at 10am. The screenings will take place at 5pm, 7pm, and 9pm.
Even if you don't make it into one of those time slots, sounds like there will be plenty of Outlander stuff for fans to experience. The print shop of A. Malcolm will be there, probably the same set used at San Diego Comic Con this year to house the presses used to make shirts, totes, and other items for the lucky fans who were able to snag the coveted white tickets. There are also listings for a photobooth (expect props!), flower crown bar (no idea what that has to do with Outlander but whatever), tea leaf readings and more.
This snazzy looking invitation has more information about what fans can look forward to: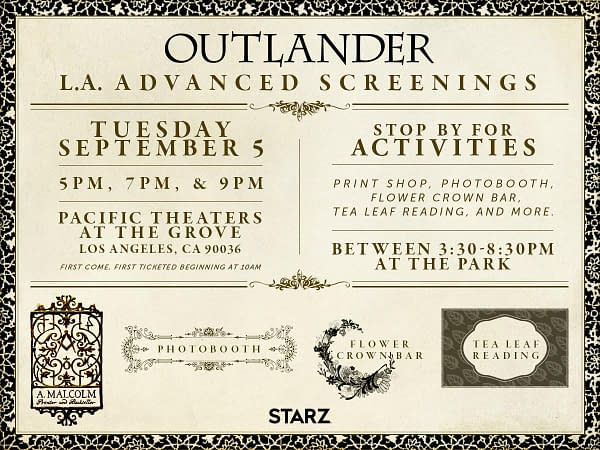 Lucky fans at SDCC were treated to a surprise screening of the episode during the show's panel slot in Ballroom 20, and lemme tell you, it was everything I hoped it'd be. Heartache, longing, laughter and tears, the show continues to be in the best hands imaginable with Ron Moore at the helm.
There was also that unfortunate oops on the part of the STARZ media team who accidentally released an image from the big reunion that happens in season 3.
Outlander is set to return for it's third season on STARZ on September 10th.
Enjoyed this article? Share it!