"Outlander" Season 5 "The Fiery Cross": Claire Senses Jamie's Worries Run Deep [PREVIEW]
We have this feeling that there are two extreme camps of Outlander fans out there: those that ran right to the STARZ app and online when the cable network dropped the fifth season early; and those who prefer to keep things "old school" and watch it when it hits their screens during its normal timeslot. Just to be clear, we respect both perspectives – which is why the following clip from "The Fiery Cross" works as either a great preview of what's to come or a mini-nostalgic trip.
Bascially, a "win-win" all around. Just hope the "old school" squad's been able to avoid spoilers.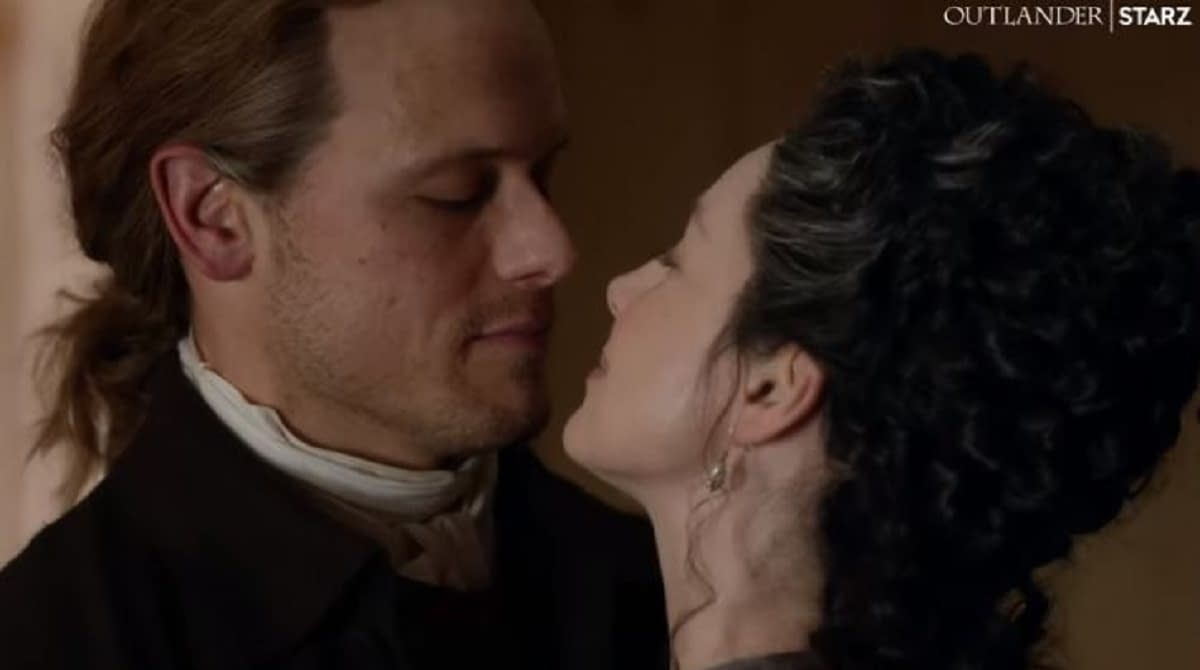 In the following clip, Jamie (Sam Heughan) prepares for Brianna's wedding, but Claire (Caitriona Balfe) knows there's a lot more worrying his mind than just things "Old, New, Borrowed, Blue":
Last month, executive producer Maril Davis and STARZ President/CEO Jeffrey Hirsch had good news: the cable network is in discussions for more Outlander – including additional seasons, spinoffs, sequels, and storyline extensions. Here's what Hirsch had to say to Deadline Hollywood:
"As long as the fans continue to crave the story, we'll continue to have Outlander on the air. We are constantly talking to our partners at Sony and the show continues. We're excited about season five and because we bought seasons five and six [together], we feel that arc is great and Ron and Meril are doing a great job."

"We think there's a lot of opportunity in the Outlander universe to have story extensions, spin-offs or sequels, we continue to look at that and talk with our partners at Sony. Hopefully we'll find something that feels great and that we can continue to tell that story."
Season 5 of Outlander finds the Frasers fighting for their family and the home they have forged on Fraser's Ridge. Jamie must find a way to defend all that he has created in America, and to protect those who look to him for leadership and protection – while hiding his personal relationship with Murtagh Fitzgibbons, the man whom Gov. William Tryon has ordered him to hunt down and kill.

With her family together at last, Claire must use her modern medical knowledge and foresight to prevent them from being ripped apart again. However, while focusing on protecting others, she risks losing sight of what it means to protect herself.

Meanwhile, Brianna Fraser and Roger MacKenzie have been reunited, but the spectre of Stephen Bonnet still haunts them. Roger strives to find his place – as well as Jamie's respect – in this new and dangerous time. The Frasers must come together, navigating the many perils that they foresee – and those they can't.