PAC (Neville), Hangman Page, MJF, Joey Janella, and Penelope Ford Join #AEW
Following announcements for SoCal Uncensored, Mr. Ass Billy Gunn, and Britt Baker, hateable heel wrestler Maxwell Jacob Friedman (MJF) took the stage to berate the crowd while announcing that he would join the new promotion.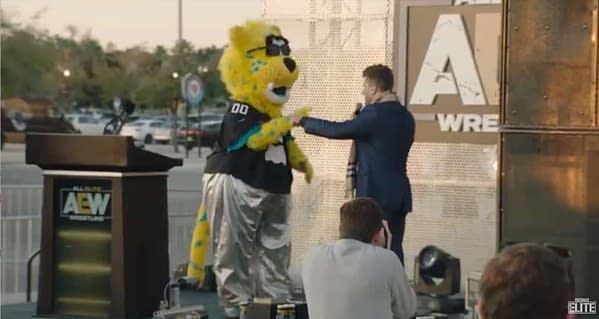 MJF was promptly interrupted by the Jacksonville Jaguars mascot, who also quickly became the target of Friedman's ire. The jaguar proved to be a distraction, however, allowing Joey Janella and Penelope Ford to sneak up behind him. After Janella took care of MJF, he announced that he and Ford had signed with AEW as well before commandeering the jaguar's t-shirt cannon and firing merchandise into the crowd.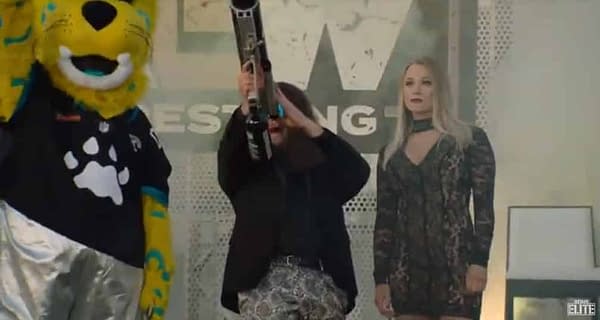 Afterward, Hangman Page joined the rally.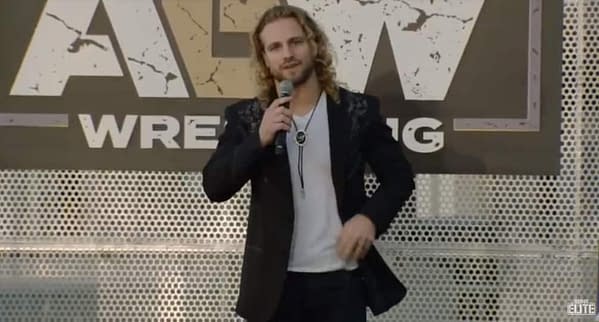 "The thought occurred to me that today was my first day on the job, and I already knew on that plane ride here that this was my favorite first day on any job I've had in my life," Page said. "And I'll tell you why. It's because I don't have some corporate overlord to answer to. I don't have some faceless minions in a board room somewhere telling me what to say, how to say it, how to play my music."
Page said that it's the fans who are his boss now, and he'll work harder than he ever has to make the organization a success.
"I will be selfish for a minute," Page continued. "I'll say that the past two years of working with Matt and Nick and Cody have been the best of my life. But they've made me hungry. They've made me hungry for something they've had the chance to hold that I've never had the chance to hold. They made me hungry for something that no one's come up here and mentioned. I don't know what the plans are, but I know what my plan is. In 2019, I will be the first All Elite Wrestling Champion."
That was the cue for PAC, the wrestler formerly known as Neville in WWE to take the stage.
"A champion on 2019 huh?" PAC said. "Well, I've got a little bit of bad news for you. I am here in AEW. I am already a champion. And the likes of you, Hangman Page, well you couldn't even lace my boots."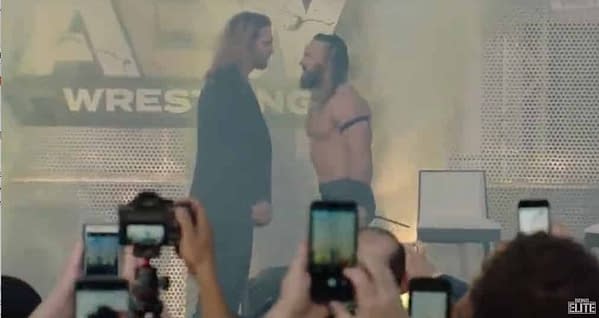 Page accepted the challenge.
---
If you haven't been paying attention, All Elite Wrestling is a brand new promotion started by Cody Rhodes, the Young Bucks, and billionaire money mark Tony Khan. You can follow along live at the Being the Elite YouTube channel, AEW's Twitter, the Young Bucks' Facebook page, and Chief Brand Officer Brandi Rhodes' Instagram. Or, just watch it below.
And check out the other big stories of the night:
Billy Gunn and SoCal Uncensored join AEW
Britt Baker joins AEW's new Women's Division
AEW to Hold All In Sequel Double or Nothing in Las Vegas in May
PAC, Hangman Page, MJF, Joey Janella, and Penelope Ford join AEW