[BREAKING] Painkiller to Become Regular Cast Member in Black Lightning Season 2 [SDCC]
Breaking out of San Diego Comic-Con, Painkiller is to become a regular cast member in Black Lightning season 2. Painkiller, played by actor Jordan Calloway, is an adaptation of a villain from Black Lightning comics.
This was announced at the Warner Bros. panel at SDCC.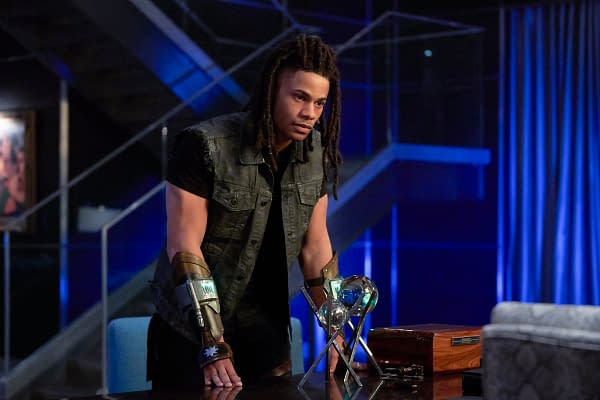 In the first season, Painkiller, aka Khalil Payne (interestingly, the comic version of the character was never given a real name), was the boyfriend of Black Lightning/Jefferson Pierce's daughter, Jennifer Pierce. Khalil was paralyzed after being shot at a march into the 100 territory, controlled by crime lord Tobias Whale. Khalil and Jennifer broke up shortly after.
Khalil later joined up with Tobias Whale. Through Whale, Khalil was given a metal spinal cord and a serum which restored his ability to walk and gave him super strength. He also gained the ability to emit a paralytic poison. He later attacked Garfield High School, at which Jefferson teaches and Jennifer attends class. Khalil almost killed Black Lightning there, but Thunder saved the hero and stopped Painkiller.
His presence as a regular cast member in season 2 suggests that Painkiller may rehabilitate, but that remains to be seen for sure. As always, Bleeding Cool is here when more news about Black Lightning season 2 arises. See you then.