Preacher's Dominic Cooper to Lead Comedy Series 'Peacock' for Sky One
Looks like Preacher's Dominic Cooper is taking a break from "The Search for God" to spend some time in the gym, with the actor set to lead new comedy series Peacock for Sky One. Written and directed by People Just Do Nothing's Steve Stamp and Ben Murray, the pilot introduces viewers to Andy Peacock (Cooper), a physical training instructor in a mid-market gym, where his members are obsessed with selfies and Instagram. Filming on the pilot begins in the next few weeks, with additional casting announcements expected shortly (based on exclusive reporting by the fine folks at Deadline Hollywood).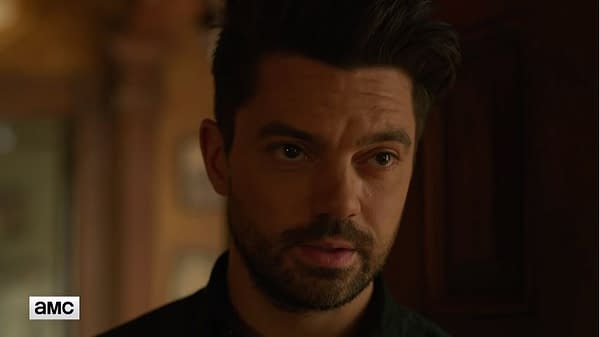 Cooper (Mamma Mia! Here We Go Again, Fleming: The Man Who Would Be Bond) is set to produce, with Big Talk Productions' CEO Kenton Allen and Saurabh Kakkar serving as executive producers. British company Big Talk Productions has made a name for itself in both television and film; with series Friday Night Dinner and Raised By Wolves on the broadcast side, and Shaun of the Dead and Baby Driver on the silver screen side. Big Talk is currently developing a drama series based on Katerina Diamond's bestselling DS Imogen Grey and DS Adrian Miles novels.
Stamp and Murray's BBC Three mockumentary People Just Do Nothing is set for a U.S. remake by Amazon. Currently in Series 5, the comedy focuses on London pirate radio station Kurupt FM and its staff of interesting characters as they juggle the day-to-day stresses of running a successful and satisfying (and very illegal) business with maintaining a personal life.
Peacock is yet another addition to Sky One's comedy slate. Currently airing Romesh Ranganathan's The Reluctant Landlord, Karl Pilkington's Sick of It, and Bounty Hunters, the pay channel is looking to boost its amount of comedy programming. Police comedy Code 404 with Daniel Mays (Rogue One, Line of Duty) and Stephen Graham (Boardwalk Empire) is in development.