The Politician: Dylan McDermott, January Jones Join Ryan Murphy Netflix Series
Ryan Murphy's campaign for Netflix's The Politician has picked up a new "voter" in the form of American Horror Story's Dylan McDermott – who revealed during an interview with Sirius XM that Mad Men alumna January Jones would also be coming aboard the series as his wife. McDermott and Jones join a cast that includes Ben Platt (Dear Evan Hansen), Zoey Deutch (Set It Up), Lucy Boynton (Bohemian Rhapsody), Laura Dreyfuss (Dear Evan Hansen), and Rahne Jones (Godspell); with Gwyneth Paltrow (Shakespeare in Love) and Jessica Lange (American Horror Story) expected to join the upcoming hour-long comedy series.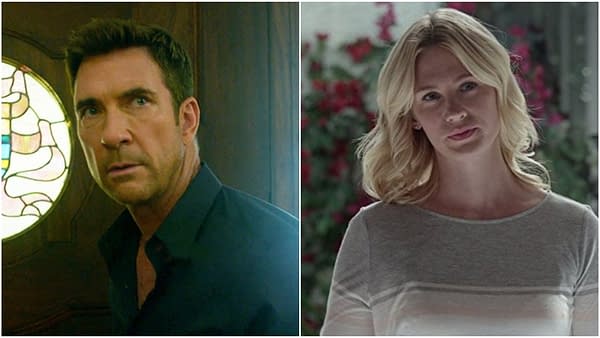 Co-created by Murphy, Brad Falchuk, and Ian Brennan with a two-season commitment from Netflix, Murphy serves as writer, showrunner and executive producer. Falchuk and Brennan will serve as writers and executive producers on the Fox 21 Television Studios series.
The Politician revolves around Platt's wealthy Santa Barbara resident Payton. Each season will focus on a different political campaign that Payton is involved in; with Platt expected to perform some musical numbers over the course of a season. In typical Murphy tradition, specific details on the characters haven't been released.

Murphy's The Politician marks his first series under his exclusive deal with Netflix, which he discussed during his May 2018 interview with The New York Times:
"What happened wasn't necessarily about Netflix. The business has changed. There was a time, back in 2006, when I made a pilot, "Pretty/Handsome," [about a married father who comes out as transgender] that everyone at the studio loved, but they couldn't pick it up. "No advertisers will advertise," they told me. "Too many organizations will picket this show."

That was their business reality, and I was heartbroken. Now, cut forward 12 years, and many, many hits later, they trust me. "Is this what you want to put on the air? O.K., good." The executives and consumer market have changed. Advertisers are thrilled to buy ads for "Pose." That would not have happened 10 years ago. There's been an evolution is society. Just the idea that I would be able to have this Netflix deal — a gay man from Indiana."