Don't Expect Politics in CBS's "Evil" – Not Yet Anyway – The NYCC Panel
By Rich Epstein
Robert and Michelle King, creators of the new CBS drama Evil, were joined by cast members Katja Herbers, Mike Colter, Aasif Mandvi, Michael Emerson, and Kurt Fuller for a panel at NYCC to discuss the show.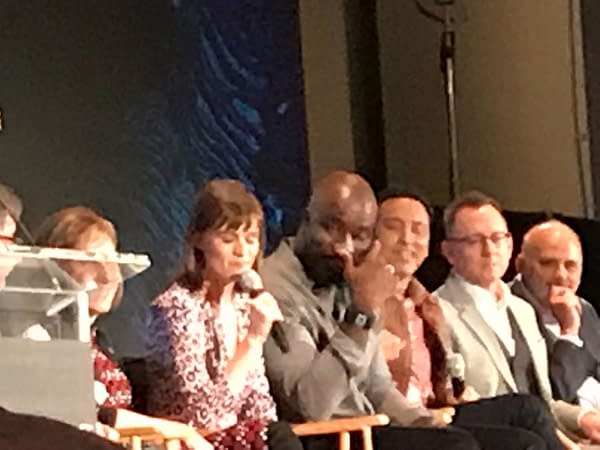 Robert King called it a show that lives in the weird sections of science and religion, rather than choosing either one or the other.
The moderator compared the use of mushrooms in this show to the microdosing in the Kings's other series, The Good Wife, and asked if the Kings like to party, but they denied having their own experiences, claiming it was all imagination.
Mike Colter then talked about how much fun it was to film the scene where his character trips, and how excited he was to film it (only after reminding the audience they shouldn't do drugs). Colter became philosophical about the scene, noting that you shape your own reality, so who is to say that the visions weren't real to his character.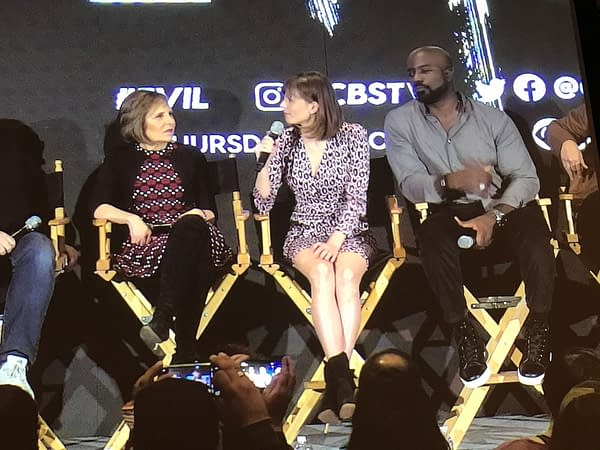 The moderator asked Kurt Fuller about playing a good guy for a change. Fuller reminded the audience that he started out as a good guy on Supernatural so you never know. He then begged the Kings to please let him stay good.
Michael Emerson, on the other hand, enjoys playing the villain, noting that villains are "the way to go, using disguise, and masks, and subterfuge, and stratagems."
Katja Herbers talked about a scene from the pilot episode, where she has a nightmare of being attached by a demon. Herbers notes that it took two days to film, and she has never met the actor without the makeup. She noted how weird it is to have a man on top of her for two days and have no idea what he looks like.
Herbers also told the audience that we will see her character's husband, played by Australian actor Patrick Brammall. In fact, while the panel was going on Brammall was filming a scene in Queens.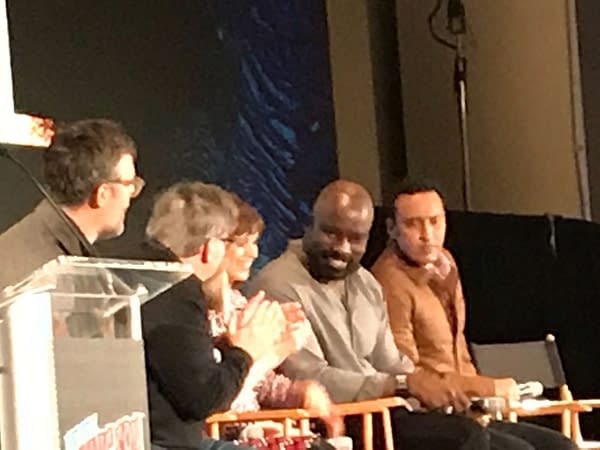 Colter then said that we would meet his character's father, played by Vondie Curtis-Hall. Filming for that episode begins Monday.
Mandvi notes that his character was not originally from a Muslim background. That change was made after he was cast.
Surprisingly, the Kings said there is one place we should not expect a show called Evil to go this year….politics. Apparently some things are just beyond evil. But, Robert said, maybe season 2.