Are you a fan of delicious flavor? We know the good folks over at Peacock are since they released a video in honor of the pineapple on this, the humble fruit's national holiday. Psych has become synonymous with the pineapple, and while I don't normally think a fruit can be a mascot, in their case, I would totally make an exception. Okay, so really the holiday is an excuse to play "Spot the Pineapple, but c'mon! It's a fun game. Ready to play?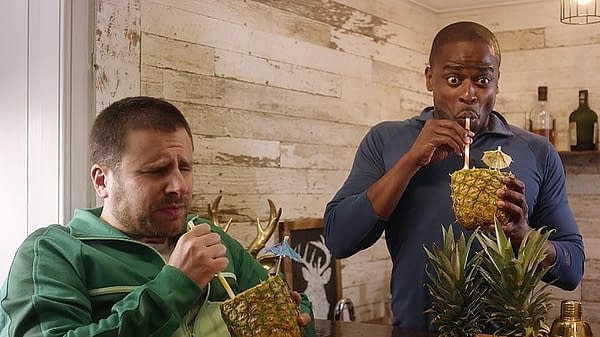 They have meticulously gone through each episode and compiled a clip of that episode's hidden pineapple. Can you spot them all? There are some really tricky ones. Sometimes, they're super easy, like in the first episode or whenever Shawn has to bring a gift anywhere. Spoiler: it's always a pineapple with a bow on it. Other times, they're a little trickier, like in one where the pineapple was on a purse a passing woman was carrying. It's a fun game and one that can go on for quite a while, depending on how good you are at it. But I guess it depends on how easily you can find 170 of them (yup).
Of course, no game is quite as good as re-watching the entire series. All the episodes are good – it's a series full of witty writing, comedic performances, and of course, shenanigans and silly nicknames. I thought about giving the "pineapple-stuck-with-googly-eyes" a clever nickname, but then I figured that would just be absurd and wacky. So on this, the humble pineapple's holiday, we celebrate alongside our favorite tropical fruit-loving fake psychic detectives. My personal favorites from our little game of spot the pineapple were the balloon version, the "Shakespeare in the parking lot", and of course, on the pizza. And yes, pineapple does belong on pizza. Feel like fighting with me on Twitter about it (and losing)? Hit me up at @Edenhasopinions.
Enjoyed this article? Share it!