Psych Star Timothy Omundson On If He Would Return for More Films
Excellent news, fans of quality acting! After recovering from a stroke in late 2017, everyone's favorite Lassie is back in the game and back on our screens in Peacock's new movie, Psych 2: Lassie Come Home. Now, while this just released on the streaming service, it was actually the first thing he shot when returning to acting; his run on NBC drama This is Us was shot after, even though we saw that and a few cameos last fall. In an interview with EW, actor Timothy Omundson goes in-depth about what it has been like recovering from such a massive health issue and finally being back on set with his Psych family. MAJOR SPOILERS AHEAD! It's emotional and heartwarming – just the story we need right now. Though, speaking of spoilers, there aren't any for Psych 2 in this article. In fact, Im going to act like I didn't already review the film (you can find that here). You're welcome.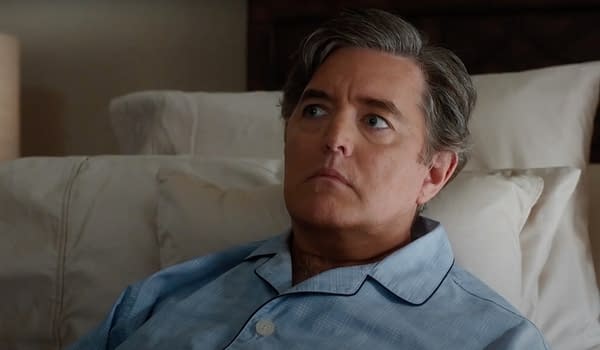 It was announced a while back that Joel McHale was cast in the film as Lassiter's father, but the only thing we know of his dad from the series is that he wasn't around a whole lot while little Lassie was growing up. Now, as grown-up Lassie is recovering from being injured on the job, we get to see his flashbacks… or possibly some crazy dreams featuring his father? Perhaps a nice musical number featuring singing pineapples and Gus dressed as pizza rat?
I'm a little unsure what the film holds (wink-wink), but McHale was a nice casting surprise – they wouldn't tell Omundson who they cast in the role before he got to set, because they knew full well that the two actors were long time friends. Frankly, it's a little surprising that McHale wasn't on the series when it was airing, though I guess he was just a little busy with Community and the million other projects he's done in the past decade. I'm just glad he had time to grow a pretty epic beard for the part!
When asked about the prospect of returning for more Psych movies (to which creator Steve Franks has said he has 4 more in mind), Omundson said, "I'd like to see them try and stop me. I will do as many of these movies as they could possibly come up with. I think the entire cast and crew would just love to keep doing this for as long as people will watch." Yes, we will most certainly keep watching. The Psych-o fanbase is a loyal and loving one full of wit and delicious flavor. No, not us, Hannibal – the pineapples! Be sure to slice up some delicious tropical fruit and curl up with your favorite green snuggie and tune into Psych 2: Lassie Come Home only streaming on Peacock.