Marvel's The Punisher: Jon Bernthal Was Wary Of Lighthearted Beats
When Marvel's The Punisher debuts later this month on Netflix, we'll be introduced to the closest thing the comic book character had to a friend. Ebon Moss-Bachrach (Girls) will play David Liberman, AKA Micro, who will come across as somewhat insane. But he's been living alone in his secret lair and spying on the government, who he is sure spies on him. This is the type of character who could easily be the comic relief in an over-the-top violent series. But Micro is much more than that.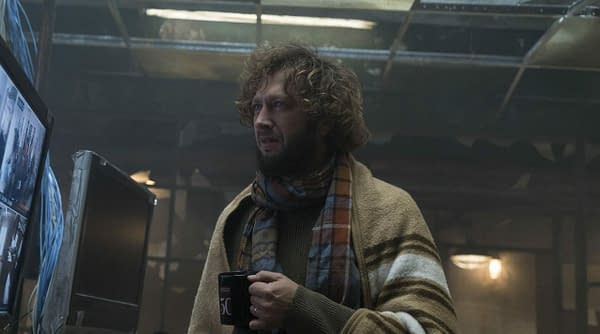 Jon Bernthal, the actor who first played Frank Castle in Marvel's Daredevil season 2, was "wary" about playing some of the more lighthearted moments between he and Micro. He told EW.com:
"I do think there's a sense of humor to Frank Castle, but there is absolutely nothing tongue-in-cheek about [their interactions]. The last thing in the world he can give a shit about is making someone else laugh."
Bernthal has talked in the past about how he stays in character through the whole shoot, which I could see making shifting into humorous moments difficult. It also seems like it would be quite out of place to suddenly have Frank making jokes or even sharing a lighthearted moment with Micro.
Marvel's The Punisher premieres on Netflix November 17th.