'Q-Force': Netflix Orders LGBTQ Animated Comedy Series from Sean Hayes, 'The Good Place' Mike Schur
Netflix's world dominaton of animation continues (was going to go with "animation domination" but I think that might flirt close to the edge of copyright infringement with FOX – and since they're now owned by Disney, that's a legal hassle not needed) with Sean Hayes and Todd Milliner's Hazy Mills, Mike Schur's Fremulon, Gabe Liedman (Brooklyn Nine-Nine, PEN15), and Universal TV receiving a 10-episode series order for half-hour adult animated comedy series Q-Force.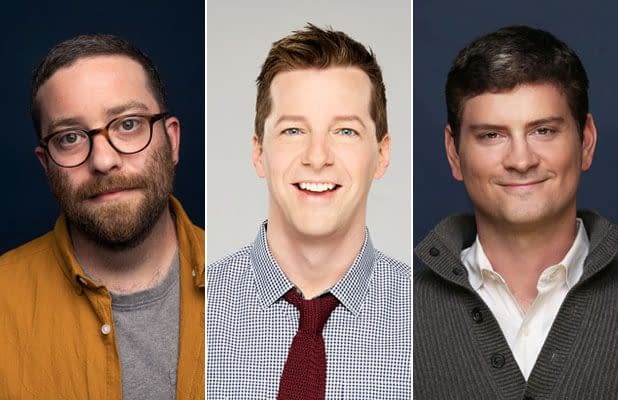 Written by series showrunner Liedman and marking Hazy Mills' first animated show and first streaming service, Q-Force is a half-hour, animated comedy about a handsome secret agent (possibly Hayes) and his team of fellow LGBTQ superspies. Constantly underestimated by their colleagues, the members of Q-Force have to prove themselves time and again as they embark on extraordinary professional (and personal) adventures.
Liedman, Schur, Hayes, and Milliner are set to executive produce alongside 3 Arts' David Miner. Universal TV is set to co-produce along with Hazy Mills, Schur's Fremulon and 3 Arts Entertainment.
Hayes and Milliner founded Hazy Mills in 2004, first in the unscripted programming arena with Bravo's Situation: Comedy. Since that time, Hazy Mills has gone on to produce NBC's Grimm, TV Land's Hot In Cleveland, NBC's Hollywood Game Night, Freeform's Movie Night With Karlie Kloss, and CNN's The History Of Comedy. Liedman currently serves as co-producer on Brooklyn Nine-Nine and executive produces Hulu's PEN15; and served as a supervising producer on Comedy Central's Broad City.
Schur (Brooklyn Nine-Nine, The Good Place, Parks & Recreation creator/co-creator) recently re-signed with Universal TV, securing a large multi-year overall creative deal. He currently serves as an executie producer on both Brooklyn Nine-Nine and The Good Place, as well as on Kal Penn's untitled comedy pilot at NBC.