In the first two hours of WWE Raw,  we've seen a double contract signing erupt into violence, a prestigious championship change hands, Seth Rollins descends further into mediocrity, Peyton Royce and Ruby Riott put on the match of the night, and more. Read about all that here, but now, it's time for the third and final hour of WWE Monday Night Raw, otherwise known as "thank god it's almost over!"
Raw's third hour begins with a handicap match between Angel Garza and Andrade vs. The Big Show. The Performance Center trainee crowd, well, those of them who were able to pass coronavirus tests before this taping, are all in on Big Show. No, never had any chance of being a five-star classic. But it does feature a 7-foot giant tossing two smaller men around the ring with ease, and pro-wrestling can always use more of that sort of thing. Eventually, Garza manages to gain an advantage over Show, but Andrade blind tags himself in, starting an argument between the two. Garza ends up leaving Andrade alone to get choke-slammed. After the pin, Big Show picks up Andrade and gives him the KO punch. That match was fun.
Backstage, R-Truth accuses Apollo Crews, Richochet, and Cedric Alexander of secretly being Akira Tozawa's ninjas. He does recognize them as Cedric the Entertainer and Richard O'Shea eventually. Raw takes a commercial break. MVP and Bobby Lashley head to the ring after the break. Lashley asks MVP to explain why he wants to do this. MVP talks about how whenever he goes back to Miami, all the people are so proud of him for making it out of the hood. MVP says it's important for him to give back, which is why it's been such an honor for MVP to help Lashley reach his full potential. But Apollo Crews ignorantly rejected MVP's offer to help him, and MVP feels very disrespected. Apollo Crews interrupts.
Crews says he never disrespected MVP. Like MVP, Crews is a self-made man. If MVP cared about anybody but himself, he would have listened to Crews the first time he turned him down. Crews enters the ring. He's getting better on the mic. Loosening up. Crews gets in MVP's face (hey, social distancing, man). MVP tells the ref to ring the bell and Lashley heads out of the ring. The match barely gets started before Crews dives outside the ring onto MVP and Lashley, which of course means it's time for more commercials.
After the break, MVP teaches Apollo how to do rest-holds. Eventually, MVP misses a big boot, allowing Crews to make a comeback. He gets in some offense while a concerned Bobby Lashley watches. When Crews heads to the top rope, Lashley interferes, letting MVP crotch Crews, hit the fisherman suplex, and get the win. Oh, so this was a non-title match then. Crews attacks MVP after the match, but Lashley puts him in the full nelson. WWE hasn't learned anything about the pandemic yet, so two referees, Cedric Alexander, and Ricochet run out to break it up and rescue crews. Raw takes another commercial break.
After the break, a match has broken out between Ricochet and Lashley. It's classic David vs. Goliath stuff, if David were insanely acrobatic with no regard for his own well-being. Muscles beat flippy stuff in Vince McMahon's world though. Lashley brutalizes Ricochet, including an extended beating at ringside. Ricochet does get in a brief comeback sequence near the end, and even busts Lashley's ear open the hard way on the ringpost. It looks like Lashley ripped it against the side of the post, and the blood is all over the place. Even still, the outcome was never in doubt. Ricochet taps to the full nelson. Then Cedric gets the full nelson for good measure.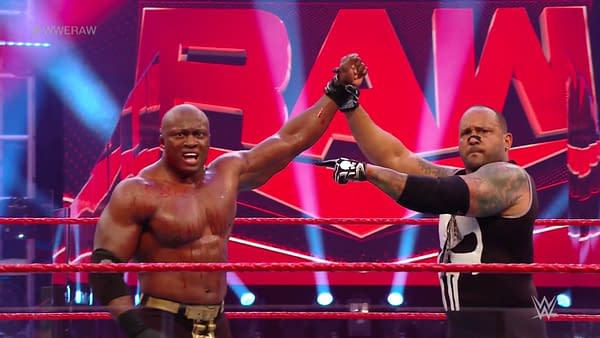 Backstage, Dolph Ziggler is strategizing with Sasha Banks and Bayley for their match against Drew McIntyre and Asuka later. Sasha mocks Ziggler for losing to Mandy Rose and Otis on Smackdown. Bayley tells Dolph not to screw this up for Sasha. Raw takes a commercial break.
After the break, Tom Phillips plays a video of the contract signing from the beginning of Raw again. This is now the third time I've watched the same segment tonight. Drew McIntyre comes out for the main event, followed by Asuka, and then Banks and Bayley. Bayley gets on commentary, which is a much-needed break from the monotony of Phillips and Saxton (Samoa Joe is okay).
Drew and Dolph start things off as Tom Phillips explains WWE's dumb mixed tag match rules. The men only fight the men and the women-only fight the women. Drew beats the crap out of Dolph at the start, but Dolph hits a "Famouser". Drew kicks right out though. Sasha tags in, so Drew has to get out in exchange for Asuka. Bayley chants for Asuka vs. Sasha to main event Extreme Rules. I feel inclined to agree. Asuka tries to put Sasha in the Asuka lock, but Asuka resists. Drew and Dolph run in, the heels get dumped out of the ring, and Raw goes to commercials again.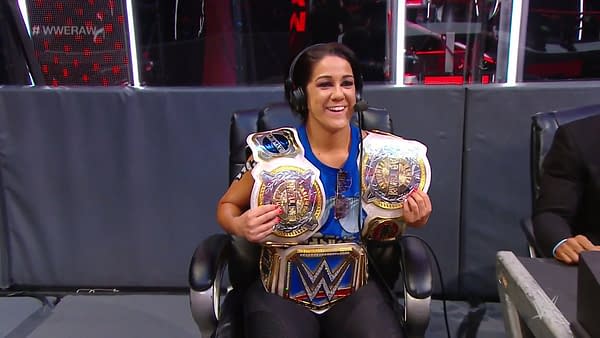 Back from the break for hopefully the last time, Drew is once again pounding on Dolph, because if there's anything we needed to happen, it's for Drew to look even stronger going into the PPV in case there was anyone left out there who still thought Dolph might win this thing. Now the women tag in and Asuka hits her offense on Sasha, getting a two-count off a shining wizard. But outside the ring, Bayley distracts Asuka by so Sasha can get in some ringside attacks. Now Sasha controls in the ring as the end of the show approaches and the poor coronavirus-exposed WWE trainees in the audience cheer for a hot tag like they're being paid for it.
After several rest-holds, it's a hot tag they get. Drew annihilates Dolph, but Sasha tags herself in. She stops to talk trash to Drew, which allows Asuka to hit her with a kick to the face and almost get the win. Drew heads outside to beat on Dolph, but Dolph shoves Drew into the ringpost. In the ring, Sasha tries some pin attempts and then locks on the Banks Statement. Asuka breaks out and gets her in the Asuka Lock, but Sasha flips it into a pin and win. Unexpectedly, Dolph didn't even interfere. Raw goes off the air with Sasha and Bayley celebrating like they just won the Super Bowl and Dolph Ziggler shouting "I told you so!"
This episode lagged in the first hour, but it picked up in the second and ended on a high note. The biggest problem is that most of what happens is just so predictable, including the matches. Raw seemed to be far less affected by the coronavirus outbreak in WWE than Smackdown, though the wisdom of WWE continuing to press their luck is another thing. Wait, Extreme Rules is still three weeks away? This felt like a go-home show. What are they gonna do for the next two weeks?
Hey, Raw Talk looks like it might be worth watching…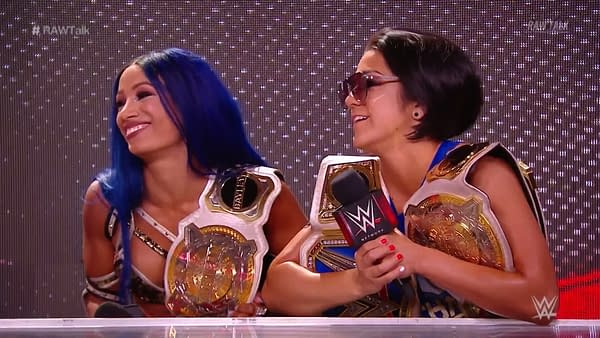 Gah! What am I saying! I just watched three hours of this! I think I need help.
Enjoyed this article? Share it!