Reservation Dogs: Taika Waititi & Sterlin Harjo on Series Inspirations
Reservation Dogs creators Taika Waititi and Sterlin Harjo wanted to go all out for their comedy with every director, writer & main actor indigenous in terms of representation. The series stars D'Pharaoh Woon-A-Tai, Devery Jacobs, Paulina Alexis, and Lane Factor as four teenagers who pivot from committing crimes, which will finance their escape to California, to fighting it. Waititi and Harjo spoke to Entertainment Weekly about how they conceived the show and where they want the FX on Hulu series to go.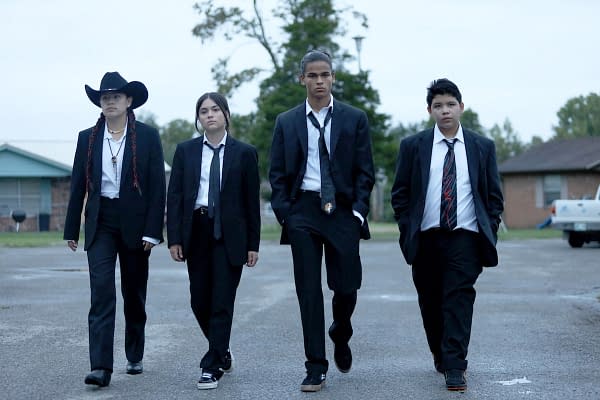 "We met at Sundance in 2004 and hit it off," the What We Do in the Shadows creator said. "We were brought together by Bird Runningwater from the Sundance Institute; he's like the patriarch of Indigenous filmmaking who's brought all the voices of the world, and so we all owe him a lot. We just hooked up through that and became friends over the years, and I think our friendship really developed just based on the fact that we came from completely different places on the other side of the world, separated by 200,000 miles, but that our experiences growing up were pretty much exactly the same. So all of our conversations always inevitably lead to stories about where we're from and we related to each other deeply over those stories and our backgrounds."
"Those stories from home, we would always tell them when we were together, and they ended up being some of the funniest things that we'd ever heard, just weird, quirky. It was like we collected those together, things that are similar but different because of the cultural differences, and then it came out in this project," Harjo added. The Free Guy star introduced the idea. "One night, Sterlin was over at my place in L.A. and we were just hanging out and talking, and eventually we just started talking about how cool it would be to have a show that wasn't depressing about natives," Waititi continued. "Like a native show that didn't fall into the trap of a lot of films or shows that have gone before us, where it's about the hardships of being native and just that. Or it's like how oppressed we've been and just that. Dealing with some of that stuff and touching on that stuff, but doing it in a way that really is true to our sensibility, which is you only really tell those stories through humor. The only way we are even able to deal with trauma is in a funny way."
Defining the Humor of Reservation Dogs
Harjo explained the untapped potential in storytelling and how comedy factors in. "Our communities dealt with everything through humor, and that's the thing missing from of any representation of us. We fought in wars and were badasses and had hardships, but our survival counted on our humor, and that hadn't been reflected. And that's really what made us want to do the show. But also like a celebration of our communities, the quirkiness, the weirdness." For more on how Waititi and Harjo conceived the characters, the setting, how it was sold to FX, casting, making the characters relatable, and the Quentin Tarantino-inspired title, you can go to EW. Reservation Dogs premieres on August 9 on FX on Hulu.

Bleeding Cool TV on Instagram: For all of the stuff too random and bizarre to make the site, make sure to follow us on Instagram (with an official launch on June 19): Bleeding Cool TV (@bleedingcooltv).
BCTV Daily Dispatch: For a look at what's going on across the television and streaming landscape, sign up for Bleeding Cool's daily email round-up of the news you need to know here.