Reservation Dogs: Taika Waititi/Sterlin Harjo Series Shares New Teaser
The highly anticipated upcoming Taika Waititi (What We Do in the Shadows, Jojo Rabbit, Thor: Ragnarok) and Sterlin Harjo (11/8/16, Barking Water, Four Sheets to the Wind) dramedy series Reservation Dogs released a new teaser trailer that- though only 20 seconds long- got us hyped up and ready for an FX on Hulu series that looks to be full of personality and great storytelling. Reservation Dogs focuses on four Native American teenagers growing up in eastern Oklahoma on a reservation: Bear played by D'Pharaoh Woon-A-Tai, Elora Danan played by Devery Jacobs, Willie Jack played by Paulina Alexis, and Cheese played by Lane Factor.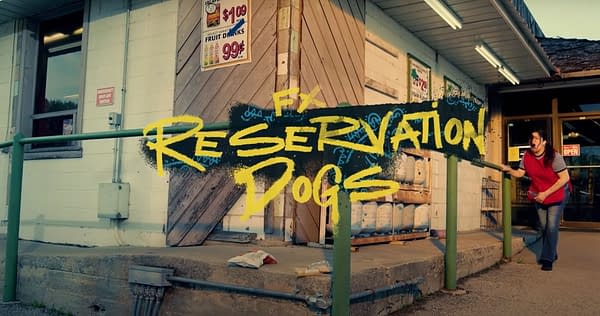 Filmed on location in Okmulgee, Oklahoma, Reservation Dogs is a breakthrough in Indigenous representation on television- both in front of and behind the camera. Every writer, director, and series regular on the show is Indigenous. This first-of-its-kind creative team tells a story that resonates with them and their lived experiences – and invites audiences into a surprisingly familiar and funny world. Now here's a look at the teaser "Petty Theft", with Reservation Dogs premiering its first two episodes on Monday, August 9, on FX on Hulu:
From Co-Creators and Executive Producers Sterlin Harjo and Taika Waititi, Reservation Dogs is a half-hour comedy that follows the exploits of four Indigenous teenagers in rural Oklahoma who steal, rob and save in order to get to the exotic, mysterious and faraway land of California.

"Bear Smallhill" (D'Pharaoh Woon-A-Tai) is destined to be a warrior, and a leader. The only problem is he's not a good fighter, and the gang doesn't really consider him the leader. But with the guidance of a questionable spirit guide, he just might get there. "Elora Danan" (Devery Jacobs) may be the true leader of the group. But she's so focused on getting to California, and so oblivious to her own power, that she often can't see the beauty and goodness in herself and all around her. Smart-mouthed tough girl "Willie Jack" (Paulina Alexis) is the beating heart of the group. She's always looking out for her crew. Meanwhile, "Cheese" (Lane Factor) is the gentle, quiet ride-or-die who is so willing to go along with the group that he never stops to consider what his own dreams might be.

One year ago, Daniel, the fifth member of the Reservation Dogs, died. Struggling to make sense of the loss, the remaining four blame the reservation, its poverty and its ability to crush the spirit. They decide to honor Daniel by adopting his dream of getting to California as their own. To succeed, they will have to save enough money, outmaneuver the methheads at the junkyard on the edge of town, constantly dodge conspiracy-obsessed Lighthorseman "Big" (Zahn McClarnon) and survive a gang war against a much tougher rival gang, led by the enigmatic "Jackie" (Elva Guerra).
The teaser itself brings such an abundance of fun energy, making us want to join in and be a part of the friendship we only see a glimpse of on-screen. The increase of diverse stories making their way on television screens is important to Harjo and Waititi, who are committed to the continued use of indigenous and minority voices in all aspects of production on their projects moving forward. Harjo, Waititi, and Garrett Basch (What We Do in the Shadows, The Night Of) executive produce; Reservation Dogs is produced by FX Productions.

Bleeding Cool TV on Instagram: For all of the stuff too random and bizarre to make the site, make sure to follow us on Instagram (with an official launch on June 19): Bleeding Cool TV (@bleedingcooltv).
BCTV Daily Dispatch: For a look at what's going on across the television and streaming landscape, sign up for Bleeding Cool's daily email round-up of the news you need to know here.