[Review] Haunting of Hill House: Television Gets No Better Than This
[rwp_box_recap id="0"]
Shirley Jackson's brilliant work The Haunting of Hill House has been around since 1953, one of the seminal works by one of the world's greatest writing talents. It has been adapted two other times: an excellent 1963 Robert Wise film The Haunting, and a not-so-great 1999 film also titled The Haunting. The current adaptation is now streaming on Netflix, and just to get this out of the way: not only is it the best horror can offer, it may be the show of the year.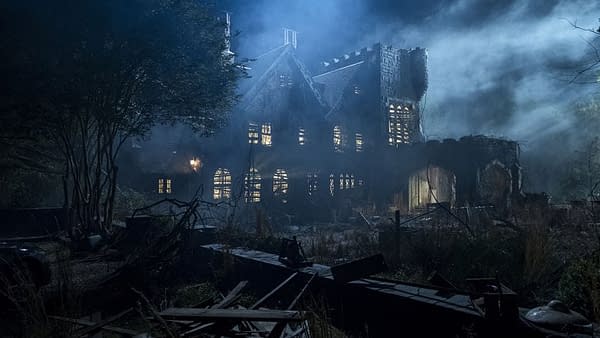 We are here to observe the lives of the Crain family. Parents Olivia and Hugh have purchased Hill House to fix up and flip. Along with them are their five children: daughters Shirley, Theodora, and Nell, and sons Steven and Luke. As they live in the house, supernatural occurrences begin to unravel their lives, culminating in Hugh abandoning his wife in the house and escaping with the children. We slowly learn what exactly happened that fateful night through flashback, as we spend time with the grown-up versions of the Crain children. Steven becomes an author, exploiting his and others family traumas to write ghost story books even though he doesn't believe. Luke is a full-blown drug addict. Nell is traumatized by what happened at Hill House. Shirley runs a funeral home with her husband, and allows her sister Theodora to live in her guest house. Theo is a children's psychologist with a chaotic personal life. And their dad (an excellent Timothy Hutton)? Well, that would be telling…
There is nothing else to say here. Nothing about this show should be spoiled for you in the slightest. Even that description was too much. This is the type of show that we watch television for. Long-form storytelling with such emotional depth that when each episode is over, you are sitting there in a puddle of emotion unable to click the button for the next episode. The scares are subtle and stay with you. Each character, doesn't matter if they are young or old, is perfectly cast and they all have insanely great chemistry. Special shout-out to Victoria Pedretti and Kate Siegel for some of the most affecting performances you will see this year. Nell and Theodora are both radically different characters, but for different reasons become the emotional core of the show. The coolest part is that everyone could have a different answer here. Luke (Oliver Jackson-Cohen) has one of the most heart-breaking character arcs ever. Steven (Michiel Huisman) is so broken that even as unbarring as he can be you root for him. Shirley (Elizabeth Reaser) is living a lie, but can't free herself from it to admit that she is not perfect.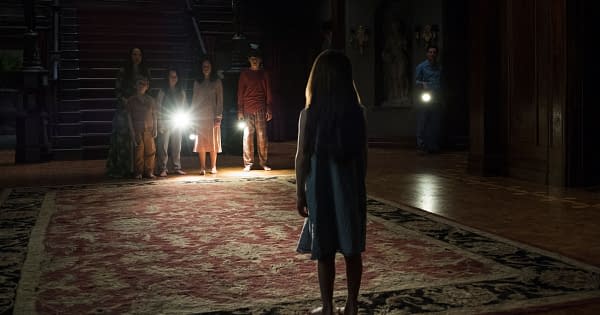 One performance in Hill House, however, deserves all the awards and accolades above all others, and that is Carla Gugino. This is the second straight year she has collaborated with Mike Flanagan (after last years Gerald's Game, also excellent), and if these two can keep making projects together forever, that would be great. As we slowly see her descent into madness, she acts as a mother to not just the kids, but to us as viewers. Calming us, soothing us, and getting us ready for the true terror that is heading our way in the heartbreaking truth about everything. She is just simply astonishing.
Flanagan may be the best voice in horror we have. He has such an incredible grasp on what makes modern horror work. It is not about jump scares and gore. Real, true terror comes from moments our brains cannot fathom what we are seeing and yet we can't look away. That feeling of pure bliss that comes with feeling helpless and afraid. Paralyzed and staying in those moments where you feel a hundred different emotions and anxiety wins out. The man just gets it. Real emotional drama is just so rare in this genre sometimes, that when someone can bring it out in us as an audience, they need to be lauded and celebrated.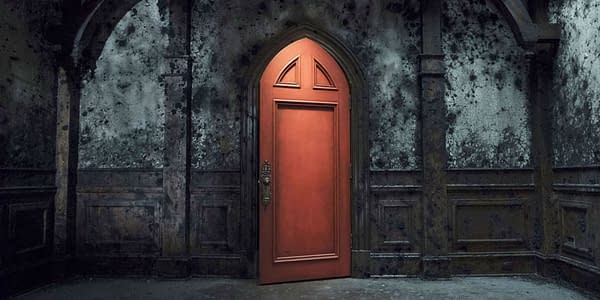 In case it is not clear, this show is destined to go down as a classic. Sure, there are nitpicks here and there, nothing is perfect. But nobody should want to pick this one apart. Hill House is a ride that everyone, fan of the genre or not, should just sit back and enjoy, tears streaming down their face, hair raised on their arms, and a giant smile on their face.
The Haunting of Hill House is now streaming on Netflix.