Rick and Morty Music: Rick's Bad Parenting Now Comes with Theme Song
If you've watched "Star Mort Rickturn of the Jerri", then you know that Adult Swim's Rick and Morty actually found a way to both be a lousy father and grandfather while also being a decent father and grandfather. Though we have a strange feeling Beth, Beth, Jerry, Summer, and Morty really are feeling the latter there. Following up on the offer he made to Beth in "The ABC's of Beth" to make her a clone, turns out Rick "punted" when it came to deciding which Beth he wanted to stay and which he wanted to leave so he turned his back while the vats switched back and forth and then had the memory removed as a back-up.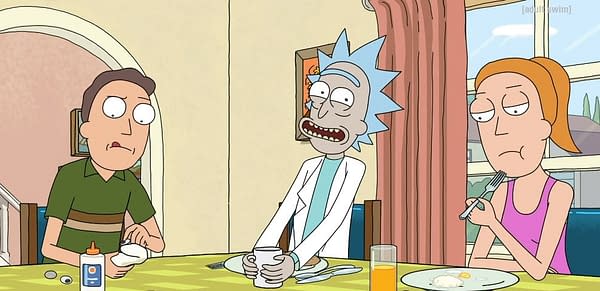 Yeah, like we said. Lousy father. But then again, the argument could be made that Rick couldn't make the decision because he loved his daughter as a whole person so not knowing meant they would both remain "Beth". Now before some of you take to the comments below to tell me how wrong I am, take moment to vibe the heartbreaking, soul-crushing song "Don't Look Back" from the season finale. Written by Ryan Elder and Kotomi, with vocals by Kotomi, the song is second only to "Do You Feel It" from Chaos Chaos (from second season episode "Auto Erotic Assimilation") when it comes to hard-kicking our "Feels". Check out the music video and audio track video below:
While he had had promising news about the fifth season to share, it looks like Roiland is as much in the dark over how the next season will go release-wise just like the rest of us: "I think it's largely dependent on how quick the episodes can get produced. I know season five is mostly in the can. They're still gonna be reworking when the animatics come back, so that can extend the process. I believe if they have the full ten episodes, they'll release them without a split, but I honestly have no idea. That's kind of a question that's outside of my jurisdiction. They do what they think is best for the show."
Roiland was in favor of how the fourth season was divided, and he would like to see the series experiment more with the way it releases episodes. So what would you think about the series going monthly, and running year-round? "I've been saying we should drop an episode each month, just make it a big event. I like the idea of thinking outside the box with how any show is delivered to the masses. If you do one a month, the show is alive the whole year and you're still buying us all the time we need to make them as good as they need to be. I'm not saying that's ever gonna happen, but I have brought that up in the past. That just goes to the point that I have no idea what the plan is for season five. I'm sure whatever it is will be the right decision."