With a second COVID-19 case found amongst the talent and crew participating in WWE television tapings, one thing has become even more clear: Roman Reigns was right to take WWE up on their questionably genuine offer to stay home from work until the pandemic is over. Unfortunately, despite his status as the company's top guy, very few people on WWE's roster have chosen to follow his lead.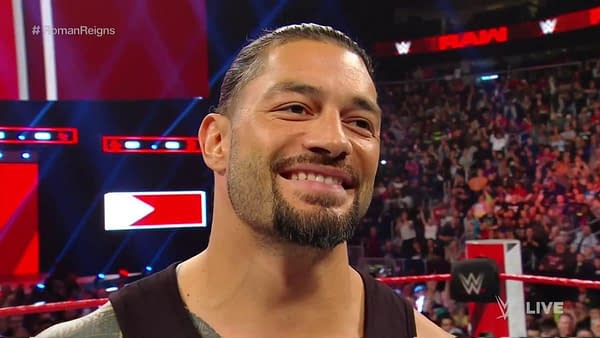 Reigns bowed out of his planned WrestleMania match against Goldberg back in April. Soon after, WWE admitted that an on-air talent (but not a wrestler) had tested positive for COVID-19, believed to be contracted when the talent went out to eat with colleagues in the entertainment industry following the WrestleMania tapings in March. WWE dodged a bullet there and soon resumed television tapings, which have largely been without incident until this week when WWE once again admitted that someone present at their tapings, this time a developmental talent, tested positive for COVID-19 after last week's tapings.
This time, the situation is more worrying for several reasons. First, WWE has been gradually loosening safety precautions at the Performance Center. The company has been using developmental talent as a stand-in for a live audience. They put them behind plexiglass barriers but frequently scripting them to interact with company stars, for example, by pulling two wrestlers apart in a brawl or by taking part in the Street Profits' overly touchy entrance. And on Monday, right before the news broke about the second COVID-19 case, WWE actually allowed some fans into the building to watch the tapings as well, though WWE has denied the accusation on semantics, calling them "friends and family." Those "friends and family" were reportedly forbidden from wearing protective face coverings. And apparently, they're there again today for the latest round of tapings.
And of course, there's the danger that comes from traveling to and from the WWE Performance Center in Florida for the tapings. Amidst all of this, WWE has featured particularly vulnerable people on their shows, including Jerry "The King" Lawler and Ric Flair, not to mention the WWE Chairman himself, Vince McMahon. And even for the wrestlers and staff who aren't in a particularly vulnerable group, many of them still have families to think about.
WWE has been medically screening talent and guests since the start of the pandemic, but those screenings apparently consist of a temperature check and a check for visible symptoms. And if you believe some as-yet unconfirmed dirt sheet rumors, WWE may have even let people in with slightly elevated temperatures. WWE began actual coronavirus tests this week in response to the COVID-19 case, which is the first time since the pandemic started that talent and crew have been given a real test for the virus.
By choosing to go home and stay there, Roman Reigns made a difficult decision, and a meaningful one as the guy most view as WWE's top star and the guy meant to carry the company after John Cena's retirement. Reigns gave up his spot to stay home, and he did it right before he was scheduled to win the Universal Championship from Goldberg and have a run on the top on Smackdown on network television. Though Reigns is a Leukemia survivor, the reason he's given for choosing to stay home is to protect his family, including his young children, from the disease. In response, WWE hasn't mentioned Reigns on television since he dropped out of the WrestleMania match.
Unfortunately, though Roman Reigns led by example, few WWE talent have followed that example. Some wrestlers, such as Sami Zayn and Kyle O'Reilly, have indeed chosen to stay home, and Zayn was stripped of his Intercontinental Championship as a result. But most of the rest of the WWE roster have continued to come to work, even though the company has not even tested anyone for the virus until now. It doesn't help that WWE sent a clear message near the start of the pandemic by laying off or furloughing dozens of wrestlers and producers as cost-cutting measures near the start of the pandemic. That group included pretty much everyone who had been publicly critical of WWE in recent history. WWE may not have explicitly threatened their roster with repercussions if they decide to stay home (and they've publicly denied forcing people to work). Still, it wouldn't be totally outlandish to assume such a threat is implicit.
Now that WWE's practices are being tested by a new COVID-19 case with the potential to spread, the decision by Roman Reigns to stay home has proven to be a wise one. Unfortunately, it hasn't emboldened the rest of the roster to follow his lead. It's unlikely anything short of a company-wide outbreak will change that.
Enjoyed this article? Share it!