WWE Admits On-Air Talent Tested Positive for COVID-19
On the heels of news that WWE will resume live weekly tapings of Raw, Smackdown, and NXT rather than filming a bunch of episodes at once, the company has admitted one of its on-air staff tested positive for COVID-19. The news was first reported by Fightful's Sean Ross Sapp that a memo circulated around the company saying a staff member had contracted the deadly coronavirus. Fightful had been trying to confirm the story with WWE all week but ran it without a statement from WWE. Shortly after that, WWE issued a statement, both to Fightful and through Pro Wrestling Sheet, the media outlet run by former TMZ reporter Ryan Satin, who works for WWE as a correspondent for WWE Backstage. The unnamed on-air talent, who is not a wrestler, has since recovered, according to WWE.
"A WWE employee has tested positive for COVID-19," the statement read. "We believe this matter is low risk to WWE talent and staff, as the individual and a roommate became symptomatic in the days following exposure to two people working in acute health care on the evening of March 26, after WWE's TV production on a closed set was already complete. The employee had no contact with anyone from WWE since being exposed to those two individuals, is doing well, and made a complete recovery."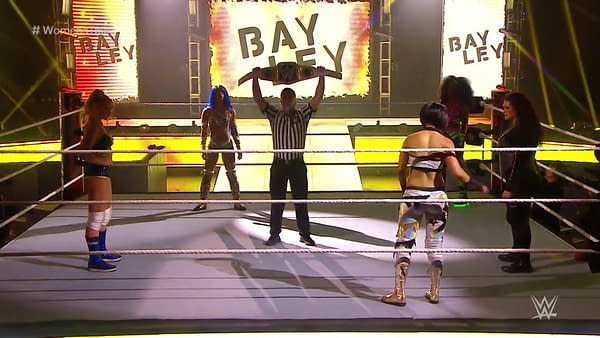 Meanwhile, WWE is Continuing to Tape Weekly Shows
The news adds another degree of seriousness to concerns that continuing to produce weekly pro wrestling content is dangerous in the current environment. Getting wrestlers and film crews together for extended tapings that cover a month or more is one thing, but having them return week after week is even riskier, especially if that involves travel for the people involved. Another report from Fightful claims WWE is giving employees a letter claiming they are "essential" media in case they are questioned by law enforcement about breaking quarantine.
Several wrestling industry veterans have spoken out on the wisdom of continuing to tape wrestling shows during the quarantine, but opinions are mixed. Speaking of WrestleMania 36 and wrestling during the pandemic, Jake "The Snake" Roberts said in an interview with Wrestling Inc., "It's hard for me to watch because I miss it so much and I don't like all of the things that people are doing now. Now I'm in AEW and I can voice my opinion and try to help guys go about it in a better way. With all of the guys flying the way they are, it's short-term brother. I'm talking not only from watching, but don't you wanna live longer? Just go home and stay there until this sh*t is gone. It sounds to me like AEW is doing that too. At the last taping they taped a lot of matches so you can do several weeks of shows. So, guys can go home and take care of business. Keep everybody safe."
In an interview with 411 Wrestling, AEW's Jim Ross said, "I think it's a matter of fulfilling your commitments. They [both WWE and AEW] have a commitment to their various broadcast partners that they're gonna provide programming, first-run programming, so that's something we're both doing. I look at it as they're honoring their commitments and keeping their hand of the bargain up. They're having to do it in a very unique way, but as long as they can find sound studios or somewhere that it's legal to do a controlled taping, I perceive that both of them are gonna continue to do exactly what they're doing until this thing has been eradicated or at least relieved in some degree." In an interview with TMZ Sports, The Big Show said that WWE is keeping wrestlers 100% safe. "The way our Performance Center is set up, the way it's being shot, the way our company is taking this very seriously." Hopefully, he's right.