Sasha Banks and Bayley Cry on the Floor After Tag Title Win
Sasha Banks and Bayley are the new Women's Tag Team Champions, and they chose to celebrate by taking a shot at TMZ reporter turned dirt sheet mogul turned guy who plays a reporter on WWE Backstage, Ryan Satin. Satin famously reported rumors that Banks was seen crying on the locker room floor after she and Bayley lost the tag titles last year, but Satin later apologized for it after WWE released an episode of Chronicle featuring Banks.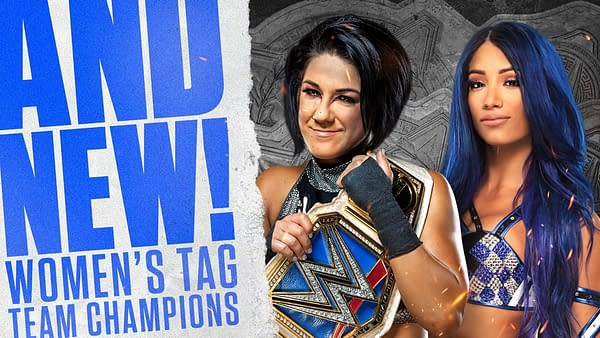 "In regards to Sasha Banks' episode of Chronicle," Satin wrote on Twitter, "Even though I confirmed my report after WrestleMania with several of her co-workers, and more since, I've experienced depression and anxiety. Therefore, in hindsight, I realize this was a story that I should have passed on." However, Satin soon made the apology about himself, writing, "People telling me to be more sensitive about the mental health of a superstar offer a fair criticism and I am taking it. However, when those same people say far worse things to me while offering their criticism, it makes it difficult to take their feedback in good faith."
Ultimately, he concluded, "That being said, learning what to report and what to pass on is one of, if not the most difficult, aspects of my job. This experience will forever be in the back of my mind in the future when I ask myself 'should I report on this? Is this news?' I can promise you that," adding, "If I caused any emotional or mental harm to either @SashaBanksWWE or @itsBayleyWWE, I offer my most sincere apologies. That was never my intention."
But following their win on last night's episode of Smackdown, Banks and Bayley made the rumor retroactively true. Banks scored the pinfall in a match against Alexa Bliss and Nikki Cross. In an online exclusive after the match, the new champs posed for photos, and they decided the most fitting way to celebrate was to take photos crying on the floor with the belts. Satin didn't comment, but he did retweet the video that was posted on WWE's account, so you have to give him credit for being a fair sport.
Meanwhile, Bliss, who, if we're going to go really deep into the territory of unsubstantiated but totally plausible rumors, is believed to be one of Satin's sources, commented on the video: "Worked well for them last time… Nikki, let's take notes, I'll bring the tissues."