Seth Rollins Shocked by Jim Cornette's Words on Becky Lynch Pregnancy
Former WWE Champion Seth Rollins has apparently been living under a rock for the last decade because the Monday Night Messiah was "caught off guard" by comments Jim Cornette made on the pregnancy of his fiance, Becky Lynch. Lynch announced her pregnancy earlier this month on an episode of Monday Night Raw, temporarily, or maybe permanently, retiring from wrestling and giving her Raw Women's Championship to Asuka.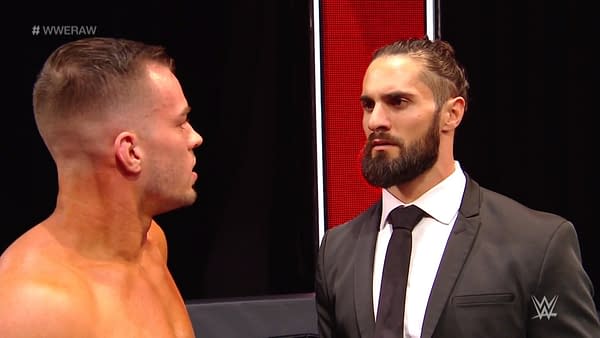 Cornette addressed Lynch's pregnancy on his podcast this week, saying (as transcribed by Essentially Sports), "You can't always be on top of the wrestling business in a $1 million a year spot or more, but you can [have a baby] — what is she? Can she be 30? Well, still, she's got many more years before the f**cking Easy-Bake Oven gets shut off. She can have all those problems like a descended stomach and stretch marks and hemorrhoids and hormones problems and mood swings and all those other joys of motherhood later on WHEN SHE AIN'T MAKING A MILLION DOLLARS A YEAR!!!"
"She's got plenty of time left," Cornette continued. "What would you do if your wife came home and said instead of making a million dollars next year I'm gonna basically just be a raging bitch for the next nine months and then give you more s**t to worry about around the house?!"
Rollins appeared on an episode of the After the Bell podcast to fire back at Cornette, at first expressing his shock that Cornette would say something like that. In comments transcribed by Wrestling Inc., Rollins said, "It actually came from one of the more unlikeliest of sources, and I don't really want to take too much time to get into it because I don't want to focus on it, but it hurt my feelings on a personal level because Jim Cornette is someone who's a legend in our industry. And he's someone that I personally worked with in my time at Ring of Honor, and for him to come out and say some real negative things, some real misogynist things about women in general and pregnancy and the industry, it kind of caught me off guard. And it made me lose a lot of respect for someone who a lot of people had already kind of lost respect for, and I was still holding on to hope that somewhere along the line, there was a personal connection between Jim and I that he would think twice before making just some egregious comments about women, about my wife. I can't even forgive them. I don't even want to repeat them."
Rollins's disbelief soon turned to anger, as he said Cornette's mindset should be eradicated. "Just from a grander scale, the mindset that has to go into that needs to be eradicated all around," Rollins said. "It's just so disgusting, and the more I sat in thought about it and talked about it, I knew we had this appearance coming up and we're going to have this conversation, I wanted to address it because I want to make it very clear that I am so proud of my fiance, of Becky, of what she's doing in the courage that it takes for her, at this point in her career, to make a decision. She's 33 years old. So once you hit 35 for women, you start running risks with these pregnancies. So she made an incredibly tough decision. She went out there on national television. She had to say things the way she wanted to do. The fact of the matter is she is the most talented woman I've ever seen in my entire life, and she's going to be just fine being pregnant, making money, doing alright. So everything that Jim Cornette said is complete nonsense. Not just for her but for women all around the globe. Honestly, for the most part, aside from what we just discussed, it's been extremely positive, and I think everybody's just really happy for us."
We're sure that the entire world shares Rollins' shock and dismay that Jim Cornette would make comments like the ones he made about Becky Lynch. It's not like he's ever said anything so outlandish before. Bleeding Cool has obtained the following exclusive footage from inside Jim Cornette's house after he learned of Rollins' response.