Agents of SHIELD Season 5: The 100th Episode and the Fate of Phil Coulson
Marvel's Agents of SHIELD returns tomorrow night, and we'll get a good idea of who made it through the portal and just what the status is going to be once they get back. And while we get to meet Dove Cameron's new character of Ruby this week, a lot of the focus is on the following episode, which will be the series 100th and is supposed to be something special.
Word is that both Hive and Lash will be back for the episode and we're supposed to finally learn what the deal was that Agent Coulson (Clark Gregg) made with Ghost Rider (Gabriel Luna) to borrow his powers to fight Aida (Mallory Jansen) last season. But with that news and some of the prophecies from earlier this season, folks are thinking that it may be the end of the line for Coulson.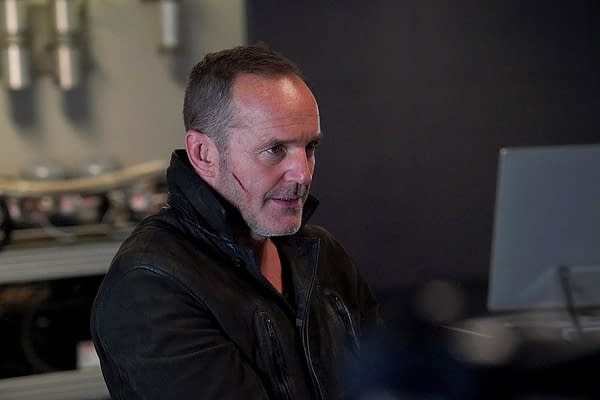 EW.com did some digging to find out just how worried we should be for the world's favorite Agent. Executive producer Jed Whedon told them that the landmark hour was an "emotional episode and it was emotional making it."
But Gregg talked about the episode and whether there is still hope.
There's been a big scary dagger of fate hanging over Coulson's head all season and we're going to find out the nature of that and what it means going forward. That in itself would be enough drama for a 100th episode, but on top of that, we have an incredible device the writers have come up with where some characters from the past will appear. There is also a moment that many of us have waited a long time for. I won't say what 'ship it has to do with, but somebody's 'ship is going to reach a shore.
I would guess its Coulson and May… but who knows at this point? Maybe it's Hive and Lash… has anyone been shipping Hive and Lash?
Marvel's Agents of SHIELD airs Friday at 9 p.m. ET on ABC.