Agents of SHIELD Season 5: The Day it All Ends
Tonight's Marvel's Agents of SHIELD is called 'The Last Day', and the clip below may give us a hint as to why it's called that — and hint at something big. The scene takes place on the Zephyr and has Phil Coulson (Clark Gregg) meeting the now-elderly Robin (Willow Hale), who has been sort of talking with Melinda May (Ming-Na Wen). Robin is the Seer that Enoch (Joel Stoffer) and is the reason the team was sent to the future in the first place.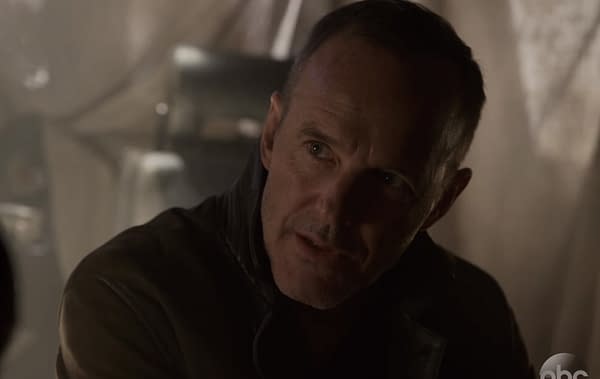 Coulson arrives and starts to talk to Robin, who doesn't seem to really be all there. After, May explains that she has been 'in and out' and that she had asked why they'd been taking from the diner. Robin told her it was the last time they were all seen together. And that might be the Last Day the title refers to: the last day they were all together. This may mean that one of the member of the team either won't be heading back in time with the others… or won't be alive much longer.
She finally recognizes him, referring to him as Phillip J. Coulson… I thought his first name was Agent… and how he can bring all the pieces together. She also says that this is the day it all ends. Robin got the most out of her Cryptic correspondence coarse from Phoenix University.
Marvel's Agents of SHIELD airs tonight at 9 p.m. ET on ABC.