Agents of SHIELD Season 5, Episode 10 Recap: Past Life
This article contains spoilers for the Marvel's Agents of SHIELD season five episode, 'Past Life'.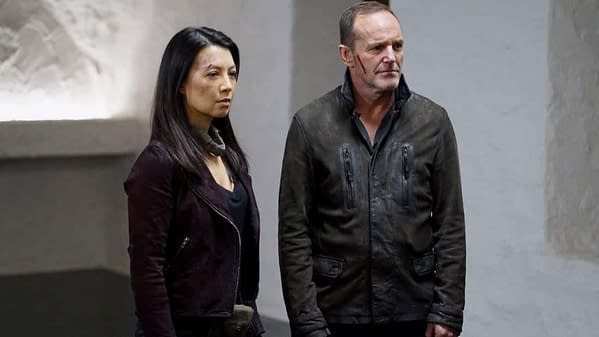 The opening story arc comes to an end this week and Kasius's seer is revealed. It was obvious that his seer wasn't an actual precog, but either someone who had already lived it and was in a time loop or a book or journal from someone who had lived it. Turned out it was the former as Elena / Yo-Yo from another time line, reliving this time over again — fitting for the episode to air on Groundhog Day.
This is the Yo-Yo who in the flashbacks (forward) said Mack was gone and carried a scythe. And it was modern day Yo-Yo who stumbled upon the alternate version of herself. The seer-version had been killed and resurrected multiple times and was without her arms. She was worn down and broken. She explains that no matter what they try, the outcome is the same. That they always choose to do one thing — save Phil Coulson — but they need to let him die. And we cut to see Coulson with some kind of rash across his chest. She also talks about Mack's death and how she had been on fire, but reached for Mack and found nothing. Kind of bleak, really.
Kasius is upset that Sinara is dead. He speaks to her body inside his chamber and we learn how SHIELD stopped Kasius's father from invading Earth, and if he can keep them from going back in time, then Earth will stay intact and be there for conquering. He then orders Sinara to be resurrected, but the doctor says it only works on Inhumans, not Kree. Kasius kills the doctor. He then supes up Tye on Odium, making him a wild killing machine. When SHIELD comes to free the Inhumans, Daisy ends up fighting him. He gets a knife to the chest for his troubles.
Flint, using the space gear, floats around the outside and causes a hull breach that sucks the rest of Kasius's minions out into space, then he repairs the breach with his powers. They say goodbye to Tess, who starts taking refugees back to the surface. Enoch and Deke went to work on the portal, knowing that they would both die as Enoch would have to use himself to cause a massive explosion to power the portal. Daisy refuses to go, fearing she would just cause the Earth to shatter. Understanding her concern and being a supportive leader… Coulson shoots her with an Icer and and carries her unconscious body to the rendezvous point.
Mack goes looking for Yo-Yo and finds her and Kasius in the arena. Kasius slits her throat and drinks Odium to supercharge. He and Mack fight, with Kasius about to beat Mack to death when Simmons sneaks up and puts the slave tech into the Kree's ear. Mack takes out Kasius with the shotgun-axe and then is delighted when Yo-Yo arrives. The one Kasius killed was the seer. They try to convince Flint to come back with them, but he decides to stay. The episode ends with Coulson, Daisy, May, and Fitz at the rendezvous while Mack, Yo-Yo, and Simmons race there with Deke telling them they have to flip the switch. Did they all make it? And what will they be going back to?
The trailer for when the series returns in four weeks shows that the team makes it back only to discover they are wanted fugitives. And it appears that Patrick Warburton is joining the series — at least as a bus ad. This will also be when Dove Cameron joins the series.