Agents of SHIELD Season 5: Good and Bad News About the End of the World
The highly anticipated 100th episode of Marvel's Agents of SHIELD airs this Friday, and cast and crew have stressed multiple times that the episode changes everything. We're supposed to find out what's going on with Agent Phil Coulson (Clark Gregg), about the rash on his chest, the deal he made with Ghost Rider, and about the prophecy that he is going to die. And we know that the producers are writing the season finale to double as a series finale in case they don't get renewed, so it's safe to say that all bets are off here.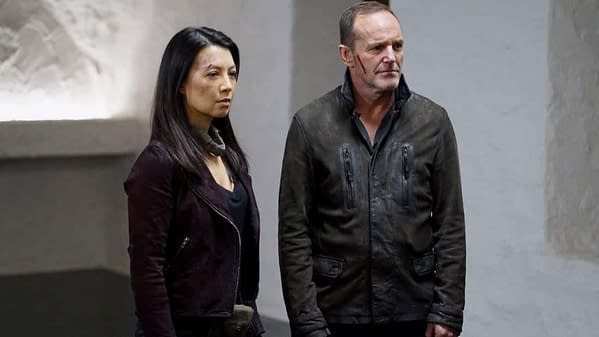 In the clip below, Fitz (Iain de Caestecker) is working on some equation in the bunker when Coulson and May (Ming-Na Wen) enter to check on him. He tells them he's fine but has found something and shows them the footage of a drone he sent out prior to the beacon exploding last week. The drone was on the 27th floor down in the underground bunker, but it found an immense forest with blue skies and clouds. Coulson says he would call it preposterous, but after a trip to the future, his preposterous meter is out of whack. Fitz shows them what he thinks is a rip in space/time and that he believes what they are looking at is in another dimension. The rip is very reminiscent of the crack in space/time from the first season of the 11th Doctor on Doctor Who. Just saying.
Marvel's Agents of SHIELD's 100th episode airs Friday at 9 p.m. ET on ABC.