Did you know that Game of Thrones co-creator DB Weiss can play guitar? He can, as made apparent by this video featuring some pretty well-known shredders tackling composer Ramin Djawadi's bitchin' theme-song for the HBO series to announce a new set of House guitars from Fender.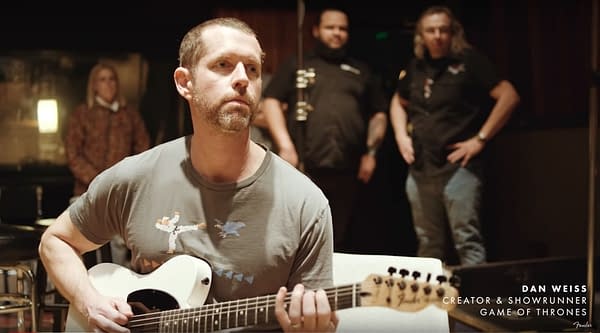 Weiss, Djawadi, Tom Morello, Scott Ian, Nuno Bettencourt, and Brad Paisley join together to jam on these beautiful instruments that represent three of the great Westeros Houses.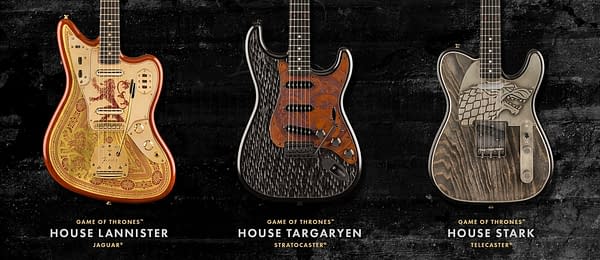 House Lannister gets a Jaguar lightweight alder body features 24k gold leaf with laser-cut heraldry design on both the front and back, a hand-cut and engraved brass Lion sigil inlay on the first fret, a 24k leaf heraldry design carved headstock face, gold hardware and a gold-plated pickguard engraved with the Lannister's sigil.
House Targaryen is a "dragon scaled" alder Stratocaster body coated in a unique satin "Dragonglass Black" paint and a thin lacquer finish. It's got black hardware, a maple neck with ebony fretboard, a hand-cut and engraved sterling silver three-headed dragon sigil inlay on the first fret, as well as a hand-tooled and stained leather pickguard that features the Targaryen sigil.
House Stark is a Telecaster, with two howling '50/'51 Blackguard single-coil pickups.
The Lannister Jaguar has a pair of rich Fat '50s single-coil Strat pickups and the Targaryen Stratocaster breathes fire through three Texas Special pickups. Each took roughly 100 hours to complete. You can read more about the releases over on Fender's official website.
And of course, this Sunday we'll be treated to the LAST EVER EPISODE of Game of Thrones as the 8th and final season airs it's final chapter.
Enjoyed this article? Share it!