So Say We All: The Battlestar Galactica Book For Everyone
Chances are, when you ask someone about their favorite Battlestar Galactica, you're likely to get one of two answers; the original 1978 series, or the 2004 reimagined series. Thankfully, the fan battles aren't nearly as deadly as a raid on your local Cylon basestar, and the newly published "So Say We All" oral history of the franchise is a prime example of how to celebrate all BSG.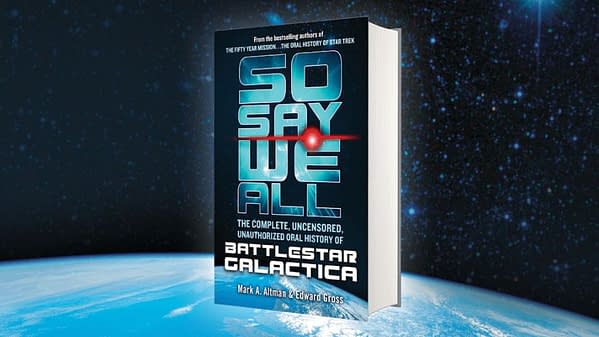 Authors Mark A. Altman and Edward Gross managed to collect a truly impressive wealth of interviews and recollections with creators, cast, and crew of the various Battlestar series in their tome from TOR Books. It's not all roses and happy singalongs- much of the strife from behind-the-scenes is included within the various sections, as well as the dreaded "female Starbuck" fallout, and subsequent praise. Much like the resulting serieseseses, really.
While admittedly we haven't finished the entire thing yet, (more than 80% though!) this particular glimpse into the how and why of production choices, personal reflections on situations, and no shortage of knowledge that perhaps even the biggest BSG fans didn't know.
"So Say We All" is available on Amazon[easyazon_link identifier="1250128943" locale="US" tag="bleedingcoo07-20"]So Say We All: The Complete, Uncensored, Unauthorized Oral History of Battlestar Galactica[/easyazon_link].
If you happen to be attending New York Comic-Con (NYCC) this year, maybe try to stop by the Master Class session with nuBSG helmer Ron D. Moore, with Sony Picture Television Co-President Chris Parnell and Mark A. Altman moderating/steering. (Although yes, it is a separate ticketed event from the convention).