NFL Draft Preview – AFC East
My favorite weekend of the year is coming up, and it's not because my first day is part of it. The NFL draft kicks off on Thursday night with first round selections, then Friday rounds two and three with four through seven taking place on Saturday. To put it in Comic terms, its like the weekend when the X-Men editors get together and decided which mutants are on the Blue team, which go Gold and which are Red. Making a selection in the draft is not easy. Experts study all the players coming out of college, trying to find their strengths and weaknesses both on and off the field and trying to predict how they'll project as a professional and rank them based on all the other players available. From there a team makes their decision based on those rankings and their particular needs. Just because someone is the best player available doesn't mean they're right for the team choosing at that point. And need can make a team reach on a player not as good as some of the ones available. Need is why quarterbacks are always taken higher than their ranked. So going into the weekend, knowing what your team needs may help you figure out who they'll take. Here are the basic needs for the AFC East: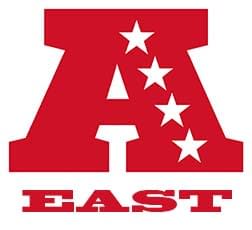 BUFFALO BILLS – The Bills signed A.J. McCarron in the off season, but really don't know what they have in him. I would say that a quarterback would be their top priority, but where they are in the draft doesn't bode well for getting one of the top prospects. They may need to trade up to make it happen. They'll also be looking to add depth to their offensive line as well as to their linebacker corp and secondary. There is talking of them going for a wide receiver, but after picking up Kelvin Benjamin last October, I think the team will focus elsewhere unless a stud falls in their lap.
MIAMI DOLPHINS – The majority of the needs for Miami are on the defensive side of the ball. The have need for a new defensive tackle as well as help at linebacker and corner. Basically they could take the best defensive player on the board with their first pick and it would improve their team. But two other things they need to be on the lookout for are a tight end and a quarterback. A pass catching tight end that could open up the middle of the field would clear some running lanes for the ground game and take away some double coverage on the wide outs. The other concern has to be with Ryan Tannehill returning from injury, they know they don't have a viable long term backup or future at the position. If a promising prospect falls to them at any point in the draft, expect them to jump.
NEW ENGLAND PATRIOTS – The Patriots have quite a few needs but it's hard to say which is higher on the list than others. Strengthening their offensive line should be a priority with a 40-year old quarterback. Having watched the Super Bowl, help at cornerback and linebacker should also be on the shopping list. But what might be the biggest concern would be a guy who could not play at all in the new season, a backup quarterback. After trading away both of their backups last season and picking up cast-off Brian Hoyer, the team is in need of a new quarterback of the future to start grooming for the day Tom Brady decides he's done… whenever that is.
NEW YORK JETS – Their obvious top need is Quarterback and the team traded up three spots to #3, a move that assures they'll get one of the top rated. But it's debatable if any of these quarterback are actually worth an early round pick, but need overrides and we are likely to see a run on them with as many as five going in the first round. The team also need an defensive end that can put regular pressure on opposing quarterbacks and offensive line help at both guard and tackle.