"Star Trek: Picard": Jonathan Del Arco's Hugh Evokes Both His Late Partner's Memory, Own Life
Jonathan Del Arco is in a unique position as a Star Trek actor. As a series non-regular on Star Trek: The Next Generation, Hugh became one of the most memorable characters among the first Borg to be liberated from the Collective. He gets to reprise the role for Star Trek: Picard. Del Arco spoke toUK's Metro about when he auditioned for the role of Hugh/Third of Five in the Star Trek: TNG episode "I, Borg".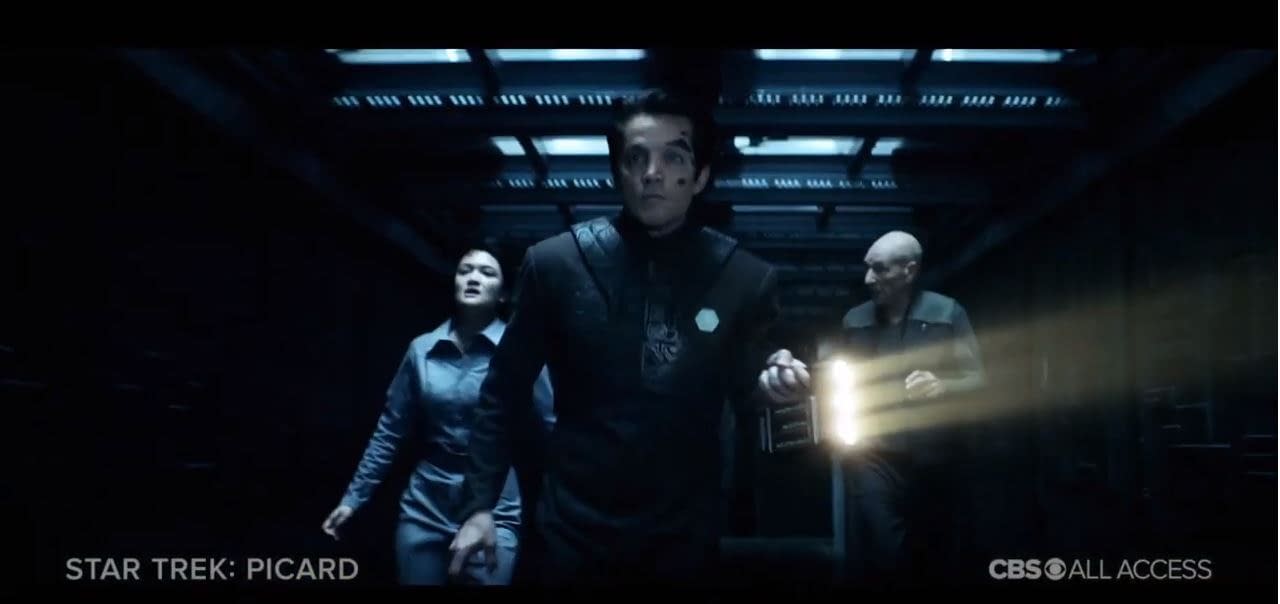 "I remember my first audition vividly. I was new in LA and had nothing, no furniture, and I remember getting this audition and I had to go. Went to a premiere that night, and I came home very late to work on it. I opened the script and I heard his voice. As it turns out, the voice was the voice of my previous partner who had died of AIDS and had dementia. I don't know why, but that was the voice I heard. It was the innocence. It was the wonder. I was like, 'OK, I know the voice. I know who he is'. Then I proceeded to walk around with a shaving cream cap on my eye to practice and I ironed a really starched white shirt."
In channeling his partner, Del Arco came upon a revelation to "turn himself off":
"I was the most antisocial actor there. You know actors at auditions are very chatty, and I was just completely shut down. I thought, 'It's interesting. They're all here to pretend to be a Borg, when I am one.' That was my mindset. I went in and that's how I got the job. I was so sure of it. It was not a question for me.'"
Del Arco vs… Mr. Robot?!?
Del Arco found out he wasn't alone in the Star Trek audition, as he was set to compete with the more-established Christian Slater (Mr. Robot):
"I think they had an offer out I think to Christian Slater, he was a really big Trekkie. I think he was, he'd been asked if he would do it. Don't know if he was on a shoot. I don't know quite how he didn't happen. I just think sometimes roles find you, and when I first opened the page, and I heard him, I was like, 'Yeah, I have him.'"
Slater would see his Trek dream be fulfilled with a walk-on role in Star Trek VI: The Undiscovered Country as a crewman who summons Captain Sulu (George Takei) to his quarters on the U.S.S. Excelsior.
"Star Trek: Picard": What Changed?
After the TNG episode aired in its fifth season, Del Arco reprised the role in the season six cliffhanger "Descent" in 1993. He returns to the role once more – 27 years later – in Picard.
"When I originally played the part, I was playing someone else, and when I'm playing the part now I'm playing myself. That's a big difference. I'm using my own life."
Star Trek: Picard premieres on CBS All Access on Thursday, January 23rd.