"Star Trek: Picard" Season 1 "The Impossible Box": Jean-Luc Confronts His Past [PREVIEW]
Before we take a look at this week's "The Impossible Box" (preview images throughout), CBS All Access' Star Trek: Picard, "Stardust City Rag" found the crew of La Sirena finally able to locate Bruce Maddox (John Ales) on Freecloud. They also discover a black market demand for Borg parts and the one holding Maddox is Bjayzi (Necar Zadegan). She shows early in the episode how willing she is to get her hands dirty in a flashback.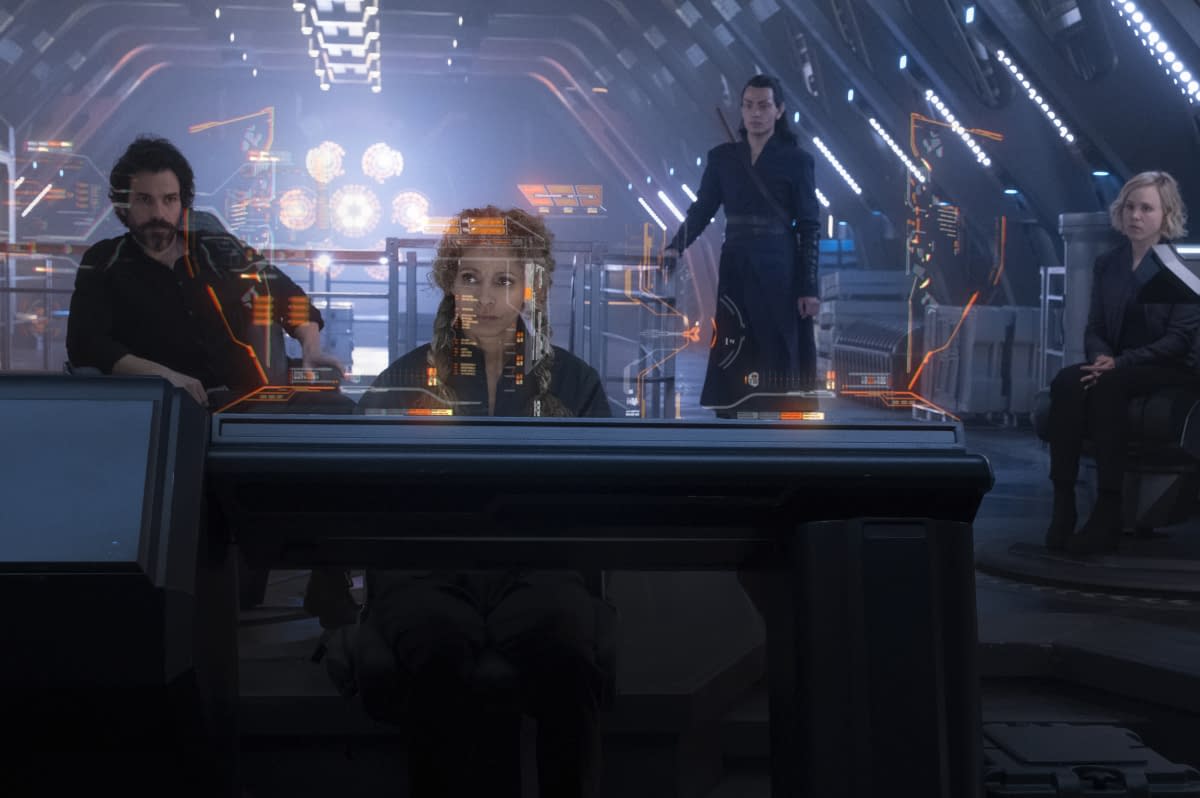 Reunited After "Star Trek: Voyager"
After systemically torturing Icheb (Casey King), Seven of Nine (Jeri Ryan) comes to the rescue. While Bjayzi makes her escape, Seven discovers her surrogate son mortally wounded. Fast forward to the present, the former Borg is out for vengeance as a member of the vigilante Fenris Rangers. When the crew beams Seven on board, she explains to them how she and the rangers are cleaning up Starfleet's mess in Vashti after they abandoned the Romulan evacuation. The neglect caused a power vacuum creating instability throughout the planet. The rangers try to maintain order with little resources continues to be an ongoing struggle.
Led by Jean-Luc Picard (Patrick Stewart), the crew heads down to Freecloud in disguise offering Seven as bait to bargain for Maddox's life. Picard, Eldor (Evan Evagoria), Seven, and Cristobel Rios (Santiago Cabrera) travel to the planet's surface to "negotiate." Raffi (Michelle Hurd) organized the plan but had her family affairs to deal with on Freecloud. Rios designates Agnes (Allison Pill), given her inexperience in space, as "backup" to beam the four out in case trouble breaks.
"Revenge is a Dish Best Served Cold"
Bjayzi uncovers their scheme when she discovers Seven is in their party given their familiarity with one another. She even called Seven by her human name "Annika", her identity before assimilation. The party finds Maddox hurt, but alive. While Picard's bond with Seven appealed to her better angels initially, she returned alone to finish the "job" vaporizing her ex.
Meanwhile, Maddox is in the middle of recovery in the ship's sickbay when Agnes comes alone to spend time with her love. Confessing cryptically to what she saw, the cyberneticist tearfully sabotages the medical equipment to kill him.

Questions Going into Next Episode
The next episode "The Impossible Box" on CBS All Access likely raises more questions than it answers.
What did the Federation/Romulans show Agnes Jurati to make her betray Maddox?
It would be nice to have any clues what they mean by how Dahj and Soji (Isa Briones) will bring destruction as weapons. All we saw so far is they have "Jason Bourne" type-abilities. There is literally nothing shown to indicate what type of cataclysm they bring.
Will Seven return given her lone loose end is tied?
Assuming PTSD from assimilation comes into play, how will it affect Picard when they finally reach the Cube?
What information will Narek (Harry Treadaway) get out of Soji?