Posted in: CBS, Star Trek, streaming, TV | Tagged: Annie Wersching, borg, Borg queen, Picard, star trek
---
Star Trek: Picard Star Annie Wersching Discusses Borg Queen Journey
The Borg Queen had a complicated history in Star Trek lore. Originally played by Alice Krige in the Next Generation feature First Contact (1996), the actress would reprise her role for Voyager. Also playing her on the UPN series was Susanna Thompson and now Picard presents us with Annie Wersching's take, who spoke with The Hollywood Reporter about how her portrayal is different & the important role the Borg Queen has in the second season.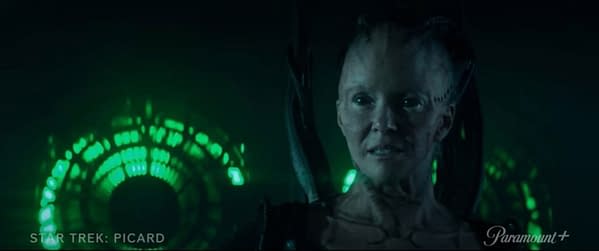 When it comes to if there's more than one Borg Queen, "In my opinion, she is a different incarnation of the Queen," Wersching said. "[My version] is going to have all the information and all the memories that the other two queens have, but she is her own incarnation." The Queen made her immediate impact in the first episode "The Star Gazer" before revealing her unmasked form in the alternate timeline episode "Penance".
"The Borg Queen is in such a distressed state at this point, which is not a way we are used to seeing her. She is usually so in control," Wersching said, who plays coy when asked about the queen's true intentions after agreeing to fix the timeline. "I think a really interesting development that happens through the season is her interest in Agnes [Alison Pill], and what is that exactly. There is something very interesting in their relationship." The Queen has a history with the title character, played by Sir Patrick Stewart going back to his assimilation in the TNG two-parter "The Best of Both Worlds". While she didn't physically appear, it was revealed in the 1996 film of her direct influence at the time. She also has a history with Seven of Nine (Jeri Ryan), who was the assimilated Annika Hansen on Voyager.
In Picard, Jean-Luc and company find themselves in an alternate timeline where Earth is run by the xenophobic Confederation, the polar opposite of the nobler Federation while living the lives of their tyrannical counterparts. During one such scene in "Penance", General Jean-Luc was to publicly execute the Borg Queen in front of a raucous crowd, while Agnes tries to buy time for their transport escape to Rios' (Santiago Cabrera) ship La Sarena. "It just makes you wildly uncomfortable, knowing there are people in the world who think like that for real," Wersching said of modern-day struggles around the globe. "Star Trek has always been so good about acceptance for everyone. And it is very strange to see the totalitarianism that is happening in this episode. It is not something that [the writers] had to reach that far into their imaginations to find, unfortunately."
Prior to filming Picard, Wersching did her own research. "Before I auditioned, I watched 'First Contact,' and then after I got the role, I watched every episode that had to do with the Borg," she recalled. "But I didn't rewatch to mimic them. I wanted to watch once and get the information, and then take what I learned to make my own version. I know Alice is the queen of all Queens. It would be really special to meet her someday. Susanna and I actually worked together a bunch on the NBC show 'Timeless.'" Ironically, enough Wersching's first TV role was in Star Trek: Enterprise and Picard producer Akiva Goldsman joked about her character Liana to come full-circle. "At one point, he was like, 'You know, we could make it like the queen assimilated her and make it all connected. It is Star Trek; we can make anything happen [laughs].'" Star Trek: Picard streams Thursdays on Paramount+.
---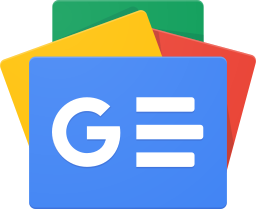 Stay up-to-date and support the site by following Bleeding Cool on Google News today!