Star Trek: TNG Cast Create Birthday PSA for Patrick Stewart's 80th
It's no secret Patrick Stewart, who plays beloved Star Trek admiral and captain Jean-Luc Picard on The Next Generation and the CBS All Access series Picard is getting a lot of love for his 80th birthday from both sides of the Atlantic. While The Guardian presented their own version of This is Your Life in the form of birthday wishes and sharing wonderful tales of his exploits on the stage, television, and film. Absent were messages from his TNG family. Rick Berman, one of the biggest creative forces of the franchise during its run in syndication and the TNG films from Paramount posted a tweet with the majority of the series' cast.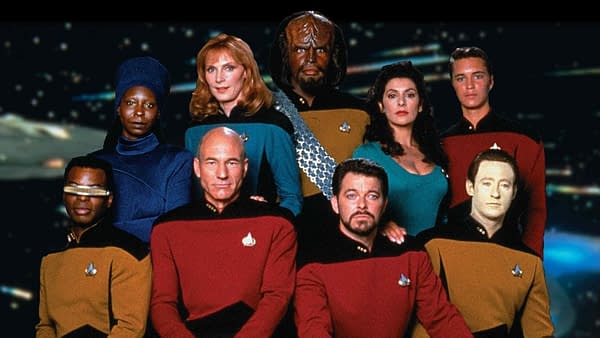 One Happy Star Trek Family
The executive producer largely took over the franchise with creator Gene Roddenberry's passing in 1991. Berman also took similar roles in the remaining Paramount-oriented Star Trek series with Deep Space Nine, Voyager, and Enterprise. His Tweet featured a mini-reunion on July 13 of the TNG cast poolside donning their masks practicing social distancing while tagging Stewart with the message, "Masked TNG actors at @SirPatStew's 80th." The actors are Michael Dorn, who played Lt. Commander Worf and reprised the role for DS9; Marina Sirtis, who played ship counselor Deanna Troi later reprising her role for Enterprise and Picard; Stewart; Gates McFadden, who played Dr. Beverly Crusher; Brent Spiner, who played Lt. Commander Data later reprising for Picard; and LeVar Burton, who played Enterprise chief engineer Lt. Commander Geordi LaForge and reprised the role for Voyager.
The only members who didn't participate are Jonathan Frakes and Wil Wheaton, who played Capt/Commander William Riker and Ensign Wesley Crusher (son of the good doctor) in the franchise, respectively. Frakes returned for Enterprise and Picard while Wheaton hosts the post-Picard review web series The Ready Room on YouTube for CBS All Access. You would be hard-pressed to find a closer tight-knit crew in the Star Trek franchise than Next Generation. Sorry, not sorry Voyager fans.