"Star Wars: The Clone Wars" – Episode I: The Phantom Bleeding Cool Retweets [REVIEW]
Back in July 2018, Lucasfilm Animation maestro Dave Filoni made our dreams come true by announcing at San Diego Comic-Con that Star Wars: The Clone Wars had been saved. The series was beloved by fans and marked the beginning of the latest Star Wars renaissance. Unfortunately, the show was unceremoniously cancelled in 2014 as a result of Disney's 2013 acquisition of Lucasfilm.
Set in the time period between Star Wars: Episode II – Attack of the Clones and Star Wars: Episode III – Revenge of the Sith, the show chronicles the horrors of the Clone Wars. Well-known characters such as Anakin Skywalker (Matt Lanter), Obi-Wan Kenobi (James Arnold Taylor), Padmé Amidala (Catherine Taber), and R2-D2 take center stage. However, Anakin's controversial padawan Ahsoka Tano (Ashley Eckstein) steals the show, becoming one of the most popular Star Wars characters to never appear in a live-action film.
As we impatiently wait for the February 2020 return of Star Wars: The Clone Wars, join me for "Retweeting The Clone Wars." Relive the classic episodes in 240 characters or less. Every week I will review seven episodes, starting with Season 1 Episode 1, with each review limited to the size on one tweet. Laugh, cry, cheer, and reminisce with me as I rewatch – and retweet – Star Wars: The Clone Wars.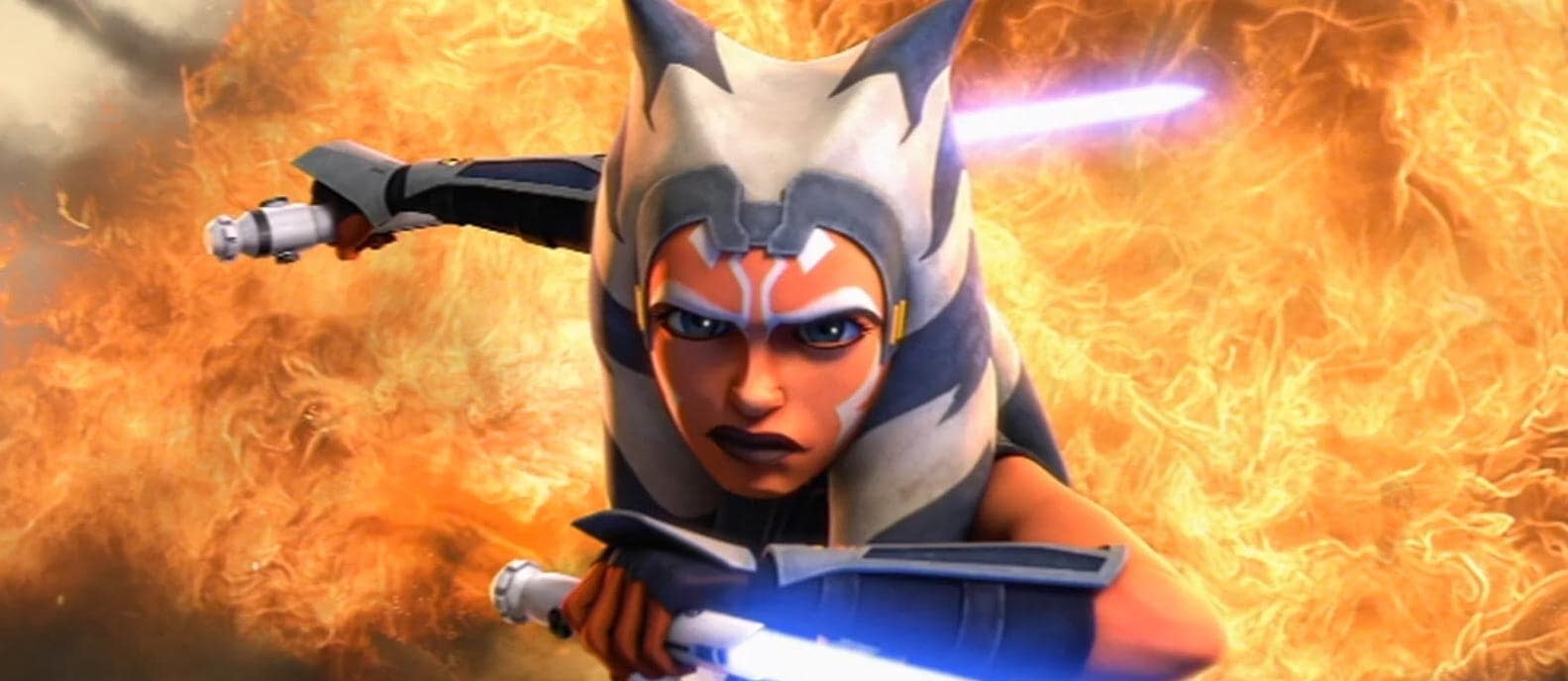 Season 1 Episode 1 "Ambush"
The Republic tries to woo a giant mosquito alien king. Clone Wars Yoda is the best Yoda, and his strategic moves save the day. I love his giggle. The Clone Troopers begin to develop into real characters, drawing viewer interest. Ventress has a very weak outing. Roger Roger.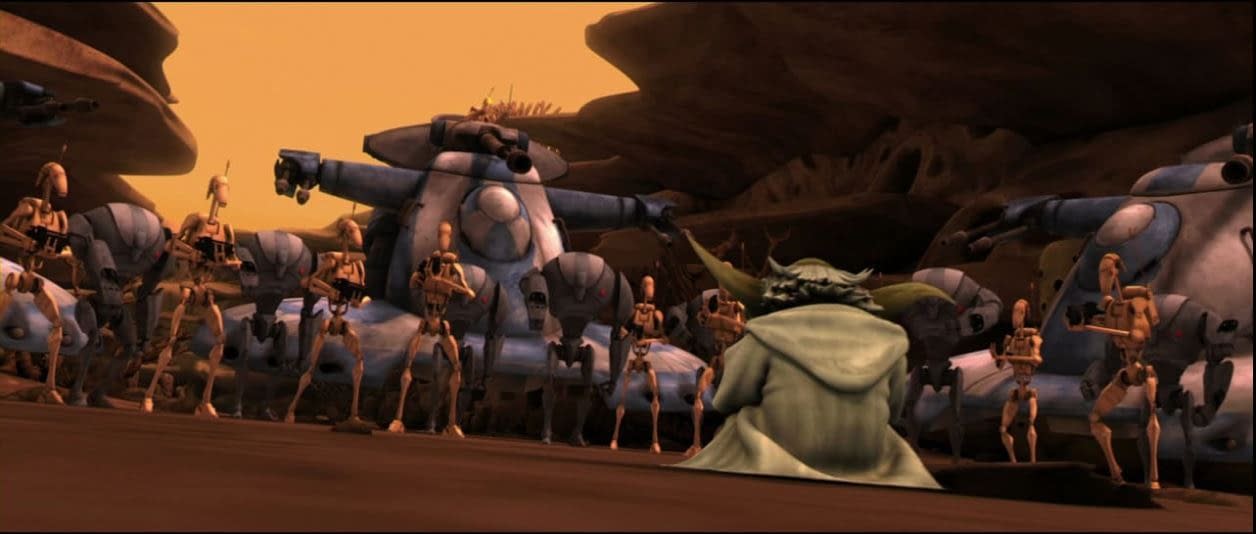 Season 1 Episode 2 "Rising Malevolence"
The Separatists invent, unveil and use the Ion canon against the Republic – ah, memories. Ahsoka and Anakin ignore orders to save Master Plo Koon (James Arnold Taylor), the only Jedi with common sense. Ahsoka speaks out, Anakin lies, but the result is the same. Who is right?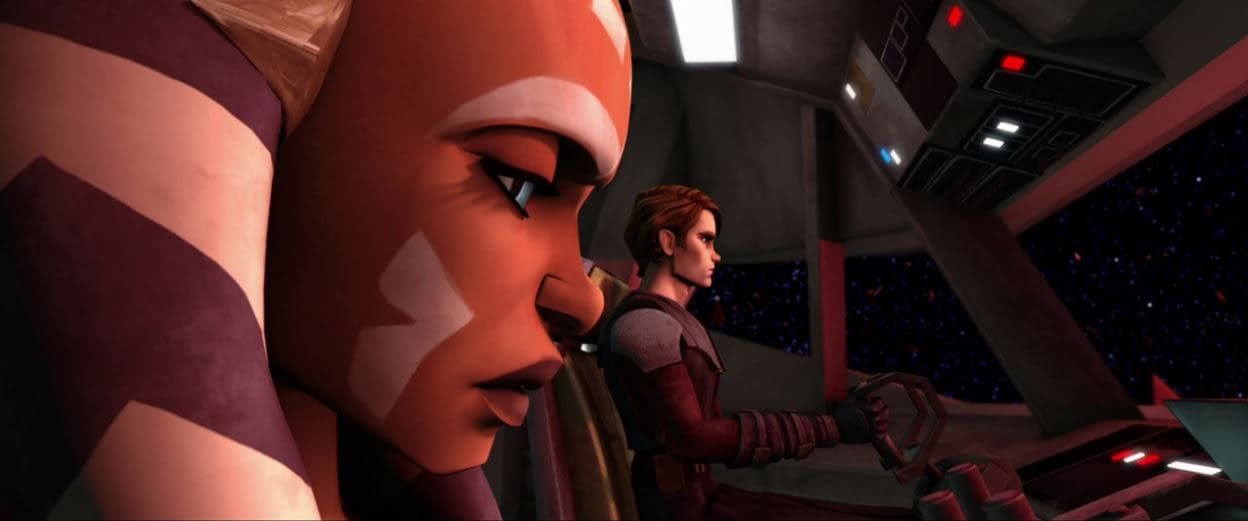 Season 1 Episode 3 "Shadow Of Malevolence"
Overconfident Anakin almost blows the whole thing and Ahsoka throws some serious shade. They only win because the Padawan convinces her Master to change his plans. Of course, Anakin and Master Plo Koon take all the credit, from a certain point of view.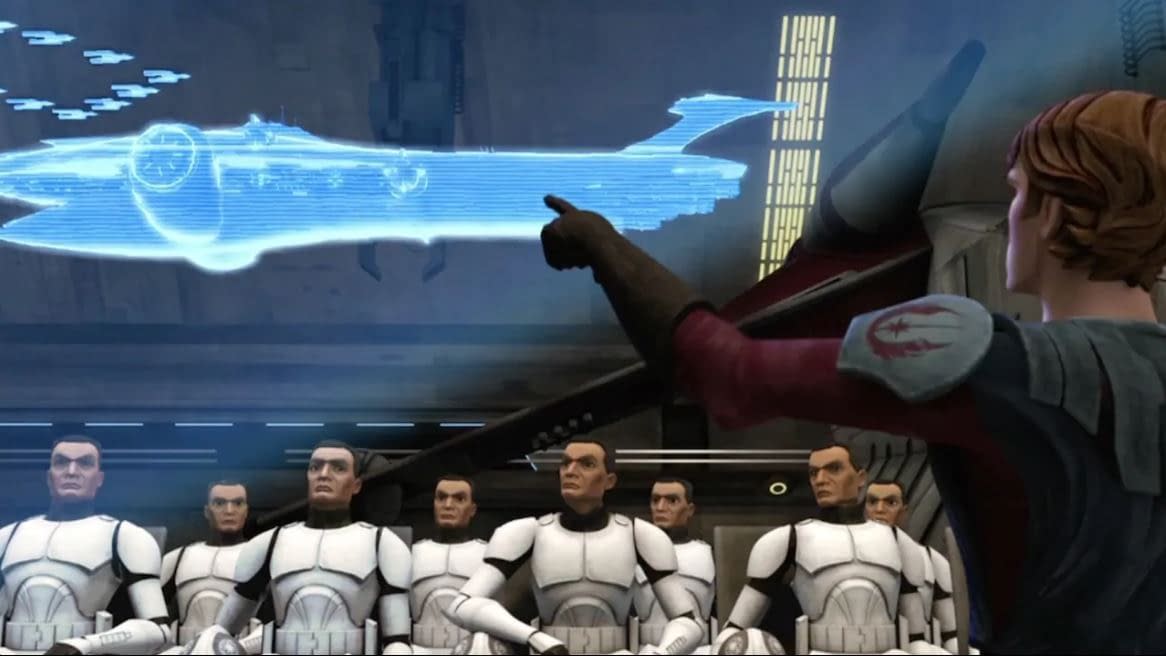 Season 1 Episode 4 "Destroy Malevolence"
"Somebody has to save her skin." Oh Anakin and Padmé, how did no one realize your deal? For a future Sith, Anakin sucks at lying and Obi-Wan enables him. Come on! Unprotected communications are a "grievous" error and the droid army is incompetent. No wonder the war lasted so long.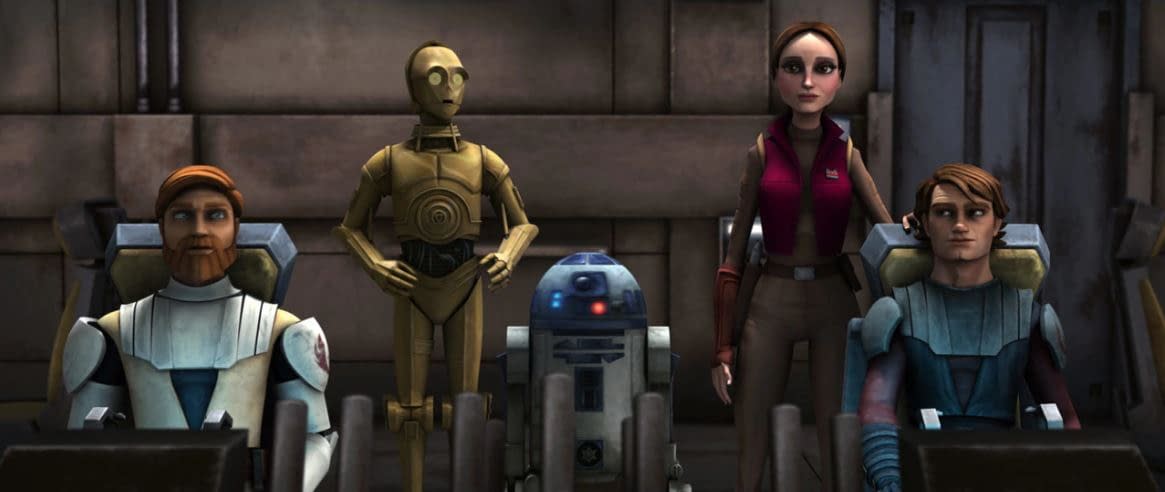 Season 1 Episode 5 "Rookies"
Commander Cody and Rex inspect a Republic base in the boondocks. I love clone-centric episodes! The "shinies," new and under-trained clones, teach Rex a lesson and act as stand-ins for the young men who fight our wars. "Heavy" is fictional, but his inspiration is very real.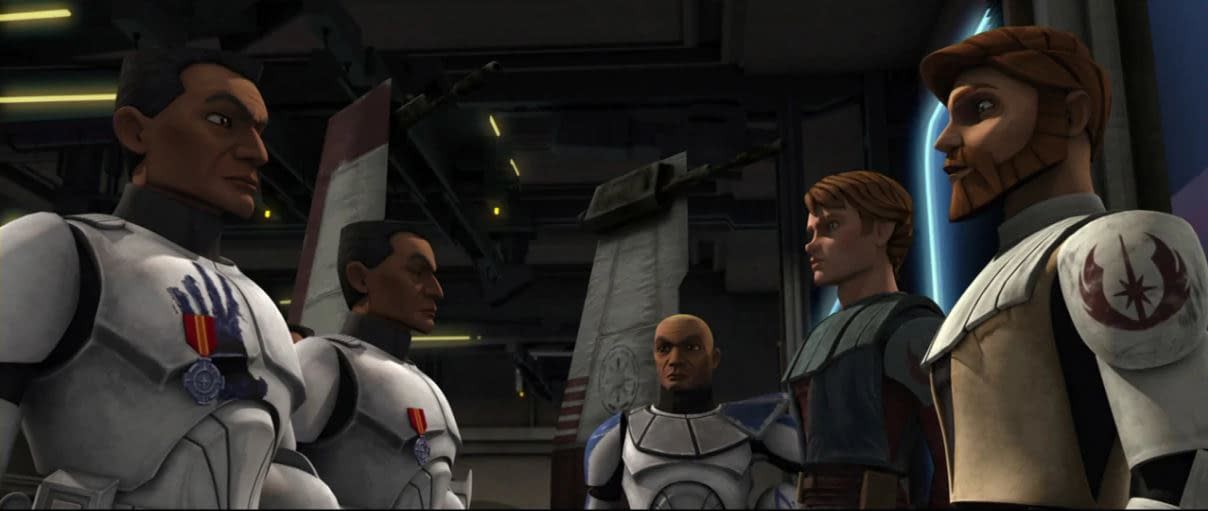 Season 1 Episode 6 "Downfall Of A Droid"
Anakin saves the day, almost dies, and loses R2-D2. How much earlier would the Jedi have found out about Anakin without Ahsoka covering for him? Why is no one concerned about a General losing his shit over his droid? Ahsoka deserves better, yet saves Anakin's butt. Again.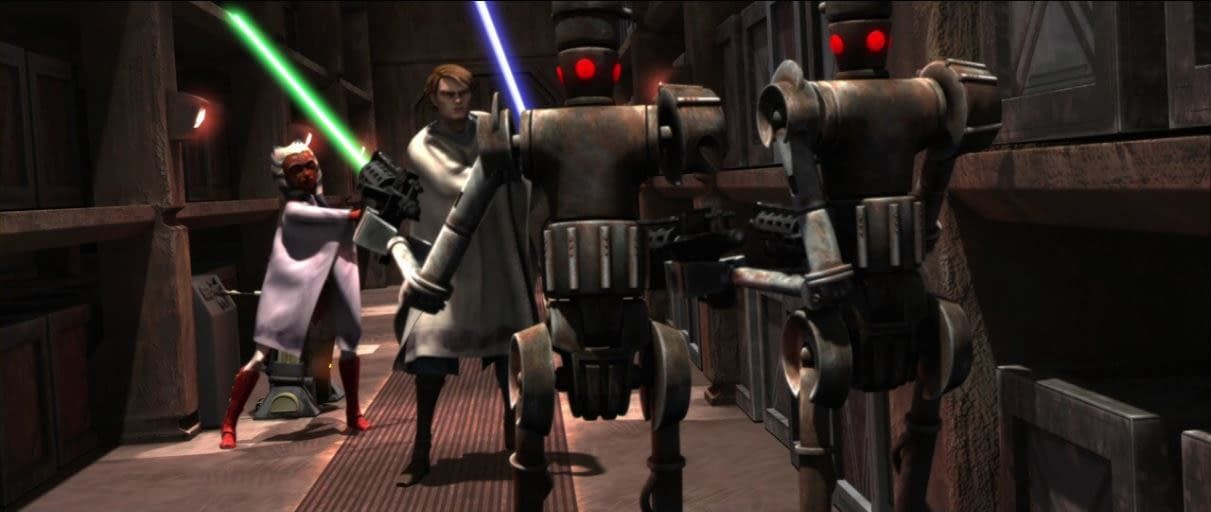 Season 1 Episode 7 "Duel Of The Droids"
R2-D2 proves that in Star Wars, a droid can be more badass than its master. But the main fight sequence appears to be set to porno music? Once again, the Republic fails at Operational Security (OPSEC). Luckily, R2-D2 takes out the spy droid and Ahsoka saves Anakin yet again.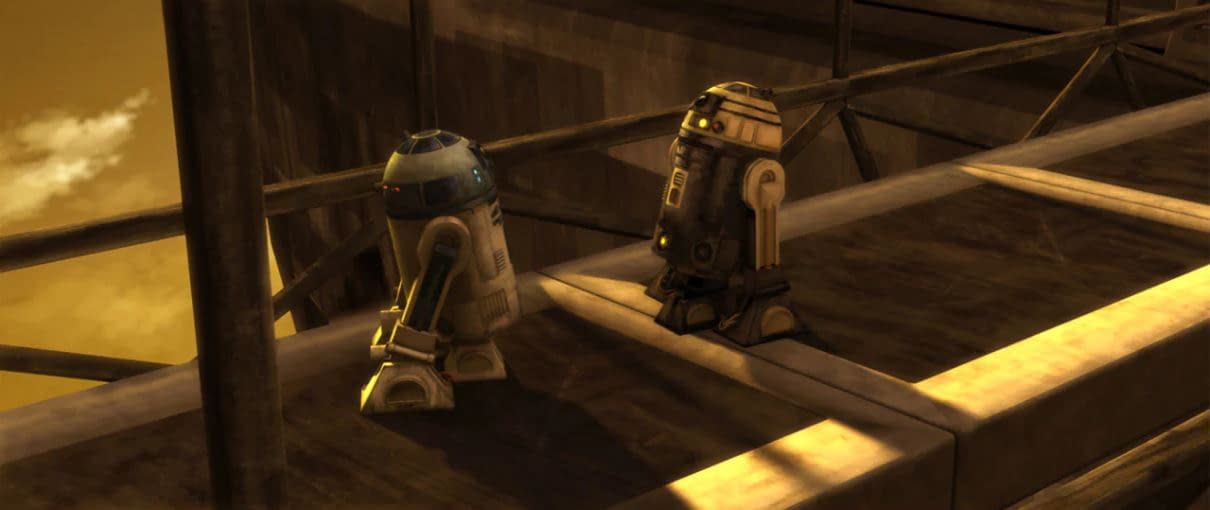 Come back next week for more Retweeting 'The Clone Wars' – while Star Wars: The Clone Wars season 7 premieres February 2020 on Disney+.