Steven Moffat's Done with Doctor Who and This Time? He Might Mean It
Steven Moffat is finished with Doctor Who. For good. He swears. Promise. First things first: if you haven't checked out the Moffat-penned "audio-visuals" drama "The Best of Days" then definitely make sure to check it out here after you're done reading this. Especially because if fans are to believe Moffat's recent Instagram post, that's going to be the last thing he writes for the long-running BBC series.
Produced as an epilogue/sequel to the canceled Doctor Who Lockdown rewatch of Peter Capaldi's "World Enough and Time" and "The Doctor Falls" and starring Pearl Mackie (Bill Potts) and Matt Lucas (Nardoe), the mini-episode finds the two companions trying to keep their spirits up in a world that sounds very much like the one outside our windows. Director Rachel Talalay served as creative supervisor, with music from Murray Gold.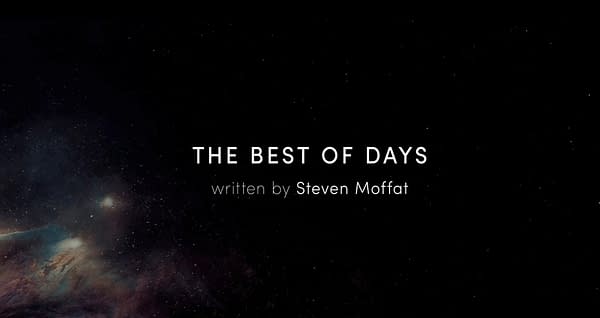 Not long after the story was posted for the world, Moffat took to Instagram to not only sing the praises of those who worked on "The Best of Days" but also own up to the fact that he's "retired" from Doctor Who in the past. He even names some of the "last ones": "The Husbands Of River Song," "The Doctor Falls," and "Twice Upon A Time." But except for a Target novelization, Moffat had pretty much steered clear of things until the coronavirus pandemic resulted in the Doctor Who Lockdown rewatch series and Doctor Who Magazine's Emily Cook's desire to bring together the creative forces behind some favorite episodes to give fans at home a little something "extra" to enjoy. Those have included audio dramas, video mini-episodes, short stories, comics strips, and more.
"Really pleased – mostly because of what everybody else did. Now. Permit me the self-indulgence. I planned to leave with The Husbands Of River Song. Then it was The Doctor Falls. And then it was Twice Upon A Time. And then I novelised Day Of The Doctor and that was going to be the very end. And then Chris got me to write "Terror Of The Umpty Ums" and Emily got me writing online minisodes. But this – THIS – finally … is … IT! Bang! Kerpow! I'm out of here! So with that in mind can I just say … the title is quite perfect."