'Supergirl': Jon Cryer Takes to Twitter for a Very Lex-Like Tease
Lex Luthor is coming.
And in true Lex fashion, actor Jon Cryer isn't about to let viewers of the CW's Supergirl forget about it any time soon. Set to make his grand entrance next month in the fourth season's 15th episode "O Brother Where Art Thou" on March 17, Lex has been in prison since the series started – so what could this tweet be all about?
Now that's a very interesting and specific piece of jewelry. What could it mean? Assuming this is part of his costume, this means Lex is going to be released in some fashion from his prison cell since inmates don't get to wear pinky rings.
One plausible theory is that this has something to do with what we saw at the end of last episode "Blood Memory," when a Kasnian general looks over the unconscious body of a cloned Supergirl and says, "We have a problem. I need to reach someone in America."
There's a good chance that this person's initials are LL, as it's a good bet only Lexcorp really has the tech (and interest) in cloning Kryptonians to turn them into weapons. One plot twist may be that this falls into Lena's hands, as a sort of "stranded asset" that she has to take corporate liability over and has to turn unwillingly to her incarcerated brother for help.
The only look we have of Lex so far shows him clearly still in prison: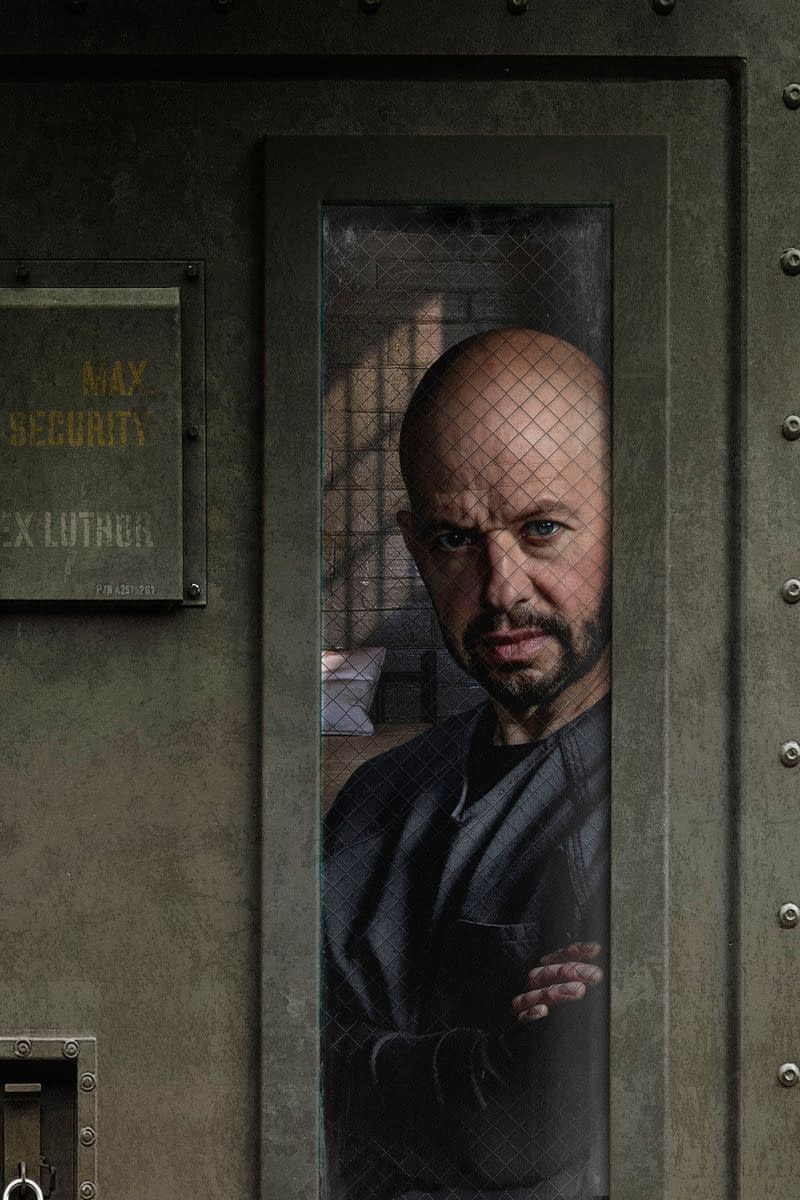 So if he's going to be out and wearing a pinky ring, we're betting it's for "national security" reasons. Given the president's current problems with Supergirl (demanding to know her secret identity, forbidding her from working with the DEO), a presidential pardon (or at least supervised release) is a logical step.
It's also possible we get a gradual Lex arc where he starts in prison and is then eventually released. Especially given Lex's mistrust of Kryptonians, it would be great to see him and Benjamin Lockwood/Agent Liberty cross paths in prison. I'm sure Lex has myriad opinions about the Sons of Liberty and their social movement of alien bigotry and fear. It would be even more fun for Lex to be the more tolerant one: he doesn't care about every alien, only the ones with godlike powers who might get in his way.
It's unclear if we'll see any more Lex-teasing in the next few episodes. Supergirl returns on Sunday, February 17 with "Menagerie" – which you can see a plot description, trailer, and photos from the set here. From there, we have "What's So Funny About Truth, Justice, and the American Way?" on March 3, "Stand and Deliver" on March 10, and then Lex's official "prison release party" in "O Brother, Where Art Thou?" on March 17.
For more Supergirl, tune in to the CW Sunday nights at 8 p.m. ET/7 p.m. CT – and Bleeding Cool for more breaking news, previews, and reviews.