Supergirl Season 3, Episode 13 Recap: Both Sides Now
This article contains spoilers for the Supergirl season three episode – Both Sides Now.
.
.
.
.
.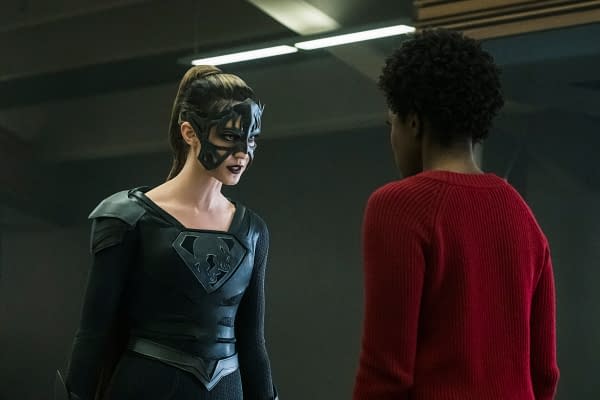 Supergirl (Melissa Benoist) found the other Worldkiller and made an important discovery in the latest episode of Supergirl. Thanks to Winn (Jeremy Jordan) and a weird nightmare, Kara was able to figure out who one of the Worldkillers was and confront her with a full squad that included Alex (Chyler Leigh), Mon-El (Chris Wood) and J'onn (David Harewood). When they arrived she was just Julia Freeman (Krys Marshall), but the intensity of the situation made her switch to Purity and attack. J'onn was able to phase through her sonic blast and shackle her and they took her back to the DEO and locked her in a cell. There Alex and Kara debated on how to treat her. Kara, believing that she could reach Julia, tried being nice. Alex figured that would fail and kept threatening her. Winn spent time trying to figure out the alien crystal they found at her house. By the time he realized it woke itself up, the crystal knocked out the power and allowed Purity to escape, taking out Kara and a half dozen DEO agents before leaving.
While this was happening, Mon-El was borrowing a battery from J'onn's ship to jump start the Legion's ship. We don't get to see Brainiac (Jesse Rath) in this episode, but Imra Ardeen (Amy Jackson) shows up and there is obviously something not right between her and Mon-El. And over with Lena (Katie McGrath), she tells Samantha (Odette Annable) to take the day off, she goes skating with Ruby (Emma Tremblay) but then she suddenly disappears. Ruby calls Lena who comes and picks her up. Supergirl, Mon-El, J'onn and Alex track down Purity and there is another fight, and it's Alex who gets through to Julia, getting her to take over again. But before they can restrain her, Reign shows up and is about to kill Alex when Julia trades herself for Alex's life. Reign takes her away and back to their base where the mysterious woman talks about bringing out the Worldkiller.
J'onn shares a Martian ale with Mon-El and discovers that his marriage to Imra was originally a political coupling to save the peace. They grew to love each other, but he's having a real hard time being back near Kara now. Later, after the fight with Purity, Mon-El returns to the ship to find that Winn and Imra got the battery working. Mon-El apologizes for the way he's been acting and Imra hints that there is a different reason why they came back in time and she needs to tell him. Alex and Kara have a heart-to-heart about how she's lost hope and still not over Maggie. And we end with Sam returning to Lena's office terrified about having left Ruby behind. She finds out that Ruby knows that there is something wrong with Sam and she gets so upset that Reign starts to take over, then slips back. Lena tells Sam that she knows what's wrong with her now.
With this episode, Supergirl goes away for nine weeks and is replaced in the time slot by DC's Legends of Tomorrow. The given reason for the hiatus by CW President Mark Pedowitz was two fold: the series had some production issues and they wanted to avoid having superhero saturation by showing five hours of superheroes in the same week. He says the production issues had nothing to do with the departure of executive producer and co-showrunner Andrew Kreisberg. But Kreisberg has been the driving force of the series since it's creation and his removal after allegations of sexual harassment had to leave the series in the lurch. Co-showrunners Jessica Queller and Robert Rovner had been with the series for a while, but it is their first season in the showrunner spot. Word is that Greg Berlanti has also stepped in to help keep the show moving.
https://youtu.be/JnjUzSyu-a8