Supergirl Season 3: Hero's Journey
The current season of Supergirl has been an interesting one. The main focus has been on the villain Reign and the Worldkillers, but we met her as Samantha Arias (Odette Annable) first, giving Kara (Melissa Benoist) an emotional connection to the character and her daughter Ruby (Emma Termblay). Meaning that the upcoming reveal will end up being even bigger. But there has also been smaller stories like the introduction of M'yrnn (Carl Lumbly) the father of J'onn J'onzz (David Harewood). The return of Mon-El (Chris Wood) and bringing in the Legion of Super Heroes. Plus new villains like Thomas Coville (Chad Lowe), Morgan Edge (Adrian Pasdar) and Psi (Yael Grobglas) and the return of Livewire (Brit Morgan).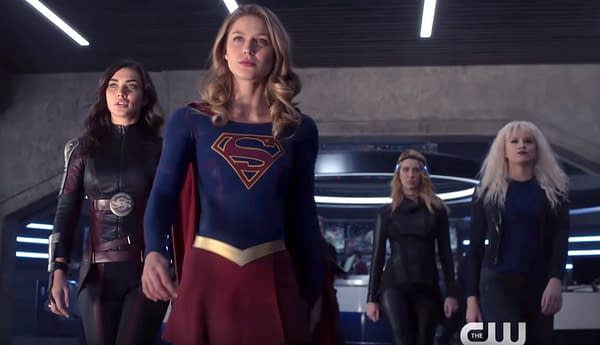 That's a lot of emotional stuff for Kara to deal with. Her feelings about having to send Mon-El away only to have him come back with a wife in Imra Ardeen (Amy Jackson), having her history used against her and to be severely beaten by Reign and even to watch her sister Alex (Chyler Leigh) going through heartbreak. Kara has spent most of this season on her heels, reacting more than acting and next week it looks to be the same. And then there will be a nine week hiatus.
Below the CW has released a sizzle reel type trailer for the season so far that includes voice overs by Cat Grant (Callista Flockhart) and Coville.
Supergirl airs Mondays at 8 PM the CW.
https://youtu.be/KXJRGfaFiug