Supergirl Season 3: Inside the Episode 'Schott Through the Heart'
After nine weeks away, Supergirl returns tonight with an all-new episode called 'Schott Through the Heart'… and yes, that is both a Bon Jovi reference and a callout to Winn Schott (Jeremy Jordan), who is the focus of the episode.
They've been doing this once a season since the beginning. In season 1 there was the episode 'Childish Things' where we discovered that Winn's father is actually the Toyman (Henry Czerny), who breaks out of prison and comes looking for his son. And in season 2 there is the episode 'Star-Crossed', where Winn gets an alien girlfriend, Lyra (Tamzin Merchant), who is using him to steal art. Whatever happened to her?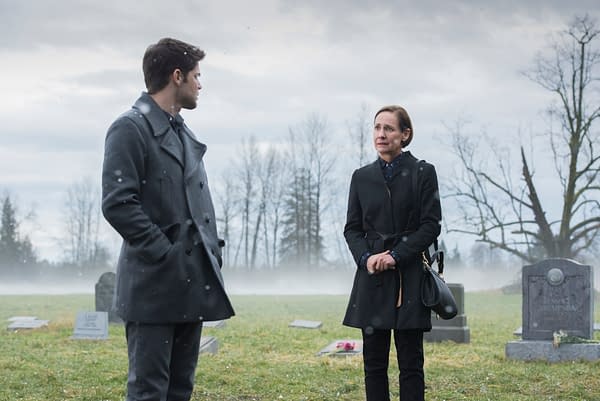 In tonight's episode, Winslow Schott, Sr. has died in prison and Winn's mother, Mary McGowan (Laurie Metcalf) returns to his life… oh, and his dad's coffin explodes and there is another Toyman popping up who is sending flying monkeys.
The video below is an inside look at the episode with executive producers Jessica Queller and Robert Rovner talking about having Metcalf guest on the series. As strange as it is for them to come back from a long hiatus with an episode that seems like a bit of a filler, Jordan is such a good actor and Winn can be such a fun character that having him take center stage is always a good thing.
Supergirl airs tonight at 8 p.m. ET on the CW.
https://youtu.be/lnjcGBptSYE