Tomorrow night we get the mid-season finale of Supergirl. The ninth episode of the season is fittingly called Reign, the Worldkiller villain we've been watching take shape since the season premiere. Though we met her as Samantha Arias (Odette Annable), the character has been moving closer and closer to being the Kryptonian creation with things taking a huge step forward two weeks ago during the seventh episode, Wake Up. The cast of Supergirl talked to TVLine about finally getting to meet Reign in all her glory.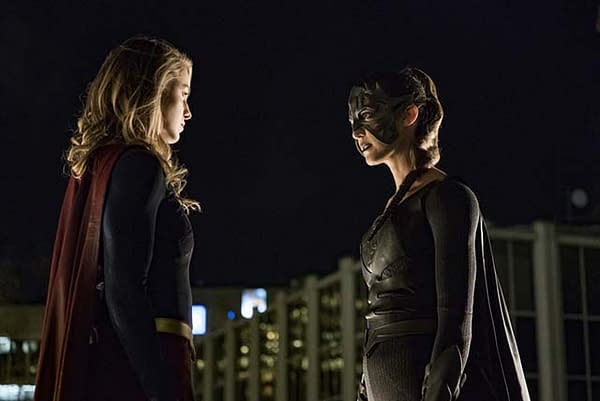 Melissa Benoist who plays Supergirl said:
I think Reign is going to surprise people. She's pretty spectacular to behold, and she will give Supergirl the fight of her life. What sets her aside from the Big Bads that we've seen up to this point on the show [is that] she has a really surprising back story that gets you really invested in who she really is fundamentally.
Chyler Leigh who plays Alex Danvers adds:
She's the Big Bad, she's a Big Bad, so it's really everybody trying to figure out … what they have [to do] to be able to take her down as quickly as possible.
Katie McGrath who plays Lena Luthor speaks of the relationship between her character, Kara and Sam:
You see how close Kara, Sam and Lena are getting, I can't imagine that it isn't going to become difficult with Sam essentially being Supergirl's arch-enemy and all three of us being friends. It's got to come to a head somehow.
And David Harewood who plays J'onn J'onzz talks about how powerful Reign is:
She's a lot stronger, I think, or will become a lot stronger than anyone expected. She's full of surprises, and I think audiences are going to be … I'll put it this way: I walked on set the other day and was shocked at what I saw. It's a pretty arresting sight. Reign doesn't exactly treat people with kid gloves.
The mid-season finale put Reign up against Supergirl, and while the Girl of Steel will always try to save someone if possible, that may not be possible in this case. And if you're wonder just how powerful Reign really is, there will be a collective force coming together to take her on. This isn't something Supergirl can do on her own.
Enjoyed this article? Share it!