Supergirl Season 3: Mon-El Starts Training Kara to Fight Worldkillers
We get a new episode of Supergirl tonight as Mon-El (Chris Wood) starts helping Supergirl (Melissa Benoist) figure out how to fight the Worldkillers. Which is a pretty interesting twist as just last year, Kara was teaching Mon-El how to fight. But that was before he had to leave the planet, got sucked into a wormhole and teleported to the 31st century for seven years where he would find and train other heroes and start the Legion of Superheroes.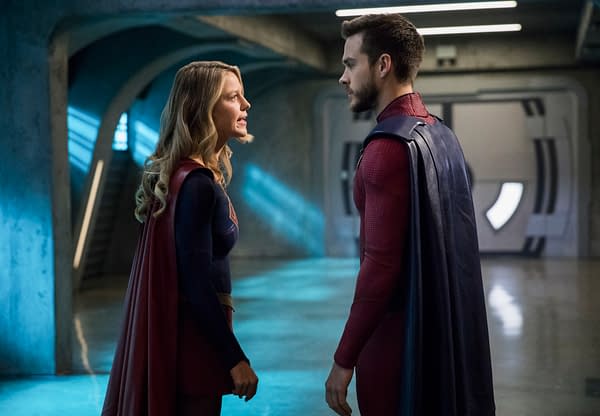 In the scene, Mon-El has had Brainiac-5 (Jesse Rath) recreate footage from the mid-season finale fight between Supergirl and Reign (Odette Annable). But it's shown back in a 3D hologram using 31st century technology. They study Reign's moves and see that she is a hunter and likes to bully her opponents, going for overkill rather than strategic strikes. She's also not very well trained, relying on her superior strength to cover for lack of fundamentals. A weakness Kara sees that she can exploit and something that Mon-El can teach her how to use her cape to her advantage. This is the episode where we are supposed to see Mon-El's red and blue costume.
Supergirl air tonight at 8 PM on the CW.
https://youtu.be/OAsjUa3alYM