Yesterday we ran a collection of images from the upcoming return of Supergirl. The episode focuses on the character of Winn Schott (Jeremy Jordan), the death of his father, and the return of his estranged mother, Mary McGowan (Laurie Metcalf). The title of the episode is 'Schott Through the Heart', a play on the Bon Jovi song. Add that to the image below of Metcalf and Jordan singing together and one has to ask: is this a musical episode?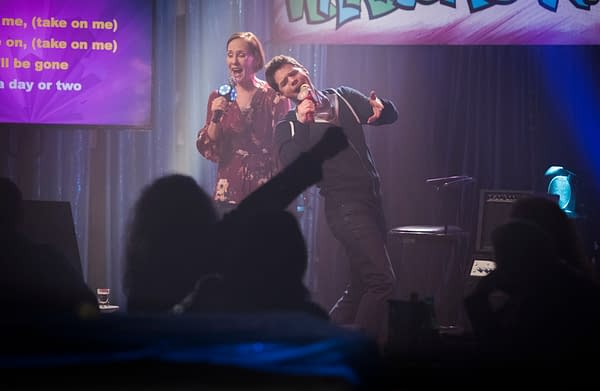 The answer to that question is… not exactly. Executive producer Jessica Queller talked about the shows return with TVLine and mentioned the signing:
It's one of my favorite episodes of the season. It also boasts something we in the writers room like to call 'Kara-oke' — a karaoke bar scene that bookends the episode, with all of our amazing actors who happen to have amazing voices singing.
Chyler Leigh, who missed out on the musical crossover with The Flash, will get to sing as well. And there are going to be Flying Monkeys… which is just awesome. But no, it's not an official musical episode. And if you look closely at the image above, they lyrics on the screen next to them are from A-Ha's 'Take on Me'… not an easy song to perform.
Supergirl returns April 16th at 8 p.m. ET on the CW.
Enjoyed this article? Share it!