With Supergirl fired back up after the nine-week hiatus, more and more news is coming out about the series as it gets back on track. We can start piecing together where the Worldkiller story may be going over the next few weeks from the synopsis released, including a brand-new one for episode 17 called 'Trinity'. The word Trinity is used quite often in the DC Universe, but most of the time it's used to describe the big three heroes — Superman, Batman, and Wonder Woman. But that's not the case here. Spoilers below.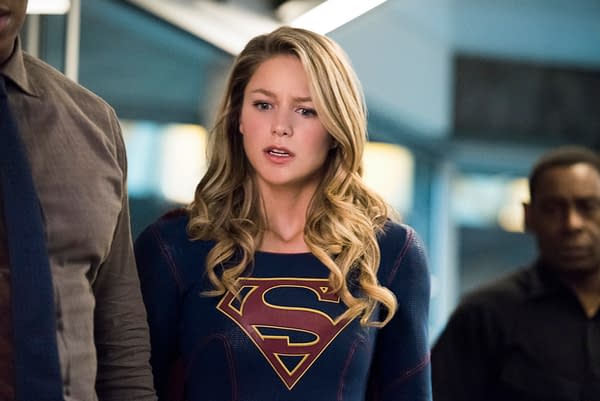 After this week's 'Schott Through the Heart', we learned that the villain the Legion of Superheroes came back to try and defeat, Blight, is actually the third Worldkiller, Pestilence. This means that Mon-El (Chris Wood) has fought her before and can teach Kara (Melissa Benoist) a few things. That training begins in the next episode, 'In Search of Lost Time'. I'm guessing we'll meet Pestilence in that episode as she is the main focus of the episode after, 'Of Two Minds', that has Supergirl teaming with Saturn Girl (Amy Jackson) to take on the Worldkiller — even though they have a difference of opinion on how to defeat her. And somewhere in the next two episodes Supergirl or Kara learns Lena's secret, which appears to be that she's trying to help Sam (Odette Annable), aka Reign. That probably won't go over well.
Here is the recently released synopsis for episode 17, 'Trinity':
SUPERGIRL TAKES ON ALL THREE WORLDKILLERS – Still reeling after learning about Lena's (Katie McGrath) secret, Supergirl (Melissa Benoist) asks Guardian (Mehcad Brooks) for a favor that could alter his relationship with Lena forever. Meanwhile, with all three Worldkillers united, Supergirl and the team brace for an epic battle. Caitlin Parrish & Erica Weiss directed the episode with story by Jessica Queller and teleplay by Caitlin Parrish & Derek Simon (#317). Original airdate 5/7/2018.
The fact that all the Worldkillers get together can't be a good thing for National City.
Supergirl airs Mondays at 8 p.m. ET on the CW.
Source: SpoilerTV
Enjoyed this article? Share it!