While Arrow and The Flash are speeding towards their season finales, and DC's Legends of Tomorrow and Black Lightning have already wrapped up their seasons, Supergirl is still going strong and will carry with new episodes until June 18th thanks to a 9 week hiatus. But executive producer Jessica Queller didn't pass up the opportunity to talk with TVLine about what the show would be doing during May sweeps and even drop two new episodes titles. Spoilers ahead.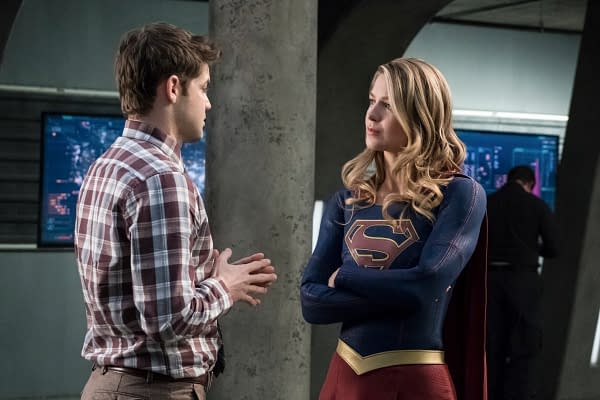 After a very emotional episode this week, things look to be ramping up towards a big battle with the Worldkillers. The titles we already knew where Of Two Minds, which features Kara (Melissa Benoist) and Imra Ardeen (Amy Jackson) clashing over just how to deal with the third Worldkiller, Pestilence. We also know that Alex (Chyler Leigh) and Winn (Jeremy Jordan) get injured in the process. And in Trinity, the three Worldkillers… Reign, Pestilience and Purity… come together for the first time. And while we already know about Lena (Katie McGrath) trying to cure Sam (Odette Annable), according to Queller there is another big reveal, "Lena is harboring some other secrets that Supergirl is not happy about, [and] that is the catalyst for a major rift."
She goes on to reveal that the May 14th episode is called Shelter from the Storm and will feature Supergirl, Lena, Alex and Sam's mom (Betty Buckley) working together to stop Reign from going after her new target. All while Mon-El (Chris Wood) has to make a tough decision. And then there is the May 21st episode called the Fanatical where the heroes discover that there is an object that can help them in their fight. With the name of the episode, it wouldn't surprise me if it's tied to Thomas Corville (Chad Lowe) who we haven't seen in a bit but we know he's around.
Wood added a bit of a teaser by saying, "There are some fascinating and fun road stops. Some seeds that were planted earlier in the year come back into play, which is great."
Enjoyed this article? Share it!