SuperMansion at NYCC: Even Though its Bad, We Just Keep Doing it
Written by Amanda Gurall
Bryan Cranston (Breaking Bad) and Breckin Meyer (Robot Chicken, Road Trip) hit the main stage ready to talk with fans and kick over chairs at NYCC Thursday evening. They were joined by SuperMansion creator and writer Zeb Wells (Robot Chicken, Marvel) and Executive Producer Matthew Senreich and vaguely moderated by the hilarious Gary Anthony Williams (Whose Line is it Anyway?).
What brings Bryan Cranston more joy -Walter White or Titanium Rex?
"Breaking Bad was amazing. Doing this voice is so much fun, I've got to tell ya. It's so much fun to get into a room by yourself with no one else there. I self record everything." Cranston answered.
They (directors) don't try to direct you or give notes?
"I just laugh," he continued until Breckin interrupted to say, "If you give Bryan direction he pulls out an Emmy and then he drops it like a micdrop. He's gone through so many Emmys!"
How was supermansion created?
It wasnt an interesting story, Senreich pretty much asked Wells to create a super hero focused show and he did. Zeb wanted to hire a "Bryan Cranston" type, so they went to Seth Green to do the voice. Green said it didn't sound right asked why they didn't just get Bryan Cranston? They were excited and a bit shocked when Cranston agreed to join the cast.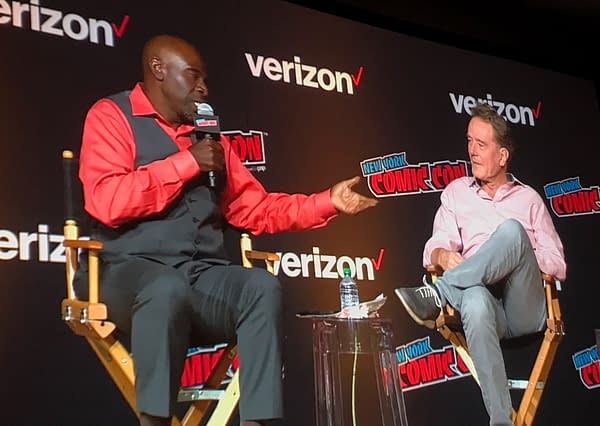 They screened a short clip from an upcoming comic convention focused episode which opens with Titanium Rex doing a super bowl shuffle style rap before the aged heroes must deal with strange and unusual fans and a special guest star. David Naughton ( An American Werewolf in London) was thrilled to join the cast and his character may or may not end up being a werewolf. Also screened was a teaser for a holiday episode called "A Prayer for Mr. T: a SuperMansion Thanksgiving Special" which involves compromised turkey meat.
A fan asked Bryan Cranston if he could play a super villian, who would he want to be?
Cranston did not want to say at first, but did reveal that at one point he was in talks to play Mister Sinister. "It might happen at some point and I'd really like to see that happen." He feels the best villains have to be a fraction smarter than the protagonist, never dumbed down to give the hero an easy win as that's frustrating and boring to watch.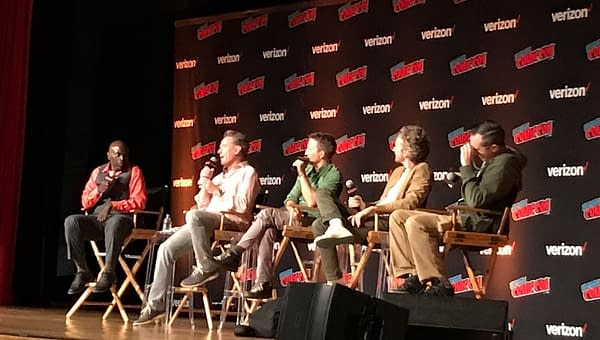 Fan after fan told Cranston how much they love him and referenced Walter White. I sincerely hope that this poor man does not hear this well intentioned but surely annoying commentary everywhere he goes.
There was a lot of joking around with the entire group but Meyer was especially funny as well as kind when he jumped off of the stage to greet a little boy who wanted to know about Garfield, another character Meyers has played. It seemed like a really sincere and sweet gesture from him. The only one to actually kick over a chair was Bryan Cranston, in an impressive show of masculine virility and domination over the rest of the panel. I'm only exaggerating a little.
SuperMansion's stop motion hilarity can be found on Sony Crackle.