It is 1903 and on the edge of Niagara Falls, something is wrong at Nikola Tesla's generator plant, where someone – or something – is sabotaging the maverick inventor's work. Has Tesla really received a message from Mars? And where does his great rival Thomas Edison fit into these events? The Doctor and her companions Yaz, Ryan and Graham must join forces with one of history's greatest minds to save both him and planet Earth. Guest-starring Goran Visnjic, Robert Glenister and Anjli Mohindra.
1. Your History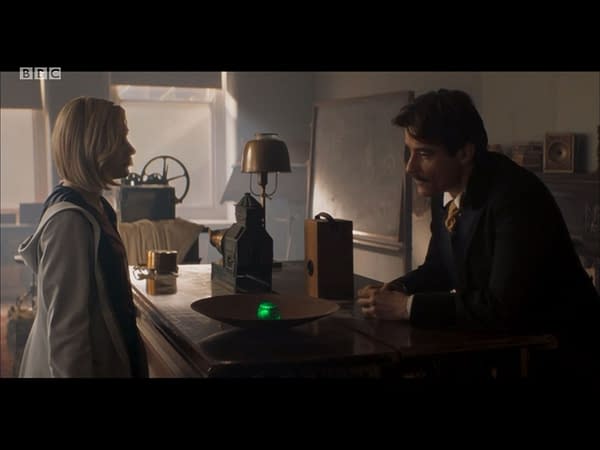 The best Doctor Who historical stories highlight lesser-known but significant figures, and then utterly lionise them. Inventor and innovator Nikolai Tesla fits the bill as someone who the Doctor describes as one who "dreamt up the 20th century before it happened" and the others say "who?" "Is it something to do with the cars?". Man, you'd have thought they'd have least have seen David Bowie in The Prestige. And yes, he did believe he received messages from Mars and maybe he did. This is a time where electricity is more magic than science and Tesla's visions seen as dangerous fairytales. Even as an electricity vampire walks between them. And the Doctor loves a good fairytale.
2. This Is AC Culture Gone Mad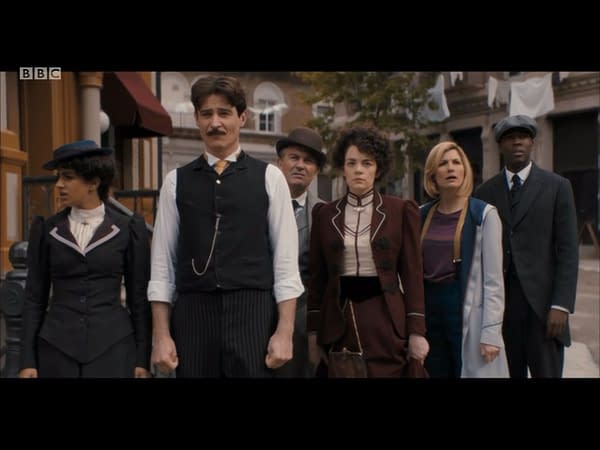 The Doctor and companions are always going to run through corridors. But it's much more fun when they are on the train. And being pursued by a dead man with red eyes. And then a mob. And yes. his AC current as opposed to Thomas Edison's DC current, was whipped up into controversy by press and marketing men, falling on Edison's side. And the Doctor gets into the battle between Edison and Tesla, the $50,000 fraud, the ownership of ideas and the value of those who have them. This is shaping up into a semi-decent episode…
3. New York, New York

Doctor, you do remember that the Statue Of Liberty is a Weeping Angel? Maybe you could have found a way to use that to save the day? Still it was good to see Bulgarian studio Nu Boyana, whip up a late nineteenth-century New York, as Tesla is inventing the century to come? Oh and check out the fam in their period costumes, it works a treat even if the Doctor doesn't want to play.
4. Thassa Orb, That Is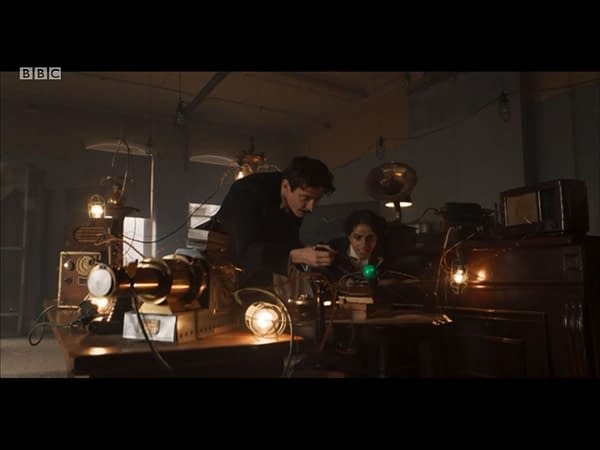 The Thassa – one of the ancient races, with their orbs, sent out among the stars – and nicked by the Skithra, as well as a Venusian ship and a Silurian space-gun. Basically the Doctor is fighting a cosmic version of Totter's Lane. Like she can talk, she made her sonic screwdriver 'mainly out of spoons'. Made from Sheffield steel of course, so they take a beating. And of course, the Doctor stole the TARDIS originally. There is a thematic link between the actions of the Skithra and of Thomas Edison here – this is just the latest in a long line of beings stealing Tesla's talent to enrich themselves.
5. Are These Skiffra Cousins Of The Racnoss?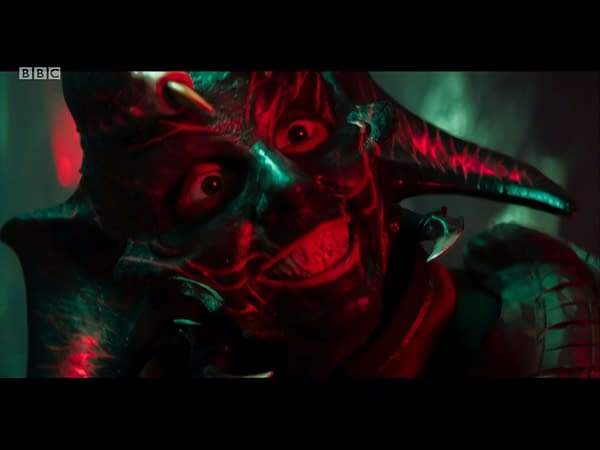 Okay, when we first saw them in trailers, we thought they were Racnoss. More scorpion than spider, but they are very familiar, in prosthetic, voice, screech and hiss. Even the way the Queen says 'Dok-tor' like any proper Doctor Who baddie. Could they have talked to their cousins already in the centre of this planet?
6. Tesla Is Bigger On The Inside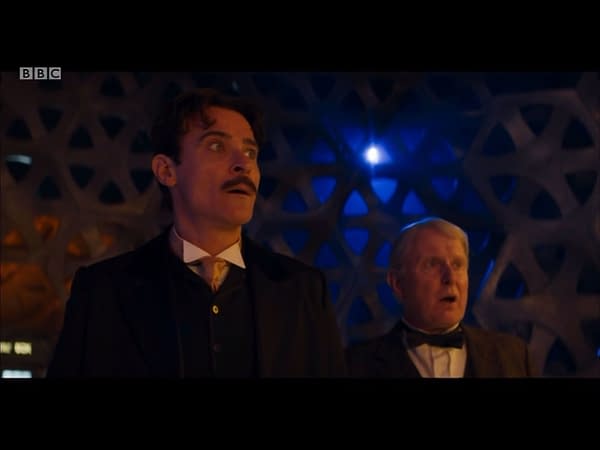 This might be the best first entrance into the TARDIS of all, with Tesla walking in, agog, stuttering as he does so, "the internal dimensions transcend the external." That was probably the moment that I started properly enjoying this one and let go of last week's disappointment. It became more like Vincent And The Doctor. Rather than the nightmarish title of this episode, a reprise as Nikolai And The Doctor might have been fitting, And we even get Tesla operating the TARDIS. Goran Visnjic really made this one sing,
7. I Love It When A Plan Comes Together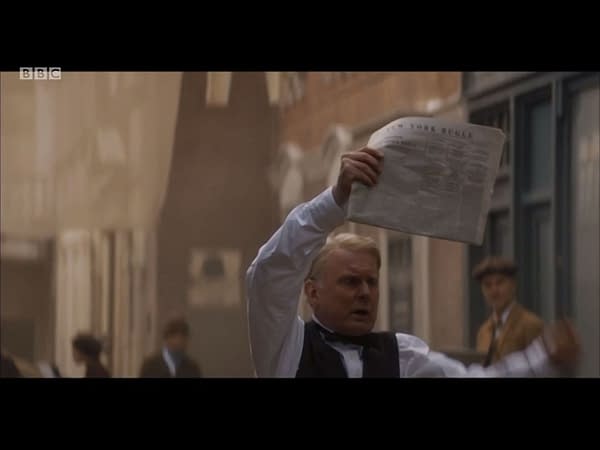 Chibnall Doctor Who has had a habit of stretching out moments into tediousness as well as having redundant characters on screen. This puts everyone to work in a proper A-Team style, whether that's fetching and carrying from Graeme and Ryan, and detective work from Yasmin with lots of cuts, speeded up editing and even Thomas Edison gets to use his fear-mongering of Tesla to help save the day – and save lives.
8. Have You Ever Seen A Dead Planet?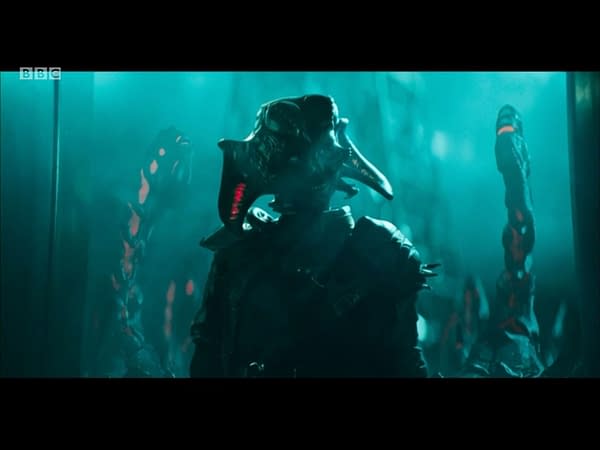 As she says, lots. But now that includes Gallifrey.
9. Tower Records
The Doctor likes a tower. Whether in Logopolis, The Five Doctors or The Idiot Lantern, a tower suggests possibilities, plot, and danger. But this is the Wardenclyffe Tower which stood from 1901 to 1917, but was never put into use to transmit radio signals or energy. The project was abandoned in 1906, never to become operational, and scrapped to go towards his debts in 1917. There is currently planned to be a museum to Tesla to be built on its site after a grassroots campaign raised the money. And yes, Tesla, Scorpions, a Queen, a lot of AC/DC and plenty of heavy metal might have made for quite a rocking out episode.
10. Are They Currently Besties?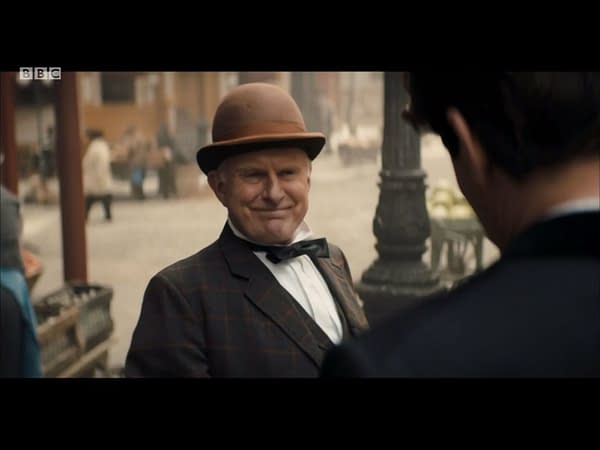 Edison and Tesla friends at the end? No. I'll give it a week. What a shock. Still, at least Tesla got to play with this…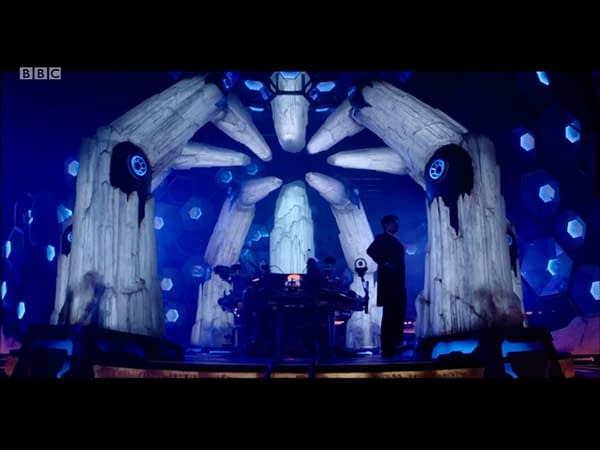 CAST & CREW
The Doctor Jodie Whittaker
Graham O'Brien Bradley Walsh
Yasmin Khan Mandip Gill
Ryan Sinclair Tosin Cole
Nikola Tesla Goran Visnjic
Thomas Edison Robert Glenister
Actor Anjli Mohindra
Director Nida Manzoor
Executive Producer Chris Chibnall
Series Producer Nikki Wilson
Writer Nina Metivier
Enjoyed this article? Share it!