Okay, so it's one of the most famous nights of literature revisited by the Doctor… we've all just seen it in the UK, spoilers for those who haven't… Doctor Who – The Haunting of Villa Diodati.
1. Bonnets and Bodices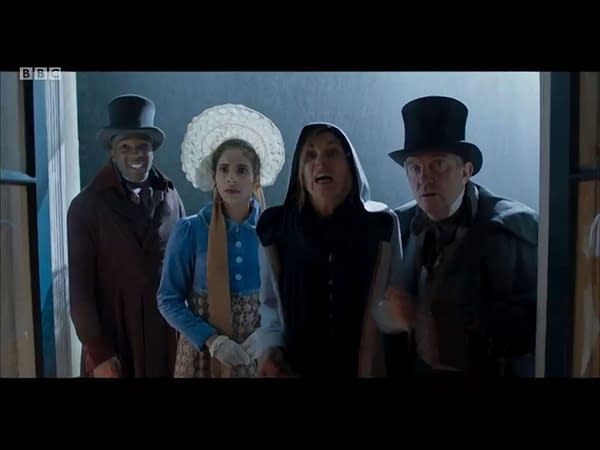 Break out the period costumes, for everyone but the Doctor. A common theme, she never likes to dress up now. For everyone else in her fam it seems to matter, for her not so much. She bluffs her way through life, why should clothes make a difference? And also it does a great job of make her 'the other' something different, and someone to attract Bryon's eye. There's only one people who can be at the door.
2. Ghost Stories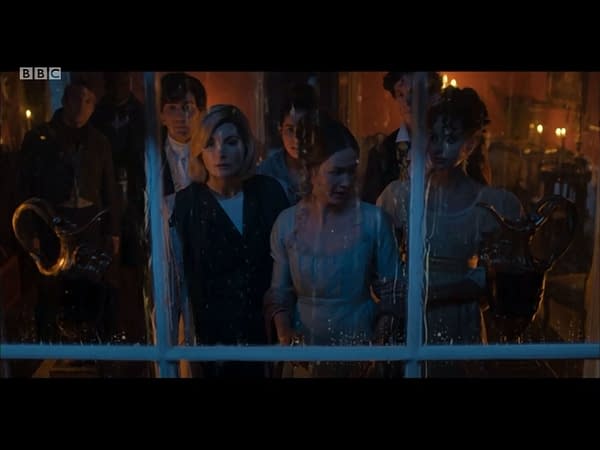 It's time for a ghost story. The ghost story. That creates the first proper science fiction story of all. The night in 1816 when some literary luminaries tell ghost stories in the Villa Diodati, which eventually inspires the creation of a Frankenstein: A Modern Prometheus by Mary Shelley…But no one is telling it – will it happen only because the Doctor & Co know it will happen? A self-replicating loop? Yes but not in the way we might have thought. Oh and leaving one of the freakier moments open-ended. Ghostly food services, could it be a time-trapped Deliveroo?
3. Keep It In The Fam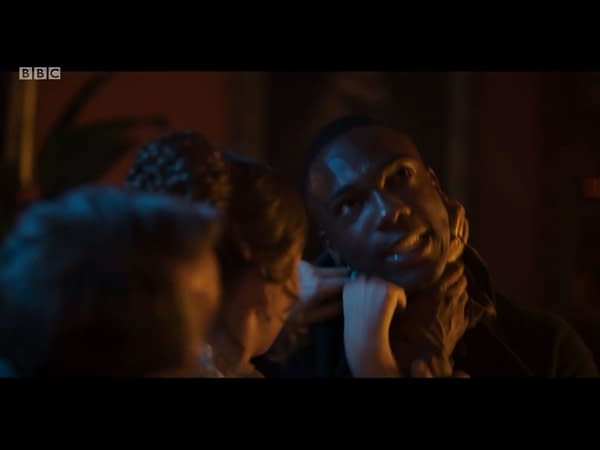 A few weeks after running into mathematician Ada Lovelace, we now get to meet her dad, Lord Byron. Who no one is allowed to snog – no matter how hot he is. And the cast really works, young, dumb and full of cum, as more modern parlance may have it. They are rich, horny, and care not for the troubles of the world. So of course, the troubles of the world and worlds to come have to turn up on their doorstep. And the Doctor makes it clear to the fam as she did to Sarah Jane in Pyramids Of Mars – what happens where they are will affect the world they come from, they can't just run away. And we get a great speech – where Words Matter – from the Doctor as well, seriously, one of the best. Channelling a little Peter Capaldi there?
4. There's Some Thing A Foot…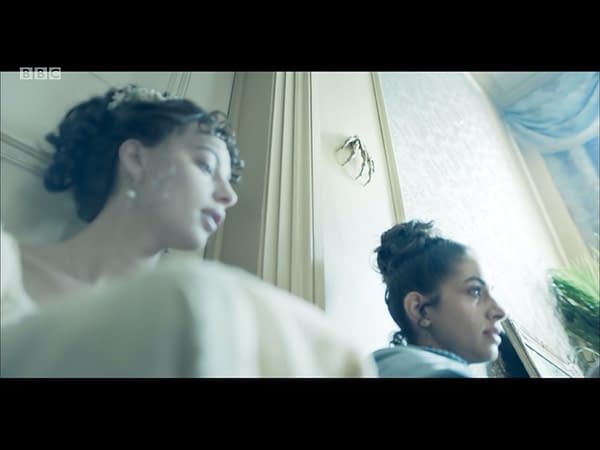 Fat and furious, the pace has really quickened, a film squished into 50 minutes. Isn't that the hand of the Other Mother in Coraline? Or is it The Addams' Family's disembodied member on a diet? Either way, the body horror in this episode was top-notch, and beautifully played off with the comedy of Graham constantly looking for the toilet, or claiming the house is a weird gaff… and a reprise of disembodied hands always going for the throat, from Rose up…
6. Round And Round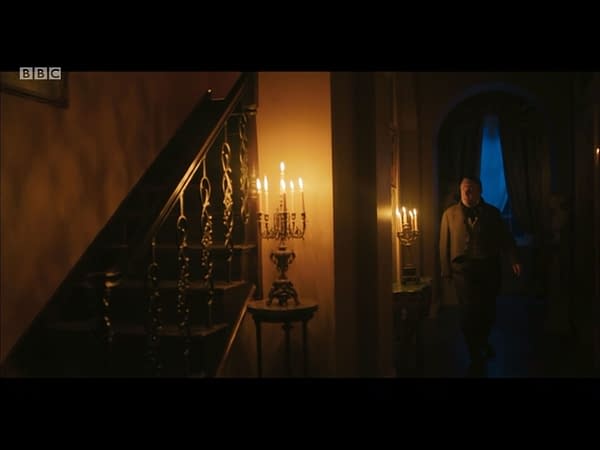 Is this house built by the architects of Castrovalva? An Escher painting of a secluded mansion is just one of the many signs that a) something is up b) they are trapped and c) something is coming for them. And oy, lots of planets have a north. But note it is perceptive Mary who is the first to find her way through…
7. Story Arc Of Lightning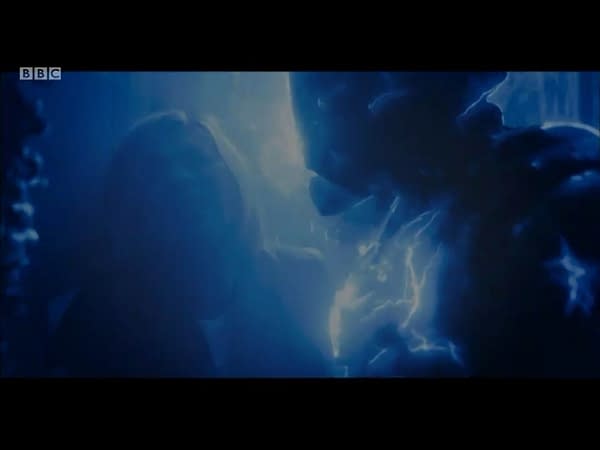 So here we go. The traveller moving through time. The Lone Cyberman. What was it Captain Jack said? The Cybermen… an empire of evil, in ruins right now, brought down to nothing, finally. But that could all change. And that The Alliance sent something "through time, across space to defeat the Cybermen. And to tell the Doctor, the Lone Cyberman… don't give it what it wants!" So, of course, we have to engineer a situation that gives the Doctor no choice but to do just that
8. Body Of Work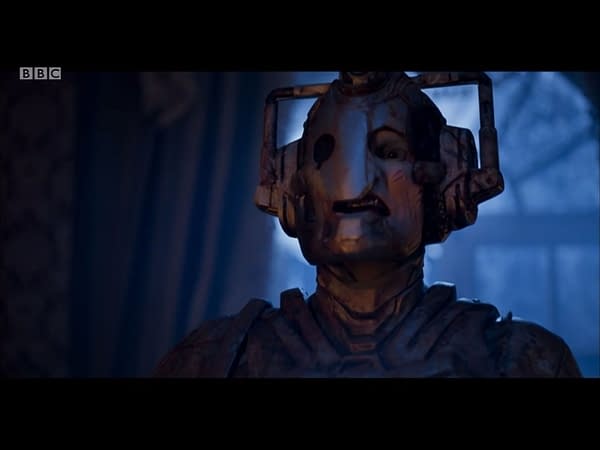 "Organs, flesh, surgically removed without consent. It drives them insane, so they turn off the brain too" – Lightning. Body parts. Reanimated life. Composite of parts. Modern Prometheus. And even an observed soul – but one of a child killer. All the elements of Frankenstein. Does this make Mary Shelley's achievement writing Frankenstein more of less impressive? And if this is the timeline changed now – what happened the first time around? This is like walking up and down those staircases, round and round, with no beginning and end…
9. Reading The Guardian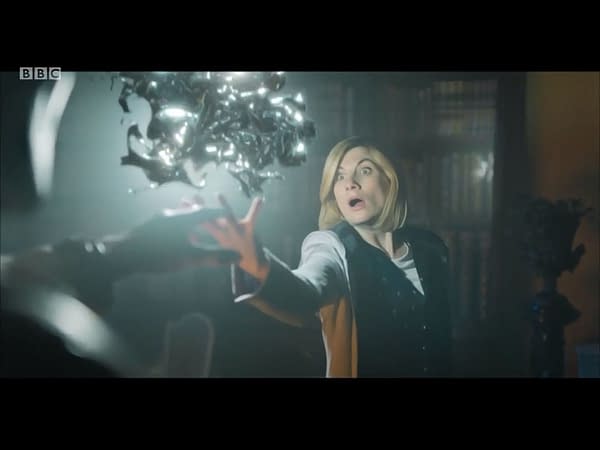 We've had Guardians mentioned before… last week, along with Eternals and the Toymaker. Is the Doctor as the Guardian now coincidental? Or will we have White Guardians and Black Guardians to come? "Save the poet, save the universe" – are the cheerleaders busy?
10. The Doctor Alone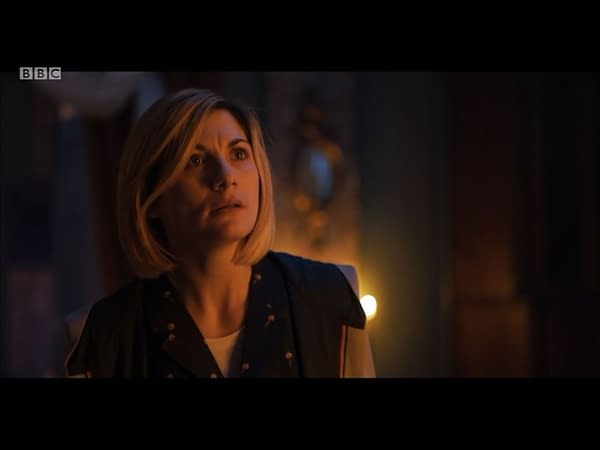 We're getting a lot of this now. Not a flat structure but a mountain. She is dressed differently, she separates herself, she goes to Gallifrey by herself, this is a Doctor running away from her fam. Will they make it to another year? Or is it time for the Doctor to jettison her baggage? Yaz admits feelings to Claire Clairmont for Ryan to one in a similar situation with Lord Byron. So there may be a soft landing there. And more Cybermen to come…
SYNOPSIS
Graham, Yasmin and Ryan join the Doctor on a trip back to 1816, where they visit the Villa Diodati on the shores of Lake Geneva as Lord Byron and the Shelleys plan a night telling ghost stories. Their aim is to spend the evening soaking up the atmosphere in the presence of some literary greats – but a supernatural presence is all too real and the Doctor is forced into a decision of earth-shattering proportions.
The Doctor Jodie Whittaker
Graham O'Brien Bradley Walsh
Yasmin Khan Mandip Gill
Ryan Sinclair Tosin Cole
Mary Wollstonecraft Godwin Lili Miller
Claire Clairmont Nadia Parkes
Lord Byron Jacob Collins-Levy
Dr John Polidori Maxim Baldry
Percy Bysshe Shelley Lewis Rainer
Elise Sarah Perles
Fletcher Stefan Bednarczyk
Director Emma Sullivan
Executive Producer Chris Chibnall
Executive Producer Matt Strevens
Producer Alex Mercer
Writer Maxine Alderton
Enjoyed this article? Share it!