The Blacklist Season 10 Episode 3 Preview: Red's In a Gift-Giving Mood
With a new episode hitting this weekend, here are preview images, an episode overview & promo for NBC's The Blacklist S10E03 "The Four Guns."
---
The endgame is underway as James Spader's Raymond "Red" Reddington's past has now become too much for him to run from anymore. And in the following preview for this weekend's episode of NBC's The Blacklist, the dangers continue to come from all directions. This time around, the Task Force is tackling an assassination attempt on Sen. Panabaker (Deirdre Lovejoy) as Red makes a very interesting contact with an old friend (though, as we've come to learn, "old friend" in Red's world can have a ton of different meanings). Here's a look at the episode overview, preview images & promo for S10E03 "The Four Guns":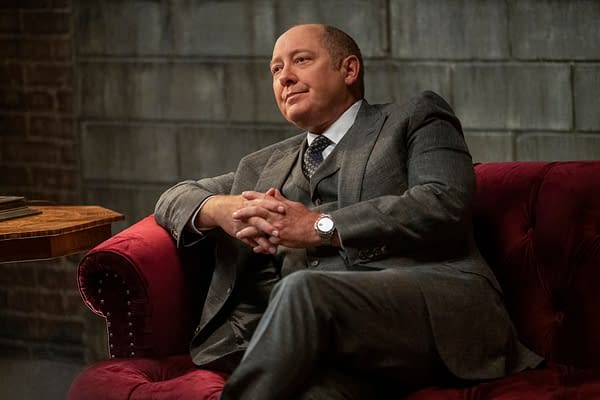 Preview: The Blacklist Season 10 Episode 3 "The Four Guns"
The Blacklist Season 10 Episode 3 "The Four Guns": An assassination attempt on Sen. Panabaker (Deirdre Lovejoy) leads the Task Force to a group of renowned pickpockets; Red (James Spader) sends a dangerous gift to an old friend in custody. Directed by Katie Bockes & written by Matthew McLoota, here's a look at the preview images & promo for "The Four Guns":
"After 10 years, hundreds of 'Blacklist' cases, and more than 200 episodes produced, we're honored to reach our conclusion," said showrunner and executive producer John Eisendrath in a statement. "It's been incredibly fun to create the strange, devious, and delightful Blacklisters to challenge Raymond Reddington and our FBI Task Force each week. We would like to thank everyone at NBC and Sony, our extraordinary crew who make the impossible happen every day, our endlessly inventive writers and producers, and our remarkable cast who brought life to these characters. We appreciate our dedicated fanbase who came along for this wonderful ride and are excited to share this final season with them." Joining Spader for the final run (with the show celebrating its 200th episode on Sunday, March 19th) are Diego Klattenhoff, Hisham Tawfiq, Anya Banerjee, and Harry Lennix. And in the following sneak peek at what's to come, Spader and the cast tease what revenge-seeking Blacklisters mean for Red & the team as the final endgame gets underway:
In its landmark 10th season, NBC's The Blacklist returns as Raymond Reddington (Spader) confronts unparalleled danger. With Reddington's covert role as an FBI informant facing exposure, former Blacklisters will unite against him in their lethal desire for revenge – testing Red and the FBI Task Force as never before. John Eisendrath, Jon Bokenkamp, John Davis & John Fox of Davis Entertainment, Spader, Lukas Reiter, Laura A. Benson, Daniel Cerone, Sean Hennen, Allison Glock-Cooper, and T Cooper serve as executive producers. The series is produced by Sony Pictures Television Studios and Universal Television, a division of Universal Studio Group.