The Flight Attendant Trailer: Wrong Place, Wrong Time, and No Memory
With the release of the first key art and premiere date for the upcoming HBO Max series on Monday came the promise of an official trailer the following day- and the folks behind the Kaley Cuoco (Harley Quinn, The Big Bang Theory)-starring and producing The Flight Attendant kept their promise on Tuesday. Based on Chris Bohjalian's New York Times bestselling novel of the same name, the series stars Cuoco as Cassie, a flight attendant who learns very quickly how life can change dramatically in one night. Cassie wakes up in the wrong hotel, in the wrong bed, with a dead man- and no idea what happened. Michiel Huisman, Rosie Perez, Zosia Mamet, Michelle Gomez, T.R. Knight, Colin Woodell, Merle Dandridge, Griffin Matthews, and Nolan Gerard Funk also star.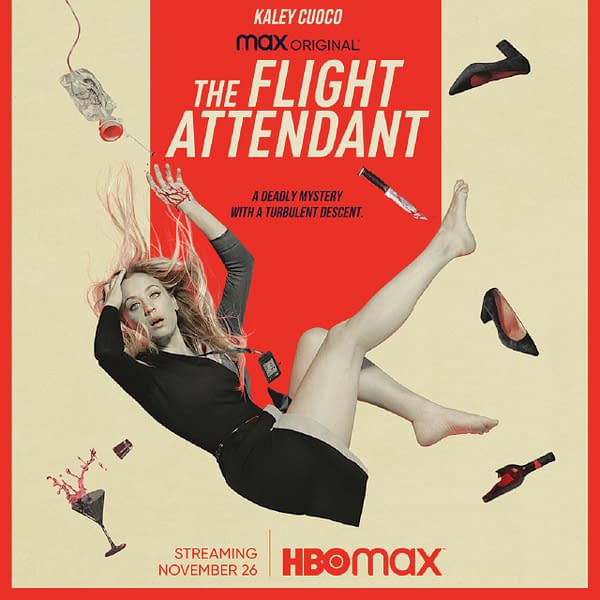 So here's a look at the official trailer for the darkly comedic thriller, with the eight-episode The Flight Attendant set to take flight with three episodes on Thursday, November 26. On December 3rd, viewers can look forward to two new episodes- with two more new episodes set for December 10. The series wraps up its run with the series/season finale set for December 17 (though the series will be available to stream on HBO Max).
"I love that Warner Bros. is my home away from home, and I couldn't be more excited to continue this incredibly collaborative and gratifying relationship. They're stuck with me now," said Cuoco when the project was originally announced. The eight-episode limited series is produced by Warner Horizon Scripted Television, Berlanti Productions & Cuoco's Yes, Norman Productions. Cuoco, Greg Berlanti, Steve Yockey, Marcie Ulin, Meredith Lavender, and Sarah Schechter executive produce. Suzanne McCormack serves as a co-executive producer, with Susanna Fogel directing and executive producing the first two episodes.