'The Good Place' Publicly Embarrasses Itself for Great Cause [VIDEO]
Good news, NBC's The Good Place fans! In fact, it's good news for fans of comedy overall – and people who love Ted Danson… or Kristen Bell… you know what? Let's just start over…
Good news, humans! The Good Place has graced us with a season 3 blooper reel… and it's all in the name of charity!
Originally a British television special/event on the BBC, Red Nose Day was started to raise money for children living in poverty all across the globe. Since its start in the 1980's, they've raised awareness through humor and comedy specials – and most important, raised millions of pounds (dollars for those who don't share Tahani's native currency) for children in need.
So where does The Good Place fit in among a British charity program that's featured shows and celebs from Doctor Who to Mr. Bean?
Like all good British things, America lovingly stole… er… ripped it off… America borrowed the idea and used it as a spring board from which they launched their own, so we totally jacked their charity idea. Can you blame us, though? It is brilliant, and hilarious! It also raises loads of money for kids – always a very worthy cause so none of this could ever be a bad thing.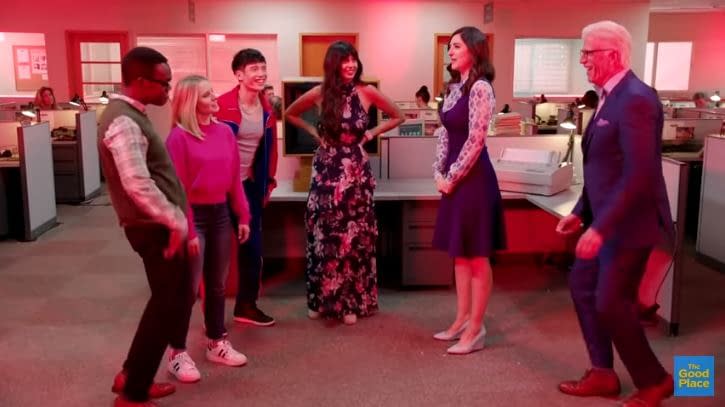 NBC's Red Nose Day comedy special not only urged people to donate, but it raised awareness of the many problems facing impoverished children right here in the US. There were celebs and clips, with a number of the big NBC comedy shows all pitched in and contributed.
That's how The Good Place fans got the above gem that is Danson behind the scenes, with more of Bell with a lizard on her head. Oh! Let's not forget William Jackson Harper being adorkable while ridiculously dancing around in his sweet mailman uniform.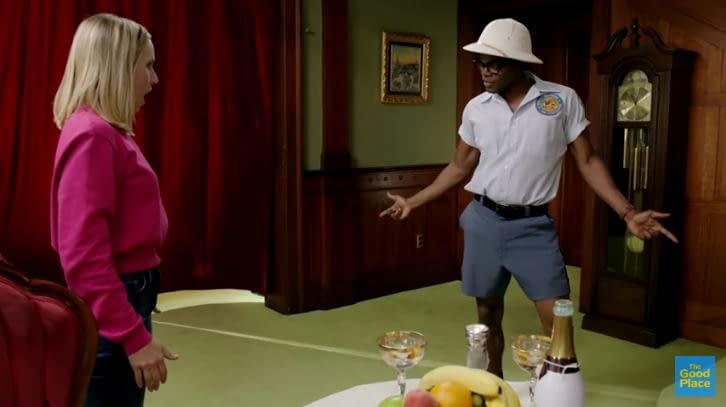 You know what? Don't take my word for it, just go watch the thing. It's not very long – just a minute and a half…but that's only if you watch it once. It's so funny, you'll want to watch Chidi slapping his booty again and again and again.
NBC's Red Nose Day campaign to end child poverty is still live, you can donate here – while The Good Place returns for its fourth season this fall.
Also? Mr. Danson? Please don't forget you're driving…