"The Good Place" Season 4: Michael Promoted, Mindy Coked Up & More! [5 Bleeding Cool "Hot Takes" – OPINION]
With NBC's The Good Place returning for its fourth and final season on Thursday, September 26, it seems like now is as good a time as any to make some predictions for what lies ahead for our "Soul Squad": Kristen Bell (Eleanor), Jameela Jamil (Tahani), Ted Danson (Michael), D'Arcy Carden (Janet), William Jackson Harper (Chidi), Manny Jacinto (Jason).
So get ready for five predictions (our "hot takes") of things that will totally, 4000% happen before the final credits roll on the last episode…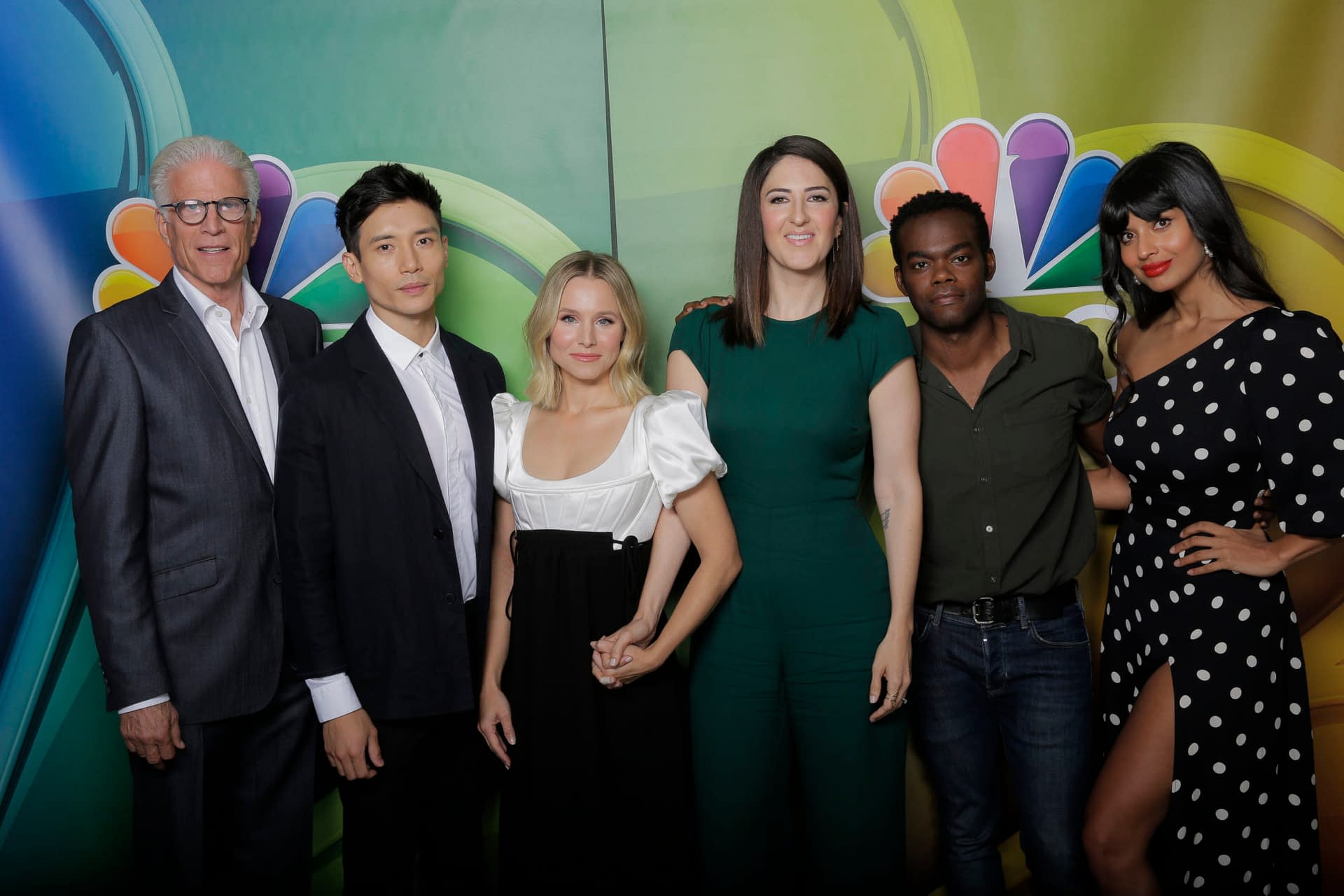 ● Jason and Janet will for sure legit be a couple. I mean, Janet is very clearly not going to be with anyone else – Derek is just a rebound, in all sense of the term! Her love for Jason is hard-wired into her by this point, and Jason totally is all about his not-a-girl friend. Clearly, this is the only possible outcome for them.
● Speaking of only possible relationship outcomes, Chidi and Eleanor are totes getting back together, with Chidi's memory restored and along with that his love for her. Not that it ever left. Duh.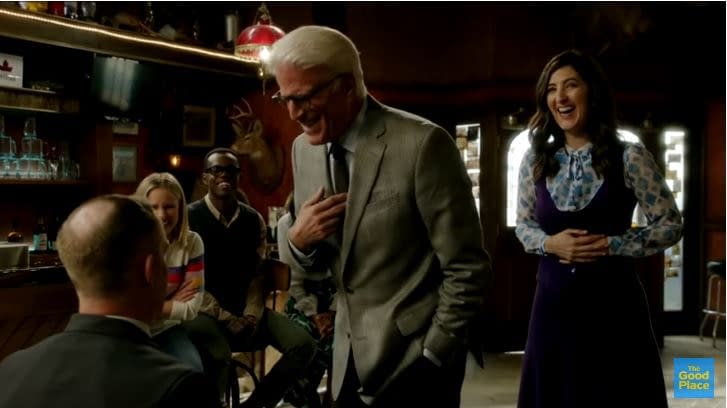 ● Michael will not be retired and instead will be promoted and take over the whole forking afterlife system! Okay, so this one is a little bigger of a prediction, but there's no way he can fail. And when he doesn't fail, clearly he'll be rewarded by the Judge. No other outcome. Definitely not one where his favorite humans are tortured for eternity by someone wearing a creepy Michael skin suit. Nope.
● Mindy St.Clair is given a lifetime supply of cocaine and her and naked-at-all-times Derek live happily ever after in a fabulous 80's The Medium Place haven. Either that or they're finally granted access to the actual good place…but is there cocaine in The Good Place?
● Their experiment works and they reform the system and as a reward get into the actual The Good Place. Yes, the real one. For realsies. Series end.

Here's a look at what show creator Michael Schur had to say about the show's departure, as well as how the decision to end the series came about:
"After 'The Good Place' was picked up for season two, the writing staff and I began to map out, as best we could, the trajectory of the show. Given the ideas we wanted to explore, and the pace at which we wanted to present those ideas, I began to feel like four seasons – just over 50 episodes – was the right lifespan. At times over the past few years we've been tempted to go beyond four seasons, but mostly because making this show is a rare, creatively fulfilling joy, and at the end of the day, we don't want to tread water just because the water is so warm and pleasant. As such, the upcoming fourth season will be our last…"
For the 2018-19 season, The Good Place averaged a 1.6 rating in adults 18-49 and 4.6 million viewers overall in "Live+7" Nielsens, and more than doubled to a 3.3 rating in 18-49 after 35 days of linear and projected non-linear viewership. Since its launch in 2016, the series has won the AFI Award for Program of the Year, TCA Award for Program of the Year, a Humanitas Award and a Peabody Award. In addition, the series has been nominated for a Golden Globe Award, Writers Guild Award, Producers Guild Award and Critics' Choice Award.
From creator Michael Schur ("Brooklyn Nine-Nine," "Parks and Recreation" and "Master of None") comes a unique comedy about what makes a good person. The show follows Eleanor Shellstrop (Kristen Bell, "House of Lies," "Veronica Mars"), an ordinary woman who enters the afterlife, and thanks to some kind of error, is sent to the Good Place instead of the Bad Place (which is definitely where she belongs). While hiding in plain sight from Good Place Architect Michael (Ted Danson – "Cheers," "CSI" – in an Emmy Award-nominated performance), she's determined to shed her old way of living and earn her spot.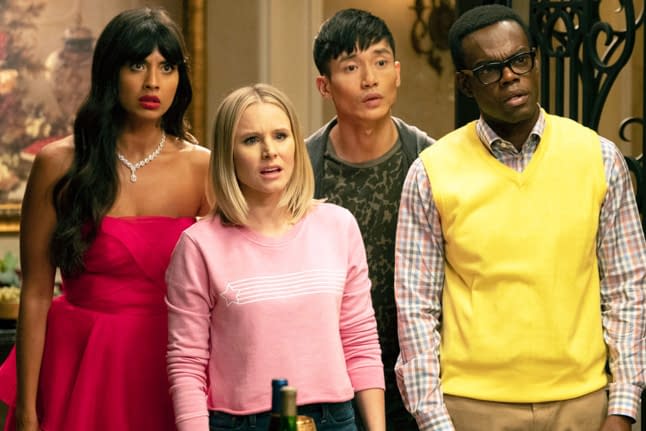 The first two seasons featured surprise after surprise and twist after twist, including a world-upending season one finale that threw everything up in the air. At the end of season two, Michael appeared in front of the Judge (Maya Rudolph, also Emmy nominated) to argue that the humans may have been judged unfairly, and deserve a second chance. With a snap of her fingers, the Judge sent the humans back to Earth, in a new timeline where they never died.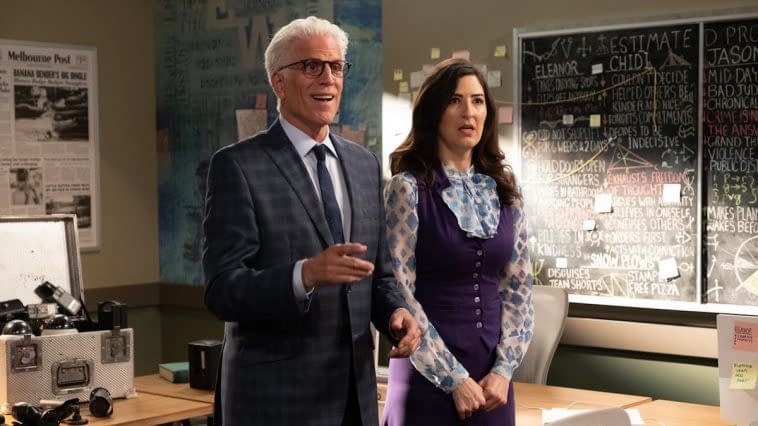 Also seeking redemption, along with Eleanor, are Senegalese philosopher Chidi Anagonye (William Jackson Harper, "Paterson"), who is tortured by decision-making; elegant Pakistani-British socialite Tahani Al-Jamil (Jameela Jamil, "Playing It Straight") and dance-obsessed Floridian Jason Mendoza (Manny Jacinto, "The Romeo Section"). Michael is aided by Janet (D'Arcy Carden, "Broad City"), a human-esque repository for all of the knowledge in the universe.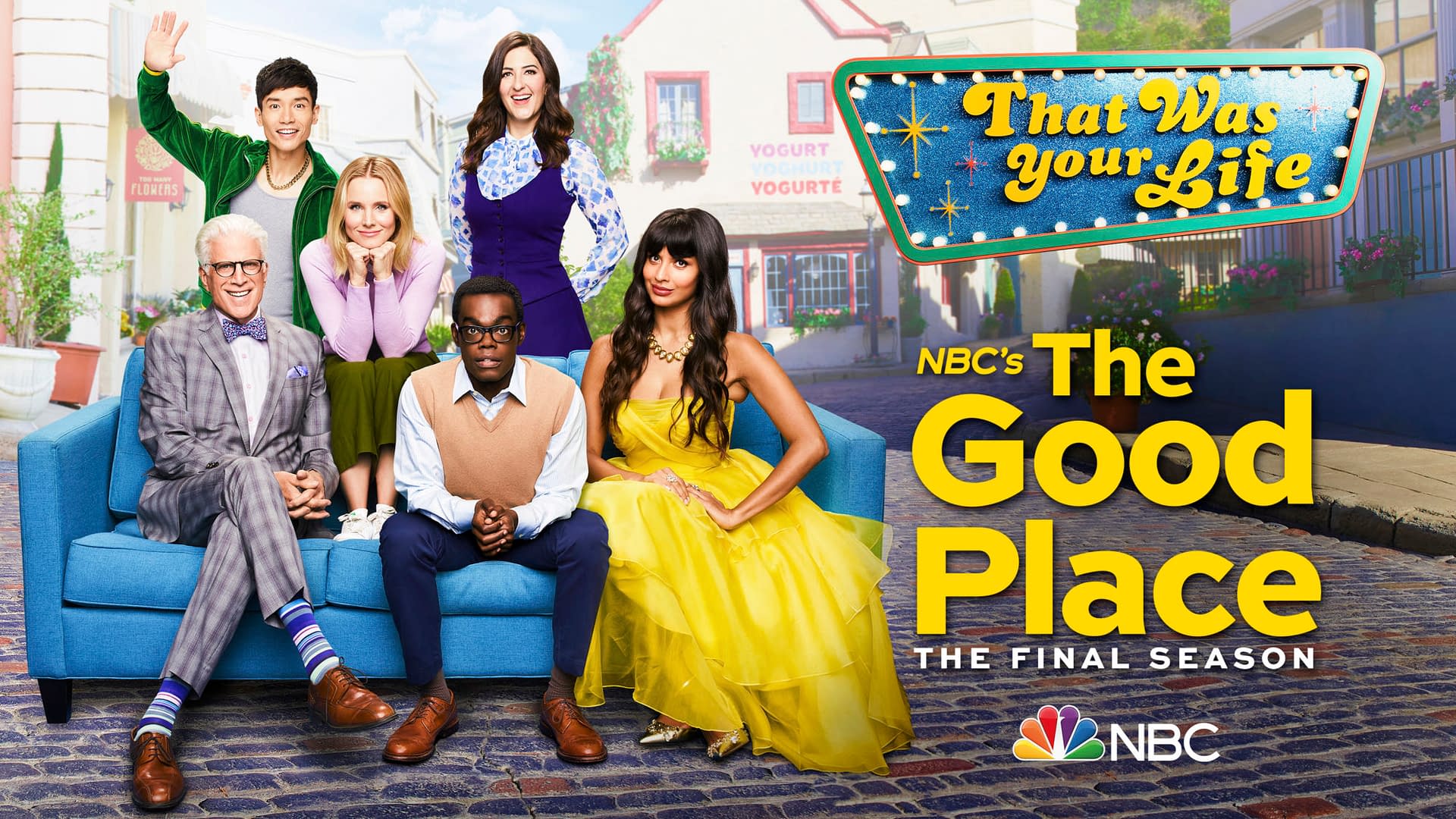 Along with executive producing, Schur also serves as writer and showrunner. David Miner (Brooklyn Nine-Nine, 30 Rock), Morgan Sackett (Parks and Recreation, Veep) and Goddard also executive produce. Universal Television, Fremulon, and 3 Arts Entertainment produce.