"The Good Place" Season 4 "Patty" Makes Heartfelt Case for Why Our Emotions Matter [REVIEW]
Welcome to our final regular episode of NBC's The Good Place, dear readers! Now, before we get into it, next week is our big two-part finale episode – on at the same time… but lasting a full hour!
With the anticipation for that high, let's dive into this week's episode – and yes, there will be… MAJOR SPOILERS!
You know the drill by now…
Or maybe your brain has turned to mush because you've been stuck in the eternal paradise that is the [real] The Good Place for eons.
Wait, what?
Let's back up and appreciate the fact that we get Lisa Kudrow back on our screens in the real forking The Good Place as Hypatia of Alexandria. (Okay, so I love Friends and Phoebe is the best. What? It's perfection!)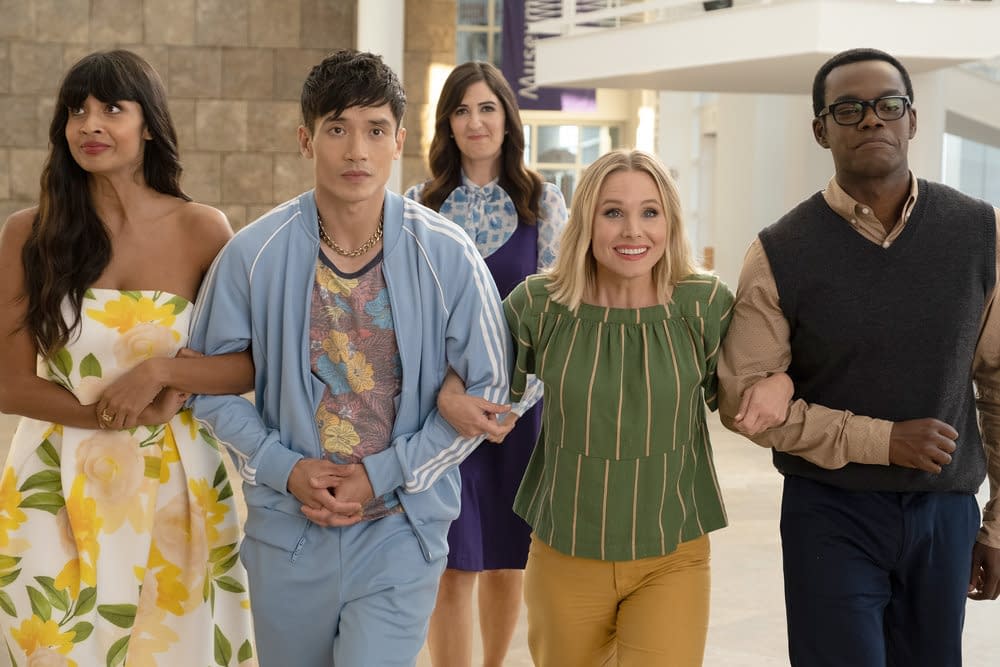 For real though, all the Jags jerseys in this episode are amazing and I am obsessed. Fashion aside, all the performances in this episode are absolutely fantastic, from Janet starring in Living with Yourself and Michael being the frazzled fearless leader (who really just looks straight up like an archaic choir member in that robe – sorry, bud), to Patty and her endless stardust milkshakes (dang it, now I really want a milkshake – you probably do, too).
This is quite possibly one of my favorite episodes of the show's run, and not just because I now want every party I have to be "Flori-zona British Library extravaganza" themed. It's because it acknowledges deep human emotions and feelings that we may dismiss as silly human whims and emotions, like boredom and feeling stuck or trapped in a situation and stagnating.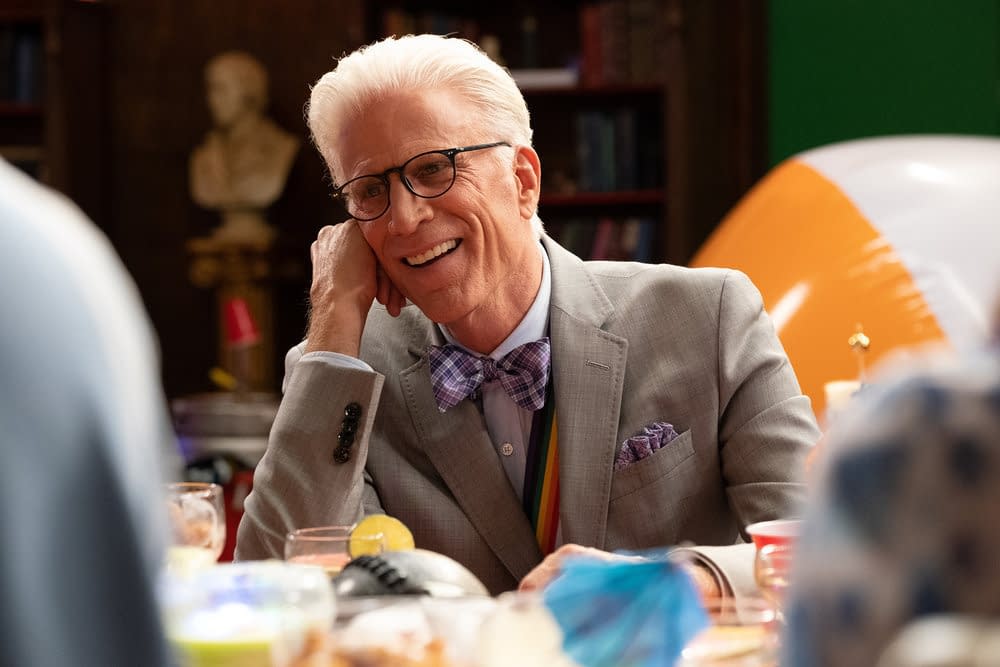 The Good Place shows us that and gives validity to those feelings in its own unique way – presented in a manner that I haven't seen another show do this well. It ended on a nice, uplifting note and I would be pleased as punch if that were the ending we got forever.
But I'm also really glad we still have another hour of The Good Place coming.
But with only the two-part finale left, is everything really as fine as they think it is? Honestly, the ending of this episode felt like a good finale ending, and the same for the episode before it. I have no idea what The Good Place problems they're going to create that can be solved by the end of the series.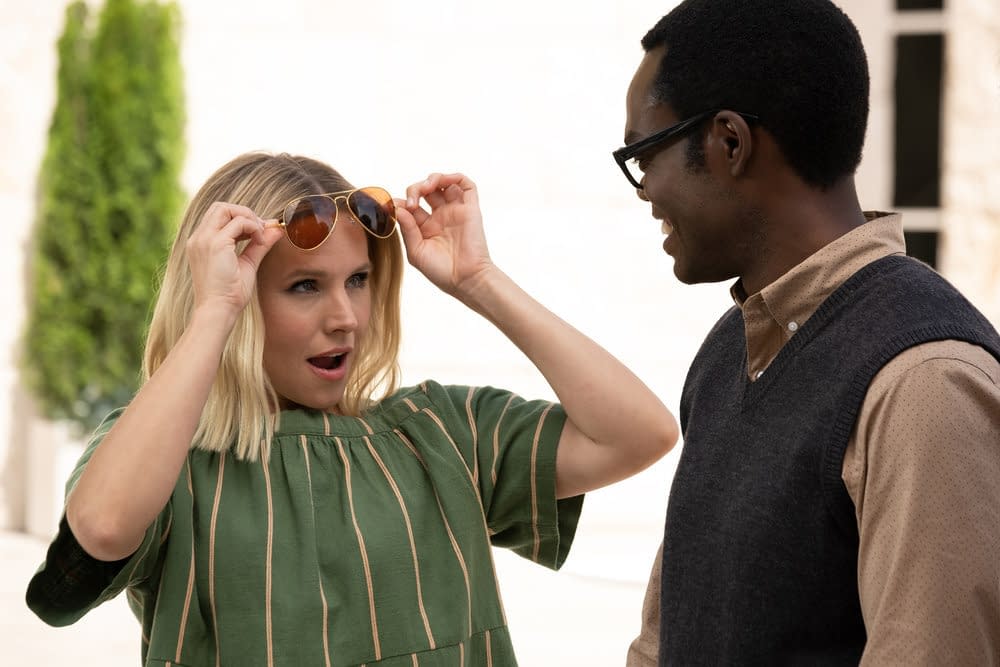 The suspense is kind of killing me – and I love it.
The Good Place has kept us guessing since the beginning, and I hope the end is no exception. The cliffhangers aren't "life-or-death" (ha ha), but they were always enough to make you care and keep you coming back week after week.
Like most of the back-half of the fourth season, "Patty" was wholesome and delightful, but really caused sincere thoughts about the philosophy of life and more of that think-brain-word stuff. Oh! Ethics and morality!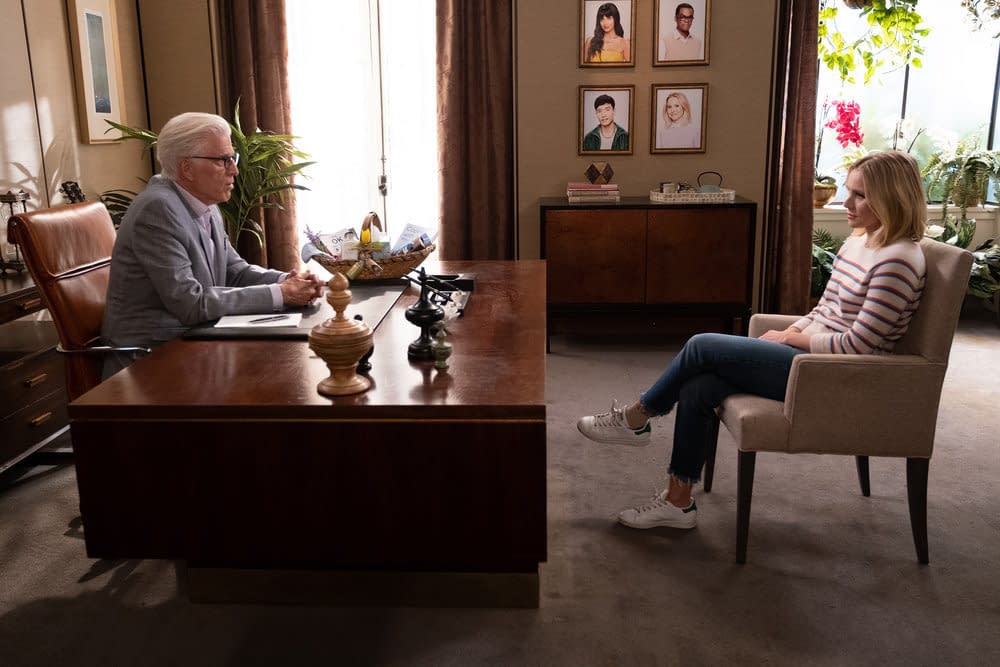 Be sure not to miss next week's extra thicc finale episode "Whenever You're Ready", which looks to wrap up everything in the universe and hopefully tie a nice little bow on top of our foray into the afterlife.